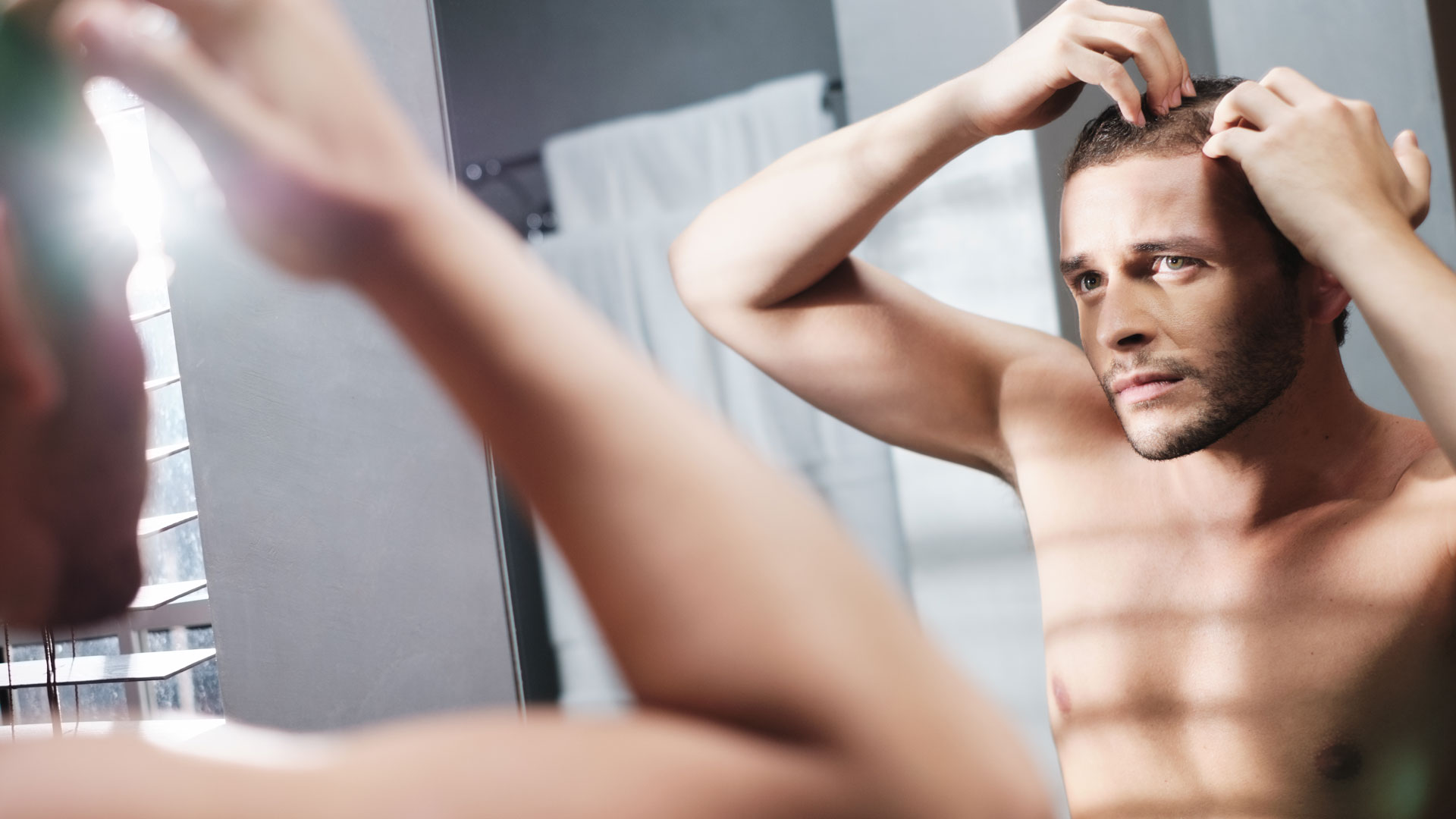 Hair Loss In Lockdown: The Impact On Men's Mental Health
With life in lockdown, more men than ever are taking a long, hard look at their hair. For those suffering with hair loss, it can be a really troubling time for their mental health.
Guest Editor, Spex, details some simple ways to handle the mental fallout from hair loss.
Self-confidence can be a tricky beast to handle. One day it asks us to look right back in the mirror and present the very best version of our good ourselves. And on the next, it forces us to cower in horror as we catch a glimpse of our sparsely covered bonces reflecting back at us.
Truth is, for many of us blokes, hair loss is an extremely common condition, that can vary from the trivial to the downright life-changing. Sadly for me, it was the latter, given I started saying "Adieu" to my golden locks at the age of 21!
Unfortunately, the numbers don't get much better for many fellas – with the stats suggesting that approximately 3 out of every 10 white men from their mid-teens to late twenties will experience some form of hair loss. Worse still, once you reach 35 the cases almost double. And alarmingly, by the time you hit 50, almost 85% of us will have been affected by hair loss says the American Hair Loss Association.
Typically, the hair loss 'journey' begins with the overnight appearance of a receding hairline.  After catching your rear-view reflection in the changing room mirror while out Saturday shopping, you convince yourself it's nothing to worry about. But, when your mates start making snide remarks about your follicle challenges, you know it's something you need to take seriously. Sad thing is, it's then that many lads stop coming out for a beer and avoiding those uncomfortable social situations like the plague. Others will spend hours trawling the Internet hoping they'll chance upon that (non-existent) miracle cure, while a large contingent will be faced with anxiety and depression.
The unfortunate news is, given the current COVID-19 situation, it means many of us are going to be increasingly vulnerable to mental stress – whether through job losses, financial difficulties or loneliness – which in turn can bring on physical symptoms such as hair loss.
The butterfly effect of this is that we'll very likely see a growing number of men over the next few months questioning their self-worth, virility and attractiveness.
In light of the unprecedented numbers of people now at home on lock down the issues regarding hair loss are manifesting and compounding. More people now than ever before are trawling the internet in the pursuit of resolve and how they can solve the spiralling physical and mental pain.
The most important foot you need put forward now is to conduct your research with patience and without vulnerability and desperation. Use your valuable time with patience and utilise accurate honest 3rd party trusted resources who's legacies have been built on the foundation of honesty and legitimacy. Resources mentioned have earnt the consumers trust based on time served, transparency and simply telling the truth and have always put the patients best interest first.
Fortunately guys you are not alone. With almost a third of the male population affected by it, MPB (male pattern baldness) is not something to be ashamed of. In fact, if you're Wayne Rooney, it's something we should all be talking more about.
Let me take you back to the 4th of June 2011. That was the day that England and Man Utd's all-time leading goalscorer tweeted to the world that he'd been losing his hair since his early twenties and spurring him on to finally take the courageous plunge with a hair transplant. Lucky for him the surgery was performed by the world-leading Harley Street Hair Clinic in London (where I had my last FUE surgery). At the time, Wayne was quoted as saying he was "delighted with the result".
And the best part of this story? No one had a go at Wayne, his many sponsors stuck by him, he kept his spot in the United first XI– and suddenly overnight his on-field performances became some of the best of his career.
For many young men who had previously felt trapped and isolated, this proved to be a huge moment. Here was a world superstar with 56 million followers across Twitter, Facebook and Instagram openly sharing with his fans that he was losing his hair – and that he didn't have a problem with it.
Even better, the hair loss conversation was finally OK to broach, while hair transplant surgery thankfully lost some of its long-held stigma.
Personally, I have big respect for Wayne for stepping up and not only normalising the situation, but as a result, encouraging those blokes dealing with hair loss to be more open about their feelings.
During this time of self-isolation, where we don't have access to our usual social network, it's never been more important for us guys to understand that we are not alone.
Given that you can't meet people face-to-face at the moment, you may want to think about teeing up a Skype or Facetime chat with a friend or family member that you trust and open up to. A problem shred is a problem halved.
If you genuinely feel that there isn't anyone close you can confide in, then the next step is getting in touch with an industry professional. The Bald Truth Radio show provides a safe outlet to vent and discuss any issues hair loss related on a weekly basis. Many clinics are now offering telephone consultations and helplines which give you a great level of support and with the use of virtual apps it's as in the same room. The simple fact here is make sure you select a trusted and caring physician or clinic to conduct this as there are countless operators who will not have your best interest at heart and wouldn't surprise me that due to their financial desperation might even offer you surgery on lock down. Allow this to be an example of a red flag.
Many clinics have dedicated COVID-19 support lines and you'll be able to find a clinic located near you here via The International Alliance Hair Restoration Surgeons.
If you've already talked to someone, done your research and are now considering going down the surgery route, my one caveat is this: Remember, not every clinic is who they say they are; with many peddling untested 'miracle'  products and even surgery to a vulnerable and uneducated audience who will often do – and pay – anything to find a cure.  So be careful out there. And before making any big decisions, do your research on a prospective clinic, speak to the owners, read reviews and most importantly try and speak to people who have had surgery there.
And remember, it's not all bad news…thankfully there are many top-notch, ethically-led surgeons and clinics who only want the best for their patients. What's more,  there are a number of clinically-proven prescription medications out there that have been shown to deliver lasting results and full list of effective treatments can be found on my website along with a free ebook to help guide you on this journey and enable you to take action from the safety of your own home at this time.
Wherever you are along your hair-loss journey, don't be afraid to reach out and talk to someone; particularly at this time, when you're stuck at home with more hours to mull over things, there's a fair chance you're going to start conjuring up vanity issues that don't actually exist.
If that does happen, I urge you to stop, pause and take a breath, before writing down some practical things you can do now to help with any feelings of depression or anxiety. The COVID pandemic is unfortunately something that is out of our control, however your mental health is something we can take care of and help provide support with.
And one thing's for sure, it's something that I, along with reputable organisations such as the International Alliance of Hair Restoration Surgeons (IAHRS) are working hard to combat now and moving forward to protect all in this new environment we have all been put in.  Because when we talk more openly, it leads to happier and healthier individuals and a more transparent hair loss industry for all.
Finally, if you know of anyone who is currently struggling with the knock-on effects of hair loss, please do me a huge favour.  Reach out to them and check they are OK – believe me, it might just be one of the most important calls you ever make.
---
If you or anyone you know is experiencing negative or suicidal thoughts, please call the Samaritans on 116 123 or email jo@samaritans.org 
---
For further information on Hair loss visit : www.spexhair.com