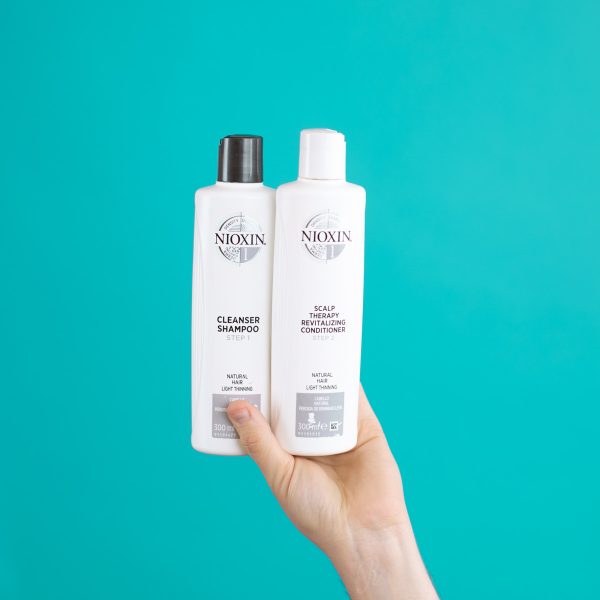 Nioxin System 1 Shampoo and Conditioner
Nioxin System 1 amplifies hair texture and protects hair against breakage. These products are specially formulated as a hair thickening treatment, delivering denser-looking hair. They help reduce hair loss due to breakage, as well as strengthening the hair, refreshing the scalp and delivering a healthy shine to natural hair with light thinning.
Available from
MFH says
Couldn't recommend Nioxin System 1 enough.
I found the shampoo and conditioner in January 2016 and noticed a huge difference with how my hair looked and felt within 3 months.
I really only use the shampoo and conditioner and have stopped using the Scalp Tonic. Just easier for me to keep it all shower-based.
It really has changed my hair for the better. More density, thicker and fuller. A 5-star product.
How to use Nioxin
Cleanser Shampoo:
 Gently massage into hair and scalp. Rinse well.
Scalp Therapy Revitalizing Conditioner:
 Apply from scalp to ends. Leave in for 1 to 3 minutes. Rinse.
Scalp & Hair Treatment:
 Shake well. Apply evenly to entire scalp. Do not rinse.
Nioxin System 1 Features & Benefits
Complete professional thickening treatment for natural hair with light thinning
For amplified hair texture and protection against breakage
Helps remove follicle-clogging sebum, fatty acids and environmental residues from scalp and hair
Refreshed scalp and increased hair volume
Increased fullness of each hair strand