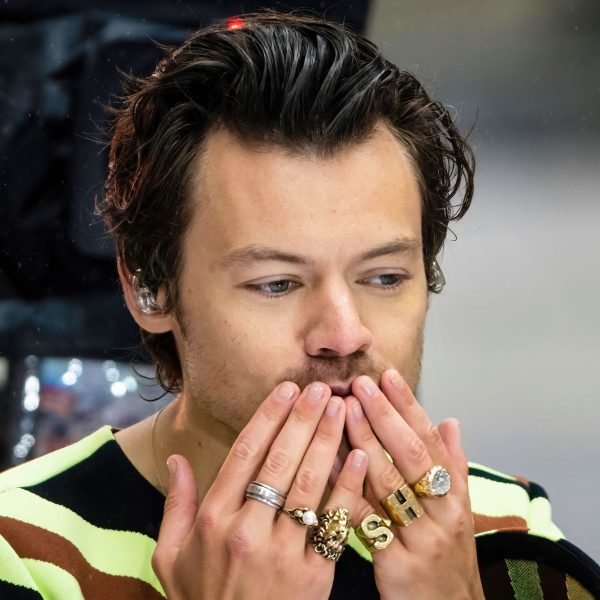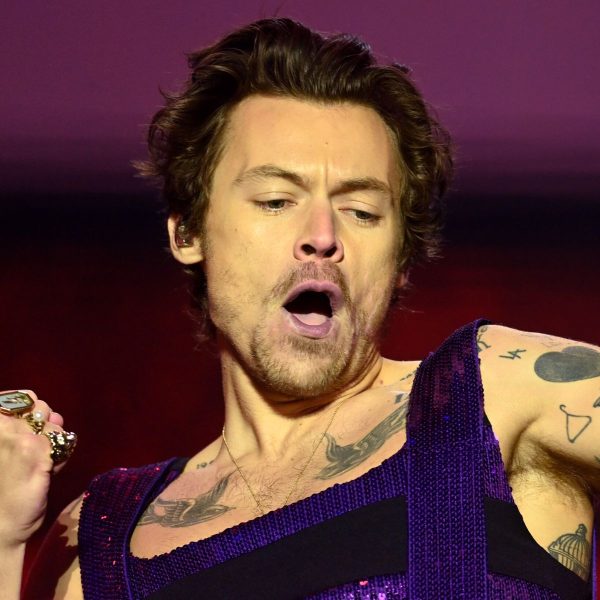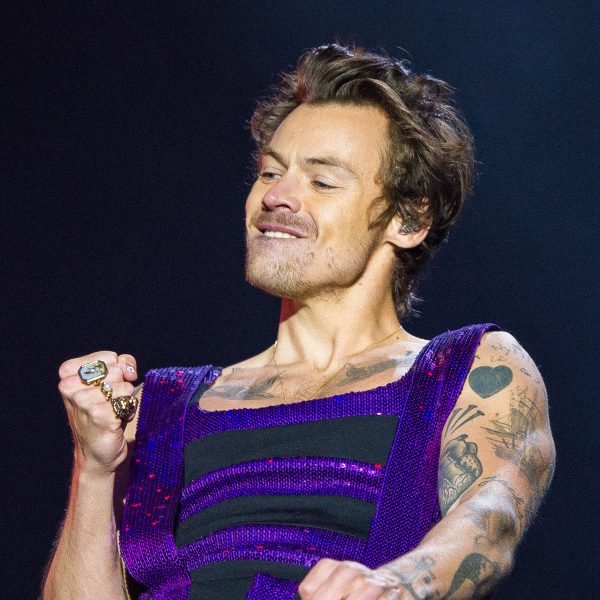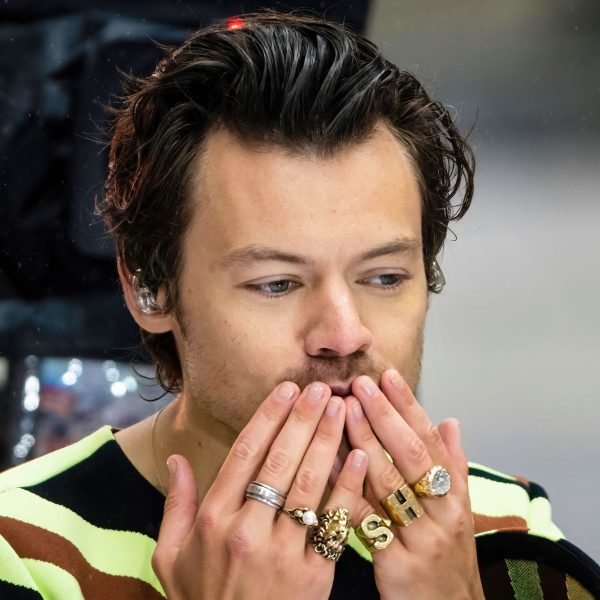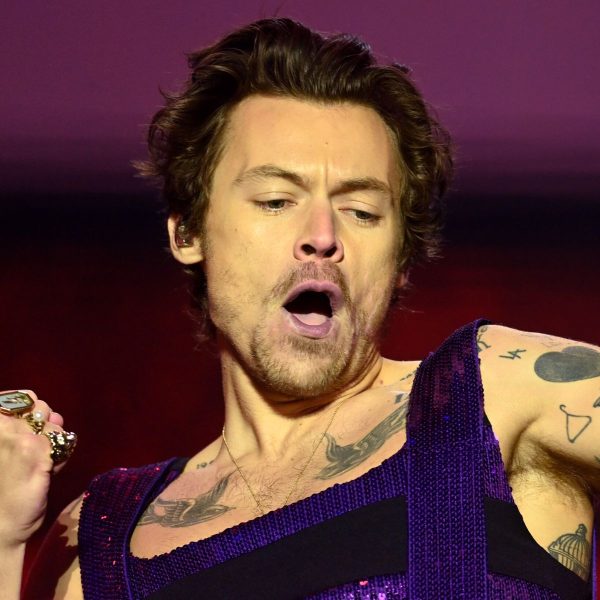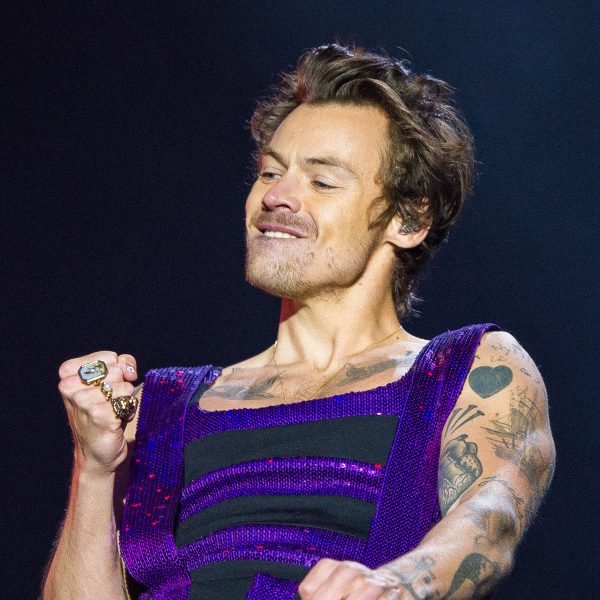 Harry Styles: Medium Length Curly Hairstyle With Brushed Back Fringe
MFH loves that Harry Styles has always embraced his curls – and this medium length curly hairstyle with swept back fringe seems to be his regular go-to.
And we imagine it keeps his fans happy, too, who probably have a lot of fantasies about running their fingers through his luscious thatch. (The less said about any other fantasies they probably have when it comes to Harry, the better).
MFH says
There's a reason Harry Styles loves this medium length curly hairstyle with swept back fringe.  And MFH thinks it's because it's an easy style that doesn't need much styling.
Which is the perfect hair sitch for a global pop superstar who is currently touring the globe. But, handily, it's useful for we mortals, too. Sure, we might not be selling out stadiums but that doesn't mean we're not busy – we need all the wash and go hair inspo we can get.
It's also handy that this is the look that suits Harry's oval face shape and hair the best.
Let's have a stroll down memory lane and revisit some of Harry's hairstyles over the years. He started out as a baby-faced 17-year-old with overgrown curls, and gradually made his way through various looks from a curly version of Justin Bieber's teenage sweep-over fringe (de rigueur for all teenage boys in those days); to an unflattering bouffant with brushed back fringe.
Then there were the difficult months in 2014 when he grew his hair out (though MFH did like it when it got to collar length). By 2015 Hazza had a shoulder length thatch – which, controversially, MFH thinks was his least successful look.
Mr Styles pretty much broke the internet when he had his long curls lopped off for his role in 2016 film Dunkirk. Now, apart from a slightly shorter cut for a filming stint in 2021 (The Policeman) he's opted for variants of his current medium length curly hairstyle with swept back fringe.
One thing that has never changed, though – Harry's hair has never looked anything other than healthy and shiny. And we've got the products that'll help you achieve that too.
Harry Styles' medium length curly hairstyle with swept back fringe  is cut slightly shorter at the sides, with more length left on top.
His stylist would have point cut/layered it subtly throughout to take the 'weight' out.
This will ensure it doesn't balloon out at the sides in an unflattering way.
The length of Harry's fringe looks to be at least a couple of inches long.
If you like Harry Styles' medium length curly hairstyle with swept back fringe then it's all about working with your natural wave and texture.
The condition of the hair needs to be good, so use nourishing products and try to limit your hair washing to every couple of days.
Also use a hair mask once a week.
When drying your hair post-shower, gently pat it dry – don't vigorously rub your towel through it, as it'll make your hair frizzy and fluffy.
On damp hair, apply a clementine-sized amount of mousse through the roots and ends
As you blow dry the hair, brush it back and the sides and top with your fingers. (You can also use a vent brush to lift it up and back).
Use your fingers to apply a tiny amount of matt clay to the fringe area to help it stay put, and diminish any flyaway hairs.
Then spritz it with a light hairspray.
If you want to wash-and-go and let your hair dry naturally, apply a John Frieda Frizz Ease product to ensure it doesn't look frizzy or fluffy.
The Curlsmith hair range is also great – try its Weightless Air Dry Cream.
Push up the fringe with your fingers – use some gel or wax if you need help to keep it there.