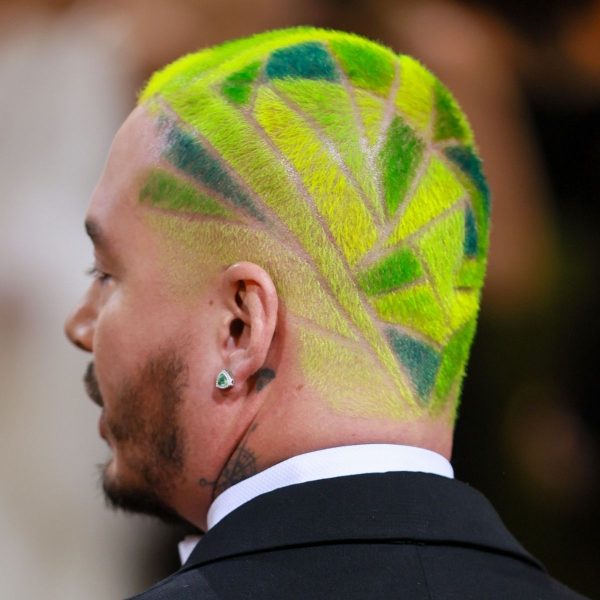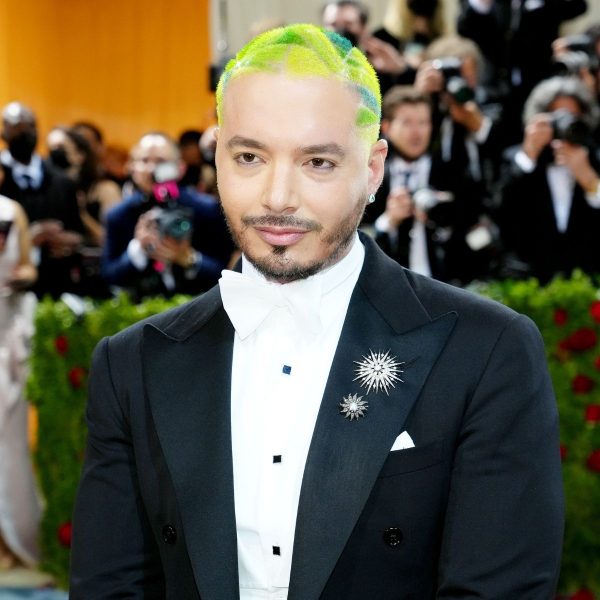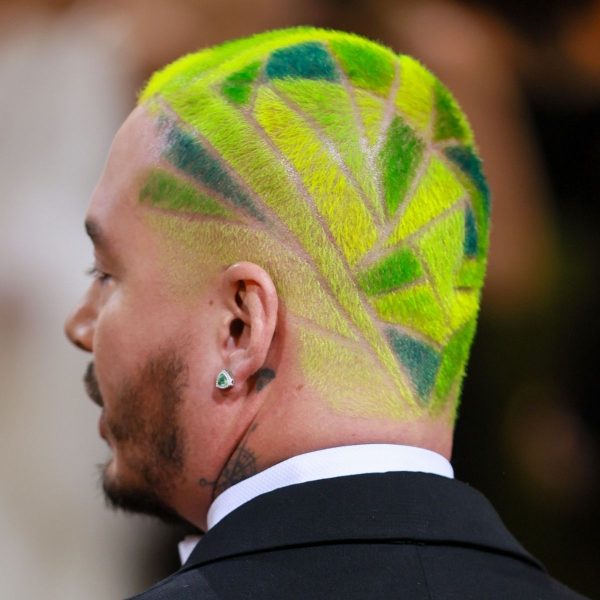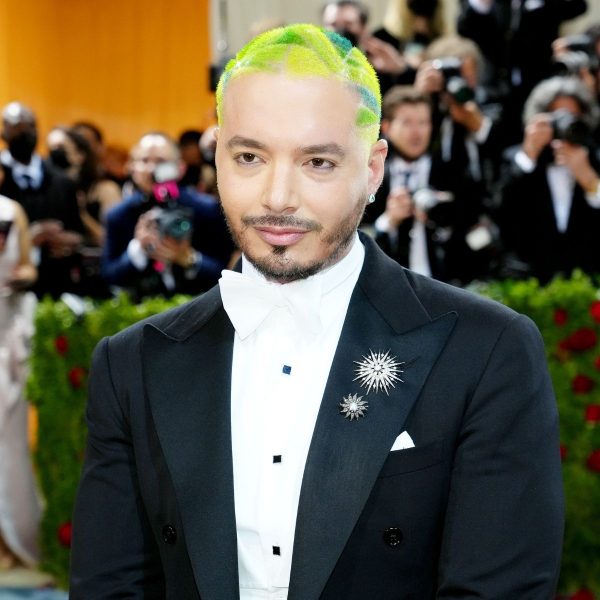 J Balvin: Bleached Buzzcut With Green And Yellow Accents
Columbian superstar J Balvin's bleached buzzcut with green and yellow accents might have even (briefly) stolen the attention away from the Kardashians at this year's Met Gala.
Because this multi-coloured creation has serious wow-factor – yes, even at an event that was packed with 'wow!' and 'woah' moments.
MFH says
Superstar Latino singer J Balvin's bleached buzzcut with green and yellow accents won red carpet at the Met Gala IOHO.
Not sure who this dude with the statement barnet is? He's a 34-year-old Columbian, aka José Álvaro Osorio Balvin. And, statistically speaking, J is not only one of the biggest musos on the planet, but he has also been credited with the revival  of reggaeton.
He's so huge that his streaming figures surpass Drake, Justin Bieber and Cardi B, coming second only to Ed Sheeran.
As for his Met Gala look? Hair today and most likely gone tomorrow.
Because J is the ultimate hair chameleon. And, frankly, his hairdresser is an artist. (FYI: He apparently works with US-based Argentinian photographer and hairstylist Diego Lorez.)
Although blessed with natural, brown Afro-esque hair, the Latino music star suddenly abandoned his classic brunette bonce in about 2017.
Since then he's changed up his hair more than a Kardashian hits the headlines. And he has instead opted for an ever-changing riot of radical neons – think highlighter yellow, lime green, mango, fuschia – and crazy-but-cool patterns like psychadelic tie dye,  this outstanding leopard look and striking tiger print.
Sure, not all of the looks make flatter his olive complexion, but MFH loves a risk taker.
And it's about time we had one ruling the red carpet again.
If you're after J Balvin's bleached buzzcut with green and yellow accents show this photo to your stylist. It'll take someone seriously skilled to do this.
And FYI: you'll need to get your hair bleached platinum blonde before they can apply any of these colours – unless you're naturally a very light blonde.
J can get away with a lot of different colours but even his skin tone is drained by this neon yellow colour.
So so it's crucial to discuss tones with your hairdresser before committing. Because it's best to opt for a shade that best suits your skin and eye colour.
In these pics J Balvin's hair looks pretty freshly done and probably a No 4 on the clippers – aka approximately half an inch of hair.
J's stylist has shaved lines throughout to give the hair an overall pattern.
Keeping it shorter is better for overall hair condition if you're bleaching or colouring it regularly.
It's high maintenance though, you'll need to get it trimmed every two-four weeks.
As with all coloured hair, J Balvin's bleached buzzcut with green and yellow accents will need a lot of TLC to maintain the colour.
This won't just take involve time commitment, but also a financial one. As it's likely J gets his colour refreshed at least fortnightly to keep the regrowth from his naturally dark hair at bay.
If you can't afford to have a stylist on tap, colour fade will be an issue so keep hair washing to a minimum.
But when you do need to shampoo, make sure you use colour-preserving products.
Rinse with cool water, too. Why? Hot water opens the hair cuticle which can cause colour to seep out.
If you really want to cheat the look, get some green and yellow wash out colour sprays.