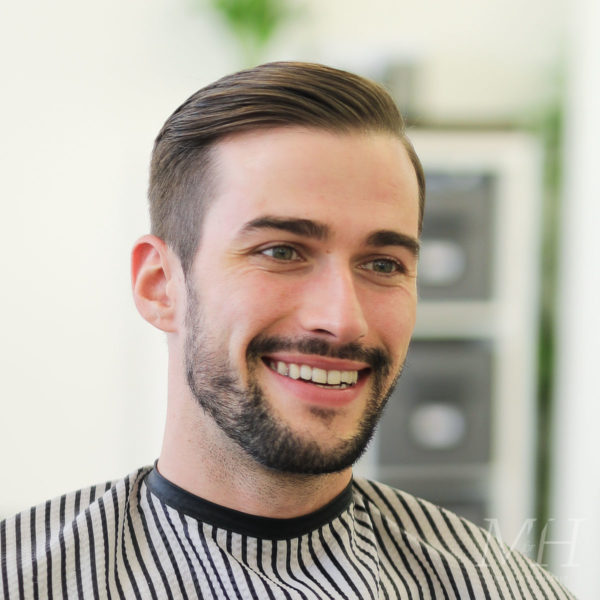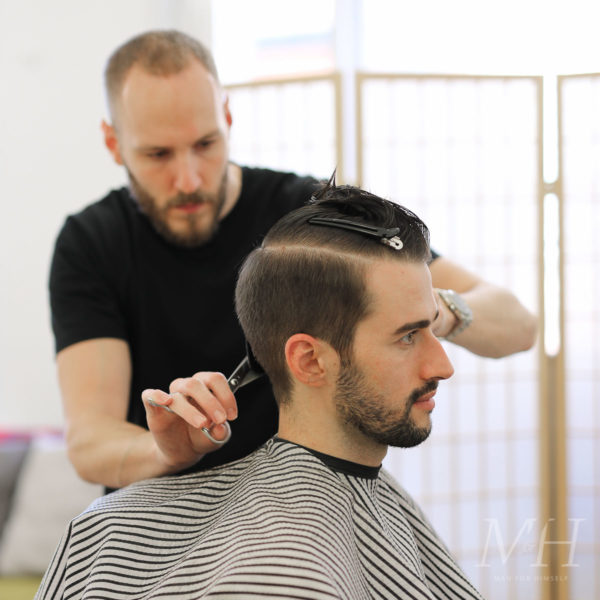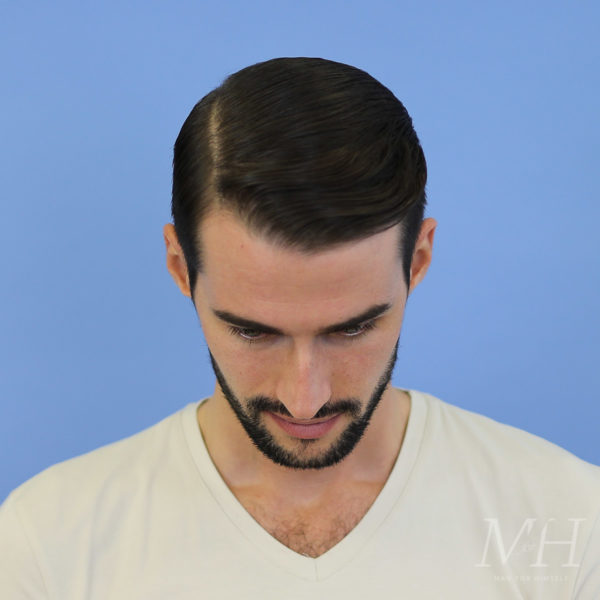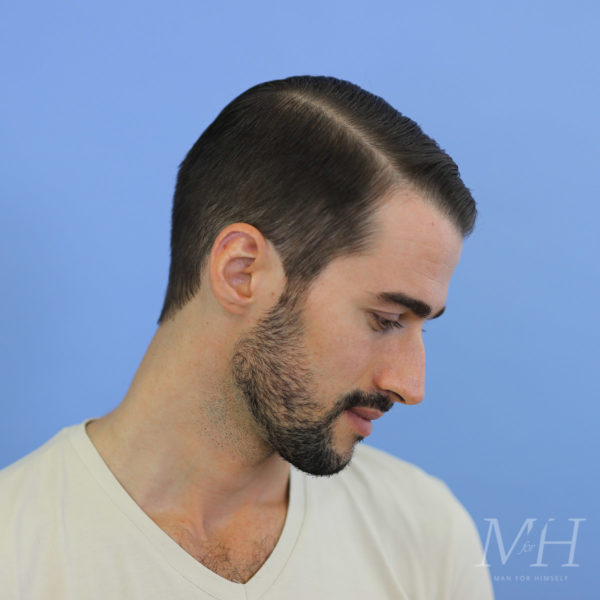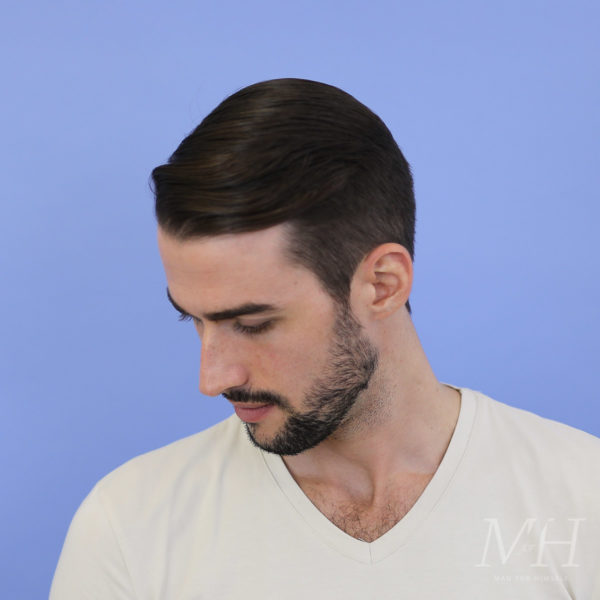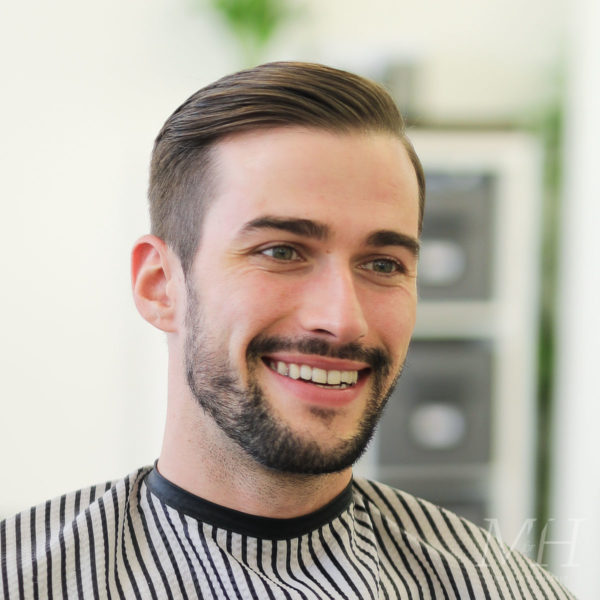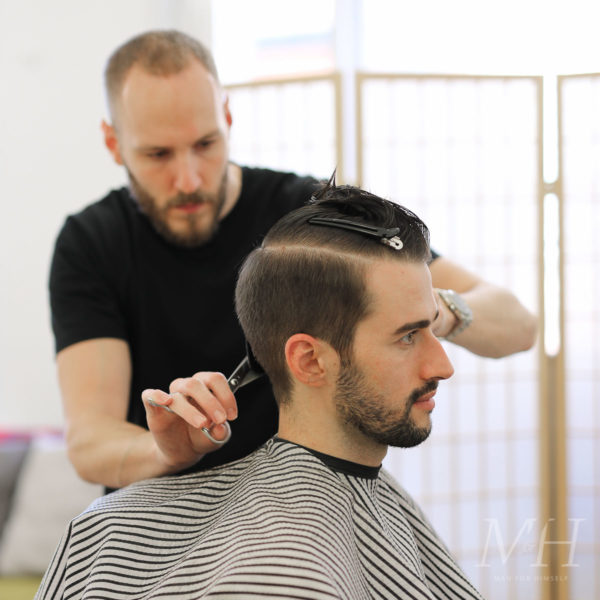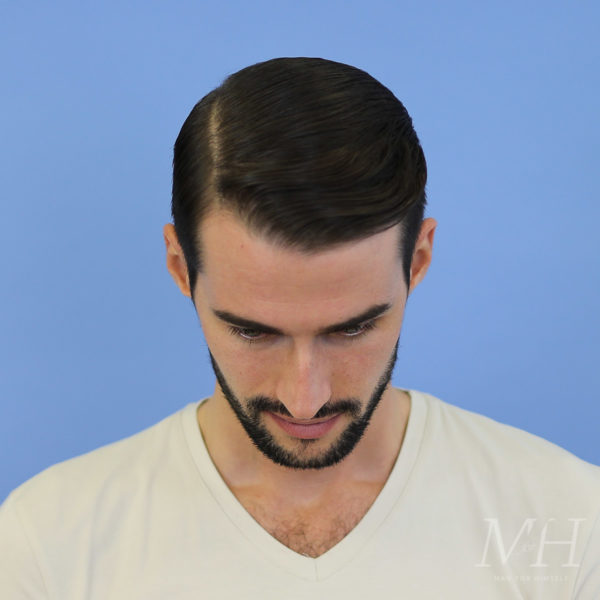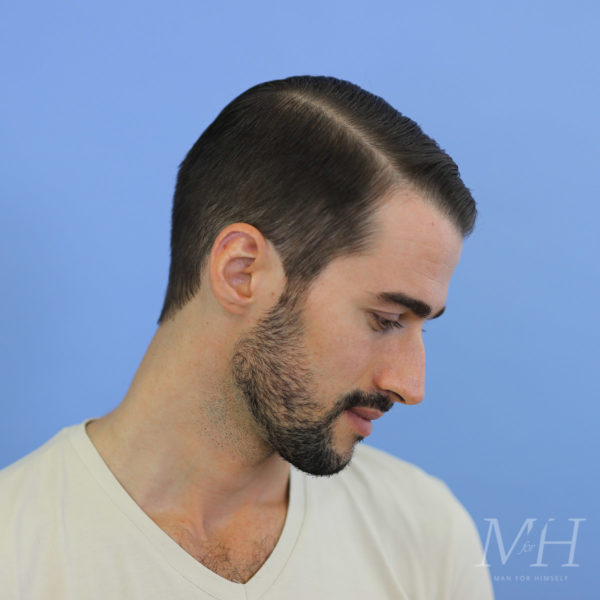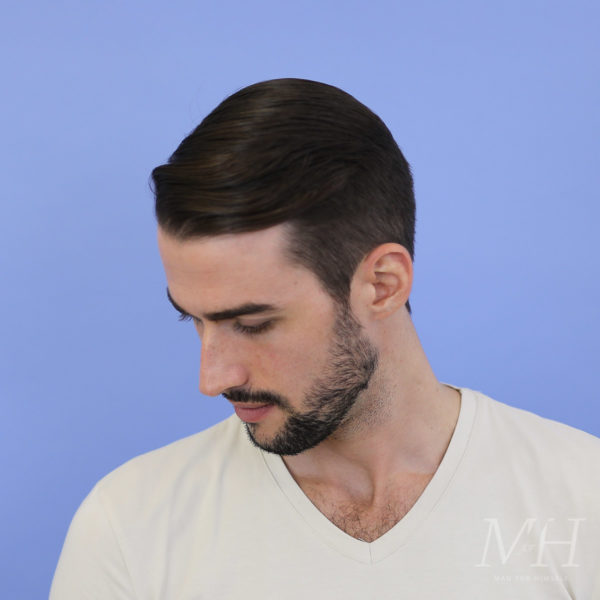 MFH says
This a versatile look that can take you from desk to date night… or just home! It's neat, it's sharp, it's mature.
Try playing with product types – wax, clay, pomade – to up the shine and hold in the finish.
Use the clippers on the sides, on a grade 3, to achieve a polished look. This works well for fine hair, rather than scissor over comb.
Make sure the parting is even and balanced.
For the top, just trim, using diagonal sections and elevate to 90 degrees. This gives fine hair movement.
Blow-dry with a flat brush to control the hair.
The finished style needs to look sleek and finessed.
Use a styling product that has a strong hold and high shine.
After washing the hair, Anthony isolated the top from the sides using a horseshoe section. He went in with a clipper, on a grade 3, to keep it clean on the sides, working up to the weight line.

For fine hair, going in with a clipper first, as opposed to a scissor over comb, can give you a stronger finish and stronger hairline.

Moving on, he took a diagonal section through the side of the hair, where he blended in the weighted side of the hair. Martin's parting sits on the right, so Anthony wanted to make sure it was balanced on the left. 

After clippering, he then scissor-over-combed the weight line down, just over the curvature of the head. 

After the sides, Anthony moved onto the top. 

He used a pivoting, diagonal, forward, motion to really work with the crown. Using this method prevents fine hair, like Martin's, from kicking up.

Anthony also took diagonal sections, elevating at 90 degrees, and took a small amount of the length off. This will maintain flow and movement of the hair, without it becoming spikey.

Elevating back to the crown, Anthony keeps more length at the front. 

Onto styling, Anthony wanted to achieve a structured style with a sleek finish whilst incorporating the parting.

He blow-dried Martin's hair with a flat brush to keep control of the hair. He then used a round brush to smooth the hair, whilst making sure the parting was as sharp as possible.

Anthony took a small amount of our hero product Heavymade to smooth and gloss Martin's hair. 

Hanz De Fuko's Heavymade is the perfect product for this style. It has a strong hold and a very high shine. 

Using a small amount on fine hair provides a supple, satin finish.

Heavymade is naturally quite a dense product but as you can see, it definitely works on Martin's fine hair. 

If you have thicker hair, or for a higher shine, you might want to use a larger amount of product.