If you have a really prominent jawline with a more elongated chin, you will have a triangle face shape. This shape can crossover with the diamond, but here the emphasis will be on the more angular lower part of your face.
For your hair, the challenge is to balance out your wider jaw with a more narrow forehead. By adding a little more volume to the sides and top, you can ensure that this balance is met.
Be careful not to go too soft with the look as this will only draw attention to the jaw and the proportions of your face. The best thing for this one is to add loads of texture – really breaking the hair up and adding more shape to your face.
You can opt for more volume on the top of the hair with a textured quiff. For something more trend-led, go for a mid fade with a heavy, sweeping fringe.
Do You Have A Triangle Face Shape?
Facial Features:
Angular features
Jawline wider than cheekbones
Famous Men With A Triangular Face Shape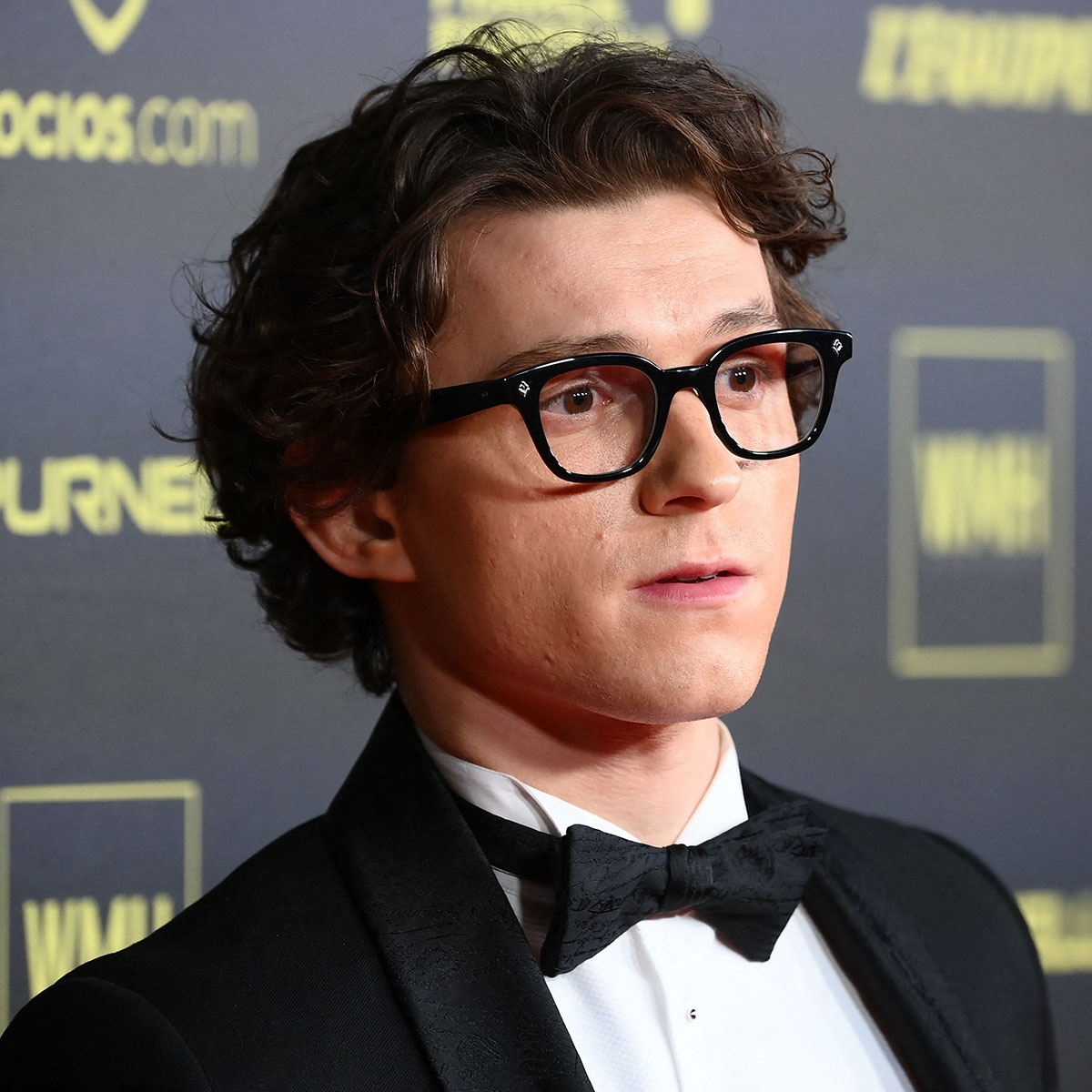 FRANCK FIFE/AFP via Getty Images
Tom Holland: Short Curly Hairstyle
Tom Holland's short, curly hairstyle isn't something we see often.
That's because the Spiderman actor tends to go for haircuts that tame his natural curls and waves.
But MFH loves this natural look on the Brit actor.
After all, if you've got shiny, thick, hair with lots of natural waves like Tom, why not show it off instead of cutting it off?
We're sure Peter Parker's Spidey senses would be tingling with approval…
How To
Tom Holland's short, curly hairstyle is all about embracing your natural texture.
Use nourishing products to avoid frizz and encourage shine.
Don't towel try your hair roughly. Instead gently squeeze the moisture out.
Or you can wrap it in an old cotton T-shirt to get the excess moisture out.
Use a styling product like volumising mousse to encourage fuller waves
Harry Styles: GRAMMY Awards 2021 Hairstyle
I remember a time when David Beckham was the poster boy for great hair but these days, it's all about Harry Styles. Short or long, he just works and owns it!
The perfect mid-length cut and style for anyone with naturally curly hair.
How To
For those of you with wavy or curly hair, grow it out and embrace the natural movement of the hair.
Try using a shampoo like Sachajuan Ocean Mist to pack the hair full of weightless volume.
Dry naturally or use a diffuser on your hairdryer.
For more volume, use a mousse as a pre-styler, to build volume.
Style with a product that will lock in all that movement.
Timothée Chalamet: Long Curly Hair
Work your natural curls like Timothée Chalamet has done. When using a mousse, work through root to tip and try using the diffuser on your hair dryer to maximise airflow across the hair.
If you want more volume, sprinkle some hair powder into the roots. A little goes a long way.
How To
Hair must be cut when wet – allows more control of the hair.
Hair must not be straightened whilst wet so the barber can see exactly where the natural curls sit.
Hair should be kept long, particularly in the back.
Use a styling cream, whilst the hair is damp, to tame any excess frizz.
You can leave it to dry naturally or try using a diffuser to set the shape and curls.
For more lift in the hair, try a hair powder into the roots.
Shawn Mendes: Medium Length Curly Hair
Pop singer Shawn Mendes has the perfect head of thick curly hair. He doesn't over style it and embraces the natural movement and wave. All that's needed for this type of hairstyle is a small amount of product for volume and definition.
How To
Tom Hiddleston: Grown-Out Thinning Hair
Tom Hiddleston's hairline may be on the move but he works the natural wave of his hair to perfection.
If, like Tom, your hair is starting to thin through the front, there are loads (loads!) of hair products out there to help thicken and boost the hair you have. Use them in the pre-styling phase to really kickstart your hairstyle.
How To
If you have a natural wave to your hair, you can leave this hairstyle to dry naturally.
Alternatively, you can use a diffuser to help set the wave.
For Tom Hiddleston's hairstyle, the hair needs to be pushed back off the face and to one side. Try to keep some volume at the front.
For extra volume and bounce, try a volumising serum like The Inkey List Peptide Volumizing Treatment.