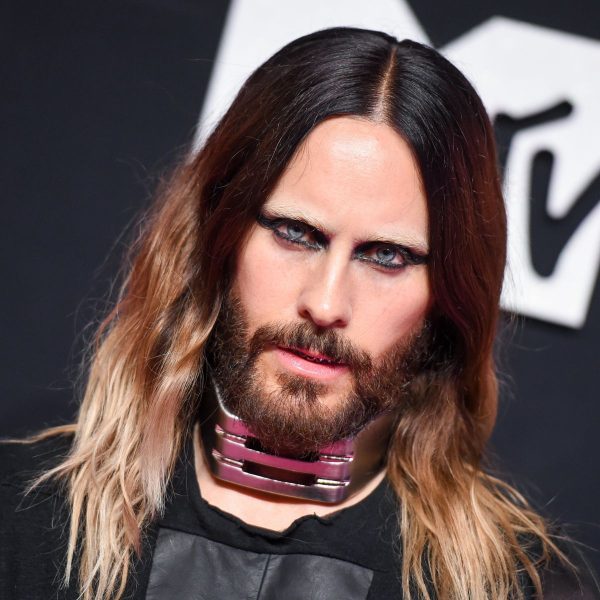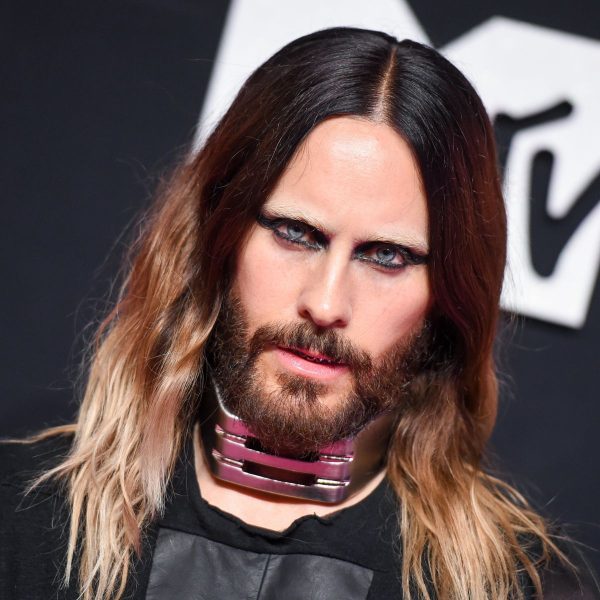 Jared Leto: Long Centre Parted Hair With Bleached Ends
Whether you think of him as a vampire, or a latter-day Dorian Gray, there's no mistaking Jared Leto's face, and his luxuriantly long, centre parted barnet, are, frankly, age defying to the extreme.
Even with those bleached mid-lengths and ends…
MFH says
Jared Leto's  long, centre parted barnet is giving MFH Jesus vibes (well, if Our Lord wore Gucci and makeup) crossed with gothic surfer.
It's quite the lewk.
However, whilst the brunette part of his hair is glossy and luxe, you can see the damage starting to appear from those bleached mid-lengths onwards.
MFH advises a little TLC, Jared – try a leave on conditioner, and a weekly hair mask.
As for who usually attends to his hair and grooming in a professional capacity? He spilled to UK GQ that it's Marcus Francis and Jamie Taylor.
Jared Leto's  long, centre parted barnet is not for someone who isn't patient at growing their hair.
Because it'll take at least 2 years to grow out a short haircut to Jared's length.
To help it grow, ensure you give it plenty of TLC and have trims every few months to get rid of any split ends.
It's not advisable to opt for the ombre highlights that Jared has from his mid-lengths down until it is fully grown – the hair will need to be bleached and it's very damaging.
Your stylist will apply bleach to the mid lengths and ends.
But it needs someone skilled so that it achieves that perfect ombre effect Jared's hair has.
If you want long hair like Jared's you need to look after it.
The bleached ends damage the hair, so try not to wash it more than 2-3 times a week.
Always use a nourishing conditioner on the ends of the hair after washing.
Once a week, it's a good idea to use a deep conditioning treatment and leave it on overnight to penetrate the hair.
Try not to blow dry the hair, either, to prevent further damage.
To stop any damage from happening to your hair while you sleep (especially if you move around a lot), invest in a silk pillowcase.