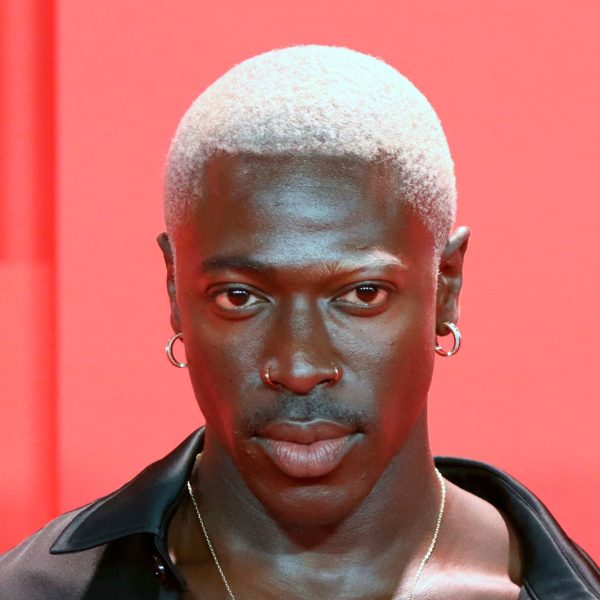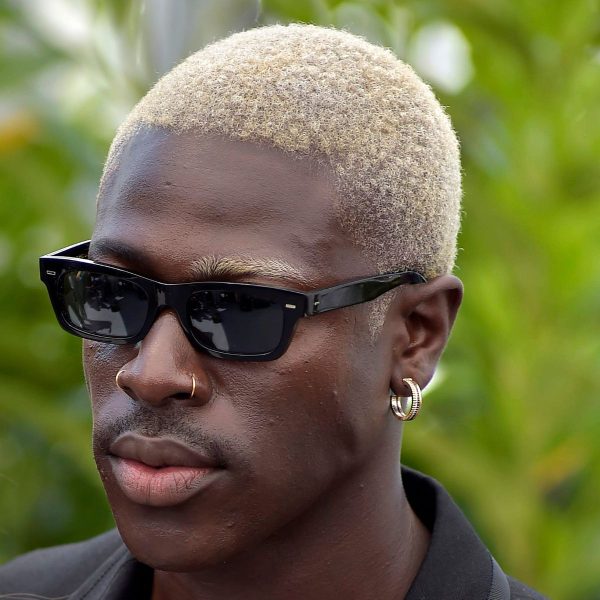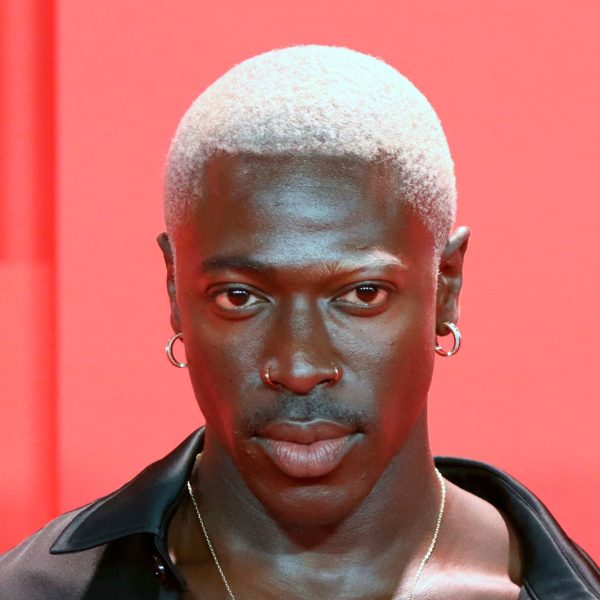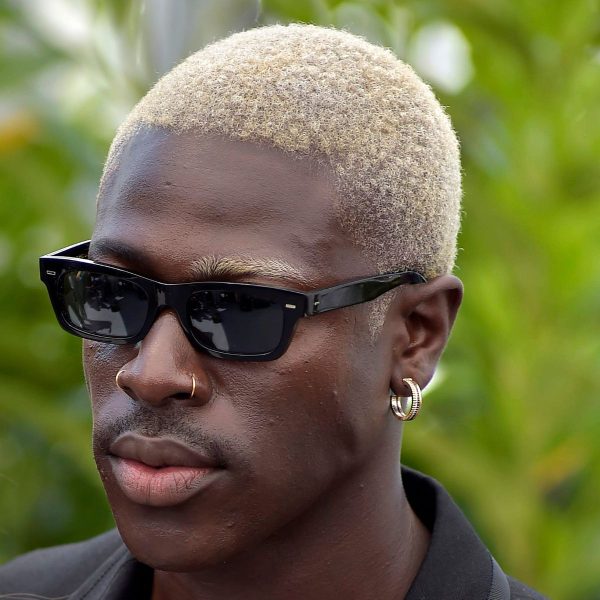 Moses Sumney: Platinum Blonde Afro Buzz Cut
Currently onscreen in The Idol, Ghanaian-American singer-songwriter and actor Moses Sumney's bleached blonde Afro buzz cut is a veritable scene stealer.
The man has a good look, and the camera loves him.
MFH says
There's no doubt that Moses Sumney's bleached blonde Afro buzz cut is a strong look.
Especially when combined with one dark and one platinum eyebrow.
But given his confidence with hair and fashion, it was quite the shock to find out his appearance at Cannes was a cherry popping moment.
He spilled some beans in this chat with Interview magazine…
"This has been my first Cannes. It's my first premiere for my first acting job. A lot of cherries were popped last night," Moses told the magazine.
As for that buff physique? It's all about hard work. Sorry.
"I work out between four and five times a week, and I just try to stay active and healthy. I do a lot of natural body movement stuff and body weight stuff. I have a trainer, and my brain turns off. I show up and I'm like, "Okay, what do I do?" It's not machine-driven. It's about tapping into your actual body and moving, getting close to the earth," he said.
He also pays careful attention to his skin, saying: "Moisturizing is very important to me, deeply, deeply important. We did some lovely skin prep and facials with Charlotte Tilbury, [in Cannes] which is worth mentioning because they were very lovely in coming and helping."
Moses Sumney's bleached blonde Afro buzz cut almost has the stand out factor due to the striking platinum colour.
Be prepared to visit your barber regularly to keep the buzz cut looking sharp.
And also note that the colour will also need weekly or fortnightly touch-ups because of regrowth.
To get the right shade of dyed blonde without totally destroying your hair don't attempt to do this at home. This must be left to the professionals.
Afro hair tends to be more prone to breakage so post-bleach TLC will need to be a regular part of your routine.
You can also experiment with fades and try a low, medium or high fades to give the look even more standout.
Moses Sumney's bleached blonde Afro buzz cut might be super short, but it will still need loads of TLC.
To keep the yellow tones out of your hair, you'll need to use a really good purple or silver shampoo to counteract any warmth in colour.
You'll also need to regularly use scalp oil to ensure that area is protected so that any new hair growing through has a good chance of being strong and healthy.
Try not to wash it more than once a week if you can.
Use a scalp exfoliator and a nourishing deep-conditioning treatment once a week, too.