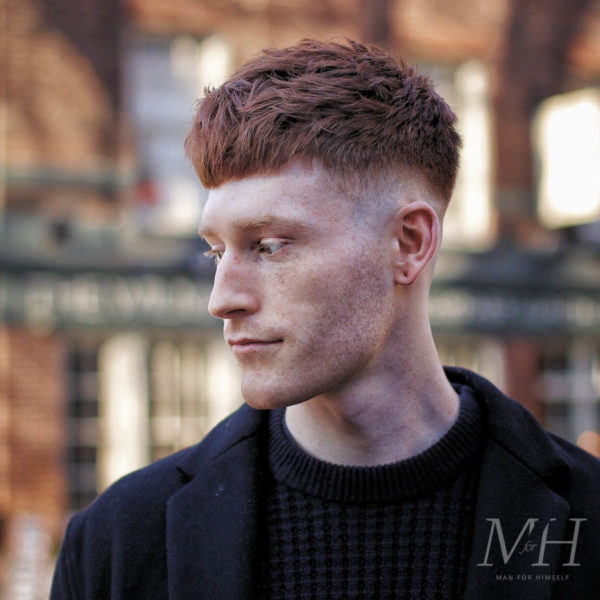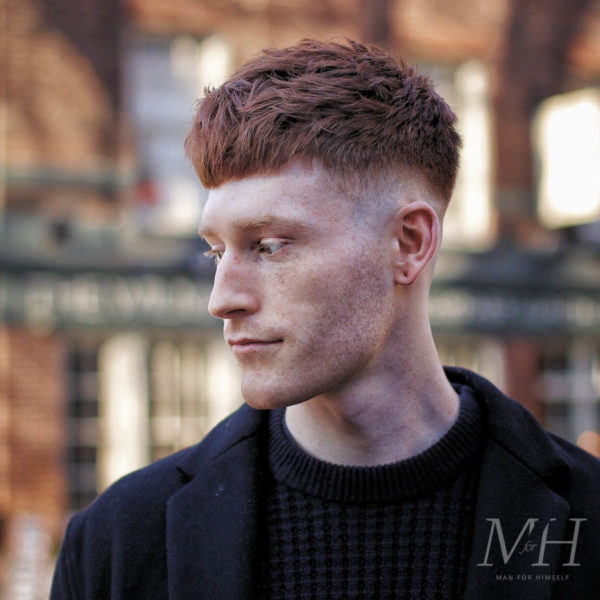 Cropped Fringe Skin Fade
This hairstyle is all about plenty of texture on the top, and precision on the back and sides. The short, cropped, fringe has an unfinished look but still manages to look sharp and stylish. With the hair pushed forward, you can cover up any receding hairline.
MFH says
Find a barber that can fade like Dan! Love the contrast of texture and weight on the top versus the sharp fade on the back and sides.
Cropped fringe.
Use a razor to break up the fringe and 'shatter' the ends for a serrated finish.
Skin fade – should be a 0 at the nape of the neck working up to a 2 and blending into the top.
Leave the length in the top.
Start with a T Section from just in front of the crown down to the fringe.
Then separate from the middle to either recession point keeping it completely straight (not following the hairline) and cut to a desired length.
Work back to the apex (middle) of the head in the same sections.
Then starting from the T at just before the crown cut in the length that you like, the longer the better for more of a harsh effect.
Work down the middle to either side following the guide from the back.
Then use the razor to break up the fringe and shatter the ends to give a serrated finish and work through from side to side sliding the razor through to break up the top and force texture in different ways.
Dry it off into the style then start on your fade.
Start from a number 2 and blend into the top.
Then place the 0 line in, using the trimmers and then foil.
Concentrate on the skin fade working though the guards and lever until happy.
Finish off by cutting the crown into place.
Dan used the LHD No.1 Texture Salt Spray to add texture, and you can see other sea salt sprays here.
Use a small amount of clay to define the ends of the hair.