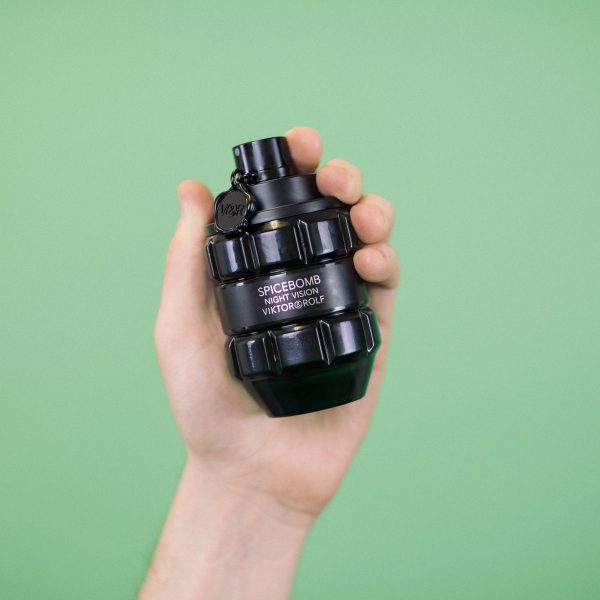 Viktor & Rolf Spicebomb Night Vision
First launched in 2012, Spicebomb fast became an iconic fragrance. So, what's gone wrong with Spicebomb Night Vision? Style over substance?
MFH says
Intoxicating, cheap, artificial and immature.
Spicebomb Night Vision is not for a guy that knows fragrance. Nor is it for a guy who respects other people's sense of smell. A poor launch from Viktor & Rolf.
Spicebomb Night Vision: What They Say
"Meet Viktor & Rolf's explosive new fragrance for men, 'Spicebomb' Night Vision Eau De Toilette. More mysterious, more daring, more provocative yet just as addictive as the original 'Spicebomb'.
Night Vision is an explosive contrast of green, fusing freshness and addictive black spices. Dial up the intensity with an electric attraction of hot spices and vibrant citruses, paired with the dark addiction of Tonka bean and warm woods.
Made for the night, this male aftershave is as fresh as it is spicy, as addictive as it is explosive, and as enticing as it is seductive. Inspired by the green light of Night Vision technology, the iconic bottle is reinterpreted with the electric-green tint of a Night Vision lens that merges into sophisticated black glass. Unleash your inner voyeur with 'Spicebomb' Night Vision, because the best things happen after dark."
No videos found matching your query.
Spicebomb Night Vision: What I Say
From the preamble on the inspiration behind the fragrance to the accompanying trailer, it's clear that this fragrance has been designed by a marketing team, rather than a perfumer.
It's style over substance in a grenade-shaped bottle. Take cover, it's going to blow.
Spicebomb Night Vision Notes
Top:  Bergamot, Green Mandarin, Grapefruit, Apple Accord, Green Cardamom, Black Spices Complex.
Heart: Clary Sage, Geranium, Rosemary, Lavandin.
Base: Roasted Almond, Tonka Bean Absolute, Patchouli, Cedarwood, Vibrant Woods, Musks.
For me, it's a note overload. Nothing is clear. It smells cheap, artificial and immature.
There is an instant spicy kick (really the only connection to the original Spicebomb) which moves down into sage and into some kind of spicy, woody, musky sensory car crash.
It's not alluring. It's not sexy. It is overpowering.
Sillage and Longevity
Sillage is good. You really do smell it in the air… unfortunately. Longevity is fine, but not great.
Comparison
There are similarities between Spicebomb Night Vision and Azzaro Wanted By Night. Both 'night time' fragrances; Wanted By Night does, however, have more tonality and a stronger fragrance identity. Azzaro Solarissimo Levanzo also has some similarity. It has a note profile (fresh, bright) that Night Vision would love to have. But again, Levanzo has a clear identity and is totally recognisable.
As with all fragrances, I would recommend that you make your own decisions. Get yourself into a fragrance store and have a spritz. See how it sits on your skin and if it's the kind of fragrance that represents you.