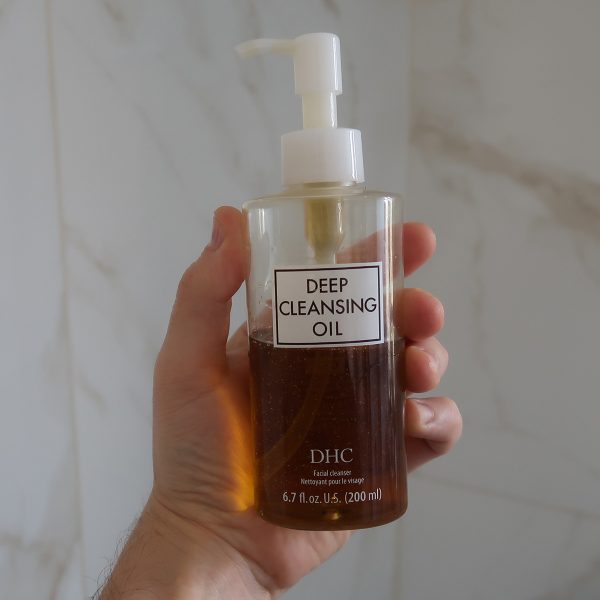 DHC Deep Cleansing Oil
"DHC's bestselling, cult-classic Deep Cleansing Oil is truly one of a kind. The original Japanese first step oil cleanser melts away makeup and dissolves impurities, leaving your skin clean, soft and radiant."
MFH says
One of my favourite skincare products to use in the evening. DHC Cleansing Oil is the first step in my double cleansing evening routine.
I use one pump across my dry skin to dissolve all SPF and impurities. I then move onto a light cleanser to fully remove it. A really great product and one I always recommend!
Product Information
The 100% organic olive-oil based formulation works on the scientific premise that "like attracts like." Applied with dry hands on your dry face, this rich, naturally golden-hued olive oil-based cleanser binds with dirt and effortlessly breaks down sunscreen, sebum and stubborn makeup, like waterproof mascara and eyeliner, without clogging your pores. The water-soluble formula rinses away with zero oily residue. Its silky feel and delicate, natural rosemary aroma make washing your face feel like a luxurious spa experience.
This botanical formulation features antioxidant-rich organic olive oil and vitamin E to hydrate, soften and protect against free radical damage, and rosemary leaf oil to invigorate and refresh. Also works great as a makeup brush cleaner.
Ideal for all skin types.
Features and Benefits
Hydrates and softens skin with Flor de Aceite (flower of the virgin oil), the essence of organic olive oil captured from its first crush before the olives are pressed
Binds with sebum and impurities, and breaks down even stubborn waterproof mascara and eyeliner
Cleanses and softens skin without any oily residue
Provides antioxidant protection against free radicals
Fragrance-free & colorant-free
Application Information
Dispense 2-3 pumps into dry hands. Massage onto dry face to dissolve makeup and other impurities. Rinse thoroughly.
olea europaea (olive) fruit oil, caprylic/capric triglyceride, sorbeth-30 tetraoleate, pentylene glycol, phenoxyethanol, tocopherol, stearyl glycyrrhetinate, rosmarinus officinalis (rosemary) leaf oil