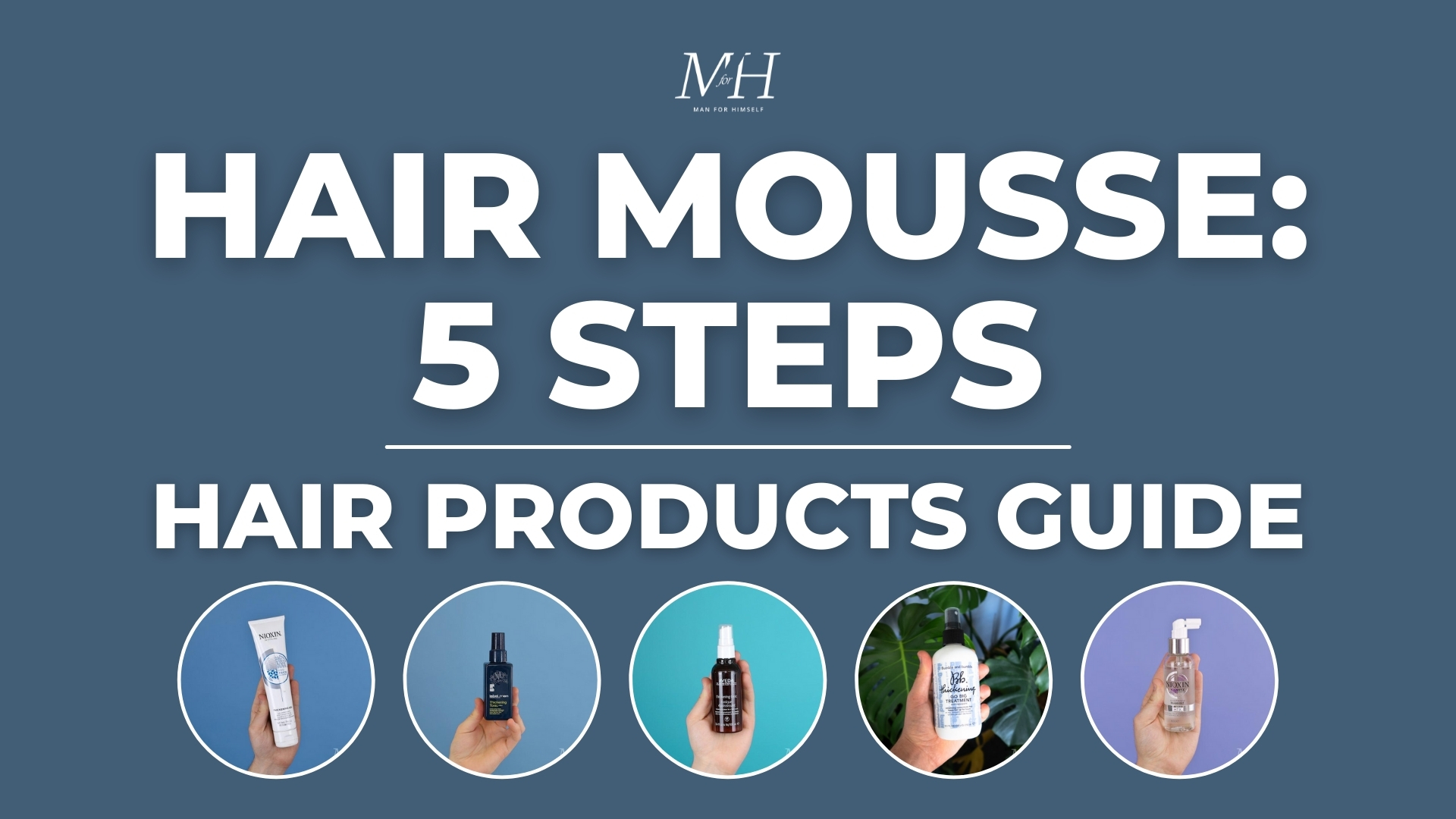 What's a hair mousse?
The foamy product that comes in a pressurized container you see hair stylists and barbers use is mousse. The pressure inside those metal cans allows the liquid to take on a light, foamy texture, and when spritzed creates a little mound onto your hand. Mousse has been around for years, and has been integral in iconic 80s hairstyles.
While thickening products serve the same purpose, mousse will not only give you volume, but also height. The styling product is versatile and has tons of uses for any type of scenario.
Who can use a mousse?
Anyone can use mousse. People with fine or thin hair will benefit greatly from using it. It's going to give you both body and structure that you won't get from any other product. If you have coarse, thick hair or curly locks, a great hairstyle can be achieved with the help of some mousse.
In this article, we'll list the five important steps to follow to maximise the use of mousse.
Which mousse should I try?
There are a lot of hair mousse products out in the market right now that serve various purposes and we're going to do a quick run through of some stand outs.
If you're looking for a cheap option, the VO5 Rework Texture Foam Mousse is a great place to start. It is slightly more drying, but it definitely is capable of transforming your hair.
Meanwhile, Bumble and bumble has their own product: the Thickening Full Form Mousse, which is also a good choice though a bit more on the premium side. The EVO Macgyver Multi-Use Mousse is another option that's an absolute miracle worker for anyone who dreams of big, voluminous hair. If you want to see it in action, we tried it out for the video version of this post on the MFH YouTube channel.
Step 1: Shake
Shaking the can before using it is essential.
The container is pressurized, so giving it a few shakes before spraying will help maintain the mousse's light, fluffy appearance.
What happens when you forget to shake the can is the mousse will come out as a runny, sticky liquid, which isn't what you want.
Step 2: Create a small mound
A small mound of foam is all you need for that initial application. The foam will expand on your hand, so be careful and keep it light because you can always add more as you go on. Then, work it up according to your hair's needs and the style you're going for.
Step 3: Distribute
Step three is distribution. Once you have the mousse, massage it in your hair from root to tip. Don't just focus on the bits you think you're going to have volume, you want it to coat your hair all throughout. If the product is not fully distributed, then you can always add a bit more.
Step 4: Activate
In order for your mousse to work its magic, you first need to activate it. This means heat activation with the use of a hairdryer on medium heat, and on fast speed. This will liven the foam and your hair is going to start to plump.
At this point, it's going to feel a little bit sticky or crispy. But we're here to tell you that this is normal. You want to make the hair dry enough to lessen the stickiness, but you don't wanna overdo it. If it does feel a bit tacky, just keep going until it's fully dry.
You also have to keep in mind that you need to push the hair in the direction that you want while drying it, or else it's just stuck in place. And when you're done, always finish with a blast of cold air. This is so the cuticle closes, which is the outer surface of the hair. It's going to make it stronger and increase the shine, your hair will be thanking you for it.
Step 5: Finish
Once you're happy with how your hair looks, you can seal everything in with a styling product. Ideally, you'd want to use something light and malleable, like a paste or a clay to help build that volume you want. But if you're looking to keep your new hairstyle intact for hours, then hairspray is your best bet. Mousse doesn't typically have much hold, so that is where the hairspray comes in.
Follow these 5 easy steps for a perfect mousse pre-style in no time. In the next article, we're starting on the Styling Phase, introducing you to the most common styling products: clays, pastes, pomades and powders.