 I'm a huge fan of whisky. I'm also a major fan of chocolate. Mix the two and you've got an evening at The Macallan Residence.
Last week I was invited for a night of nosing, tasting and chomping (I tried to keep it classy, honestly) with Macallan whisky and choclatier Artisan du Chocolat. Hosted at Two Temple Place (think Bruce Wayne/Batman's mansion), the night was one of pure extravagance to celebrate The Macallan 1824 Series.
After being piped into the building, we were given two keys – one for our tasting and another for a cocktail. I was then met by a silver platter, towering  with the most high end of scotch eggs (think Fortnum & Mason, rather than Greggs).
While nibbling/inhaling my scotch egg, I had the pleasure in indulging in a nip of the 1824 Rare Cask – crafted from handpicked Spanish sherry seasoned oak casks. This one was pretty big time – with a bottle selling for around £380. I obviously bought one for my tube journey home that night… as if.
After daydreaming of what life could be (one of the many effects of sipping on the sweet nectar of the rare cask), it was upstairs to the main attraction: The Macallan 1824 Series & chocolate pairings.
The next 30 minutes were a mix of both intense pleasure and total torture. Being invited to pick up a glass and a chocolate, I was forced to exercise every ounce of self-discipline to listen to the experts… instead of engaging in a mass chocolate and whisky binge (usually my preferred option).
My favourite combo was – without a doubt – The Macallan Amber with sea salted caramel. I'm literally salivating right now as I type, so you can imagine the orgasmic taste sensation that I had on the night. On biting into the deep cocoa dusted dark chocolate shell, an oozing centre of salty sweet liquid caramel erupted in my mouth. Mixed with The Macallan Amber, my mouth, body and mind were taken on the most intense of taste journeys.
The other whisky and chocolate combinations included The Macallan Gold with a dark chocolate ganache infused with basil and lime; The Macallan Sienna with a dark chocolate ganache infused with Tasmanian honey; and The Macallan Ruby with a tobacco infused ganache.
If I had been left alone in the tasting room, there would have been trouble. Just as well we were escorted out as quickly as we were in.
Still a huge fan of whisky and a massive fan of chocolate. But together, make mine a Macallan Amber and sea salted caramel. Cheers!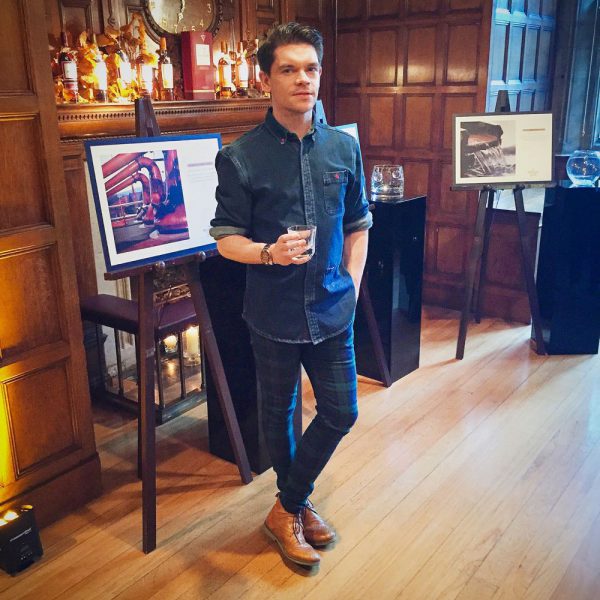 I wore…
Primark shirt
Topman tartan skinnies
Frank Wright brogue boots
---
Check out all things Macallan at www.themacallan.com