 March was a busy old month for me. I was in Geneva, Paris and Barcelona… and my skin and hair definitely took a beating. 
These were the four products that held me together – physically, mentally and emotionally. Okay, maybe a little extreme, but I am totally rating them!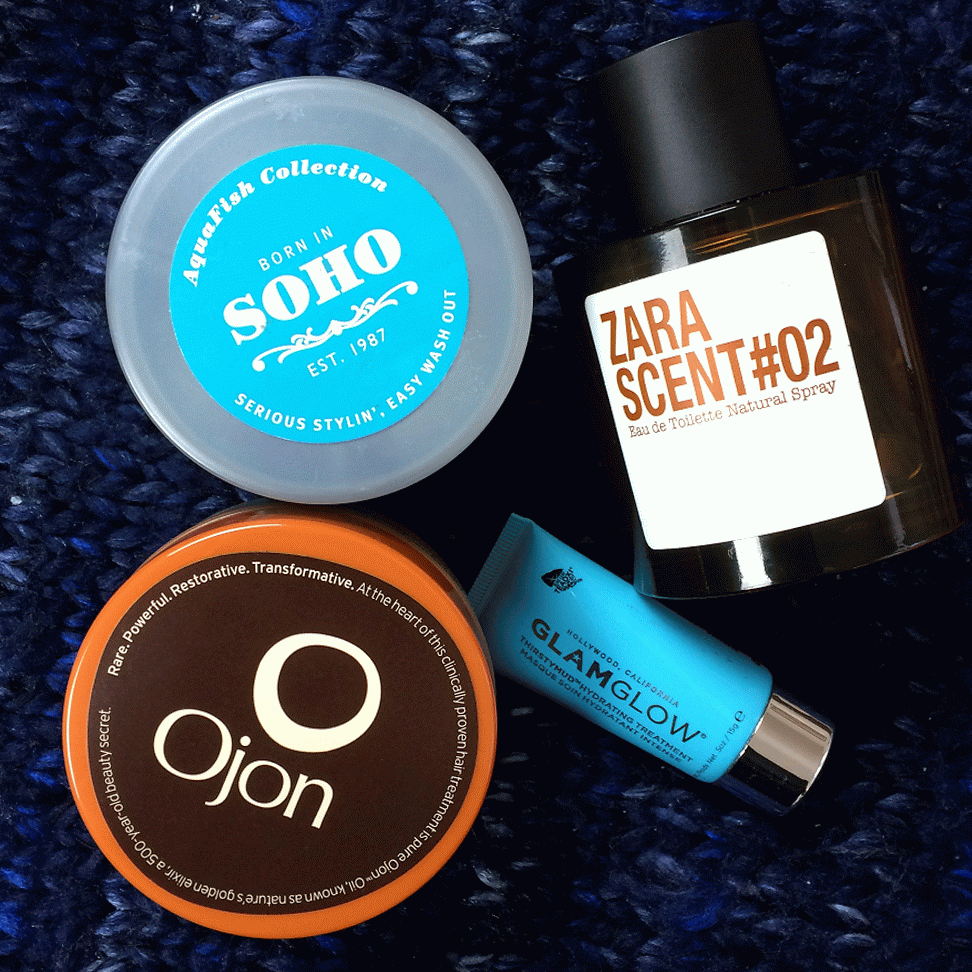 Fish Soho – Aqua Fish – Shape Defining Wax
I'm a big fan of Fish Soho products, but especially love their Aqua Fish range.
Their 
Shape Defining Wax
is one of four styling products (
wax, cream, gum and paste
) in their water-based range and gives a fantastic gloss to the
perfect slick back
.
I particularly love the fact that it's a salon brand with a high street price (
100ml for a £6 tub
) and rivals that of its closest competitor –
Hanz de Fuko's Hybridized Wax.
Ojon – Damage Reverse Restorative Hair Treatment
For those of you who subscribe to me on
YouTube
, you'll know that I experiment with loads of different hair products and a lot of heat. As such, it's really important that I keep my hair strong and healthy.
I've been really impressed with Ojon's Damage Reverse treatment. Warming up a teaspoon of the balm in my hands and applying to dry hair for 20 mins has left my hair feeling soft, and looking noticeably glossier and healthier.
At £19 for 50ml and £34.50 for 100ml, it's not the cheapest product, but I definitely think that it's worth the investment.
GlamGlow – ThirstyMud Hydrating Treatment
After discovering GlamGlow on a visit to the
Mondrian spa
, I've become somewhat of an advocate for the GlamGlow brand.
With a range of products for all skin types, ThirstyMud is an intensive moisturiser to suit everyone. With slightly greasier skin than most, I often find it difficult to find the correct balance of moisture, without clogging my pores and causing spots. ThirstyMud, however, has worked a treat.
Applying under my eyes just before bed, I've woken up looking fresh and rejuvenated. My personal trainer has even commented on how good my skin looks. Result!
At £50 for 50g, it's definitely not a high street product. The results, however, are insanely good. Worth every penny.
Top tip: use on your face and neck after shaving to sooth sores and minimise redness. 
Zara – Scent #02 EDT
Stood in a rather large queue in a Zara store in Paris, I let my hands do some wandering (and spritzing) next to the checkout.
I was really surprised at how good their own brand fragrances smelled. With a basic range of scents priced at £12.99 each, the 100ml eau de toilette sprays are a no brainer.
Perfect for your gym bag or for keeping in your top drawer at work (is that just me!?), Scent #02 is a sweet yet spicy fragrance with notes of lemon, pineapple, violet, chocolate and vanilla.