 The weather is getting warmer. I'm ditching my heavy coats and going for a really casual look this spring.
There's definitely something to be said about a comfy sweatshirt and massive hair. It's a totally relaxed vibe, but can be kept on trend with a good pair of skinnies or joggers; and a great pair of shoes or trainers.
See how I style block coloured sweatshirts, a mesh jumper, ribbed t-shirt, skinny jeans, joggers, Dr. Martens and Converse in my lookbook video. Then read all about my chosen pieces below.


For sizes, I'm 5'10 (not including my quiff)
Block colour sweatshirts | Boohoo | Black, navy, burgundy, grey | £12 |Medium 
Boohoo is fast becoming my go-to for basics. My four block coloured sweatshirts were £12 each and have washed really, very well.
Perfect for layering over t-shirts or shirt, they're the ultimate staple for my spring wardrobe.
Boohoo sizes can come up slightly smaller than other high street stores, so I'd recommend going one size larger than you'd usually buy.




Grey ribbed t-shirt | Topman | £14 | Small
I've been preaching the return of the 90s for some time now, but I'm going to continue with it. This grey ribbed t-shirt has a definite touch of 90s grunge meets pop boyband.
Ribbed clothing can be a little risky – it clings to the body and doesn't leave much to the imagination.
My top tip? Don't care and wear it because you like it.
Mesh crew neck jumper | Topman | £32 | Small
Feeling fresh? Wear this by itself over a pair of super-skinny jeans.
Want to cover the flesh? I'd recommend layering over a black, white or grey t-shirt. Beware of colour, it will detract from the clean lines and silhouette of the jumper.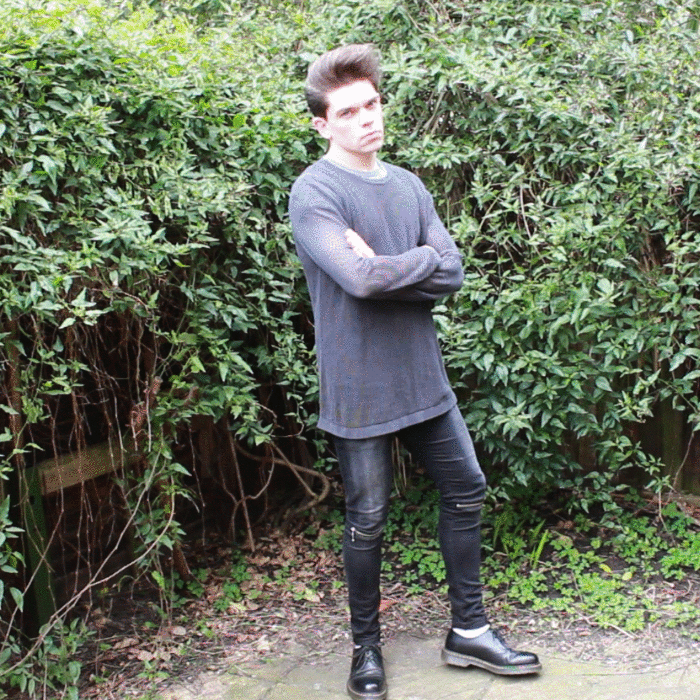 Zipped knee super skinny jeans | ASOS | £35 | 30R
I've just about exhausted every type of skinny jeans, but these ones have added a new dimension to my everyday look.
With a zipped knee, you have the option of exposing yourself (well, your knee) or keeping it covered.
Wear with Dr. Martens for an industrial look.
Dr. Martens shoes | £95 | UK 9
Every guy needs a pair of Dr. Martens in his life. They're a British institution and a great statement piece.
I love wearing mine with skinny jeans, or with the black H&M joggers that I also wear in this vid.
Navy ribbed sweatshirt | H&M | £19.99 | Small
Another great basic for layering in spring… and it's ribbed!
Embossed Backpack | Zara | £49.99
I found this bag in a Zara store in Paris and I instantly fell in love with it. For one, it looks like real leather and it's also a really great size for a backpack.
I've often struggled to find a bag big enough to hold my Macbook, camera and gym bag, but this one fits them all.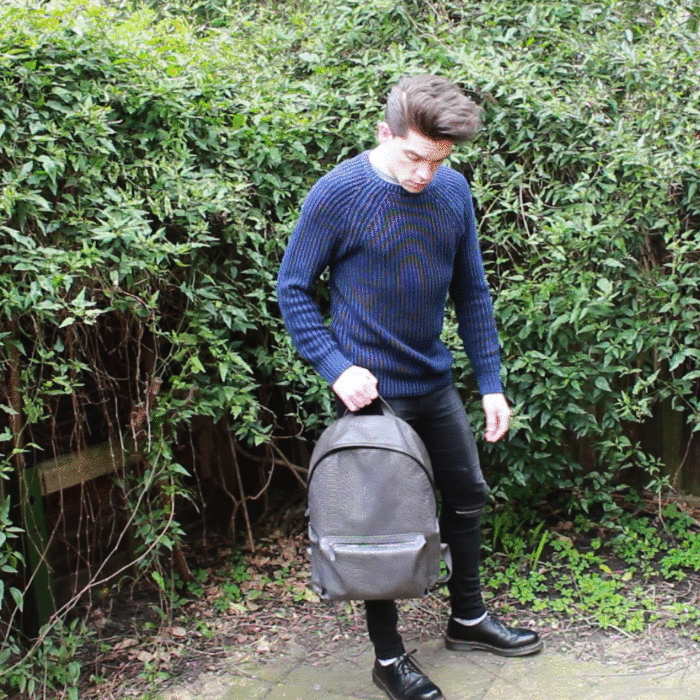 Black printed joggers | H&M | £14.99 |  30R
Sports luxe has been a key trend through 2014 and into 2015. Invest in a pair of cotton joggers for a comfy, casual look that is more street chic than chav chic.
These ones have a draw string and 'things will be the same' printed across them in white.
Camouflage cotton joggers | H&M | £14.99 | 30R
I've had a mild obsession with camo print for quite a while now. So when I saw these in H&M, it was an easy purchase for me.
Like my black printed joggers (also from H&M), these cotton camos are a more stylish alternative to sweatpants, but will still keep you comfortable.
Converse All Star | £50 | UK 9
Much like the Dr. Martens, a pair of Converse All Stars are a must have in every guy's wardrobe. They're a classic and are a fail-safe footwear option for every casual look.
All prices are correct at time of publishing (25 March, 2015)