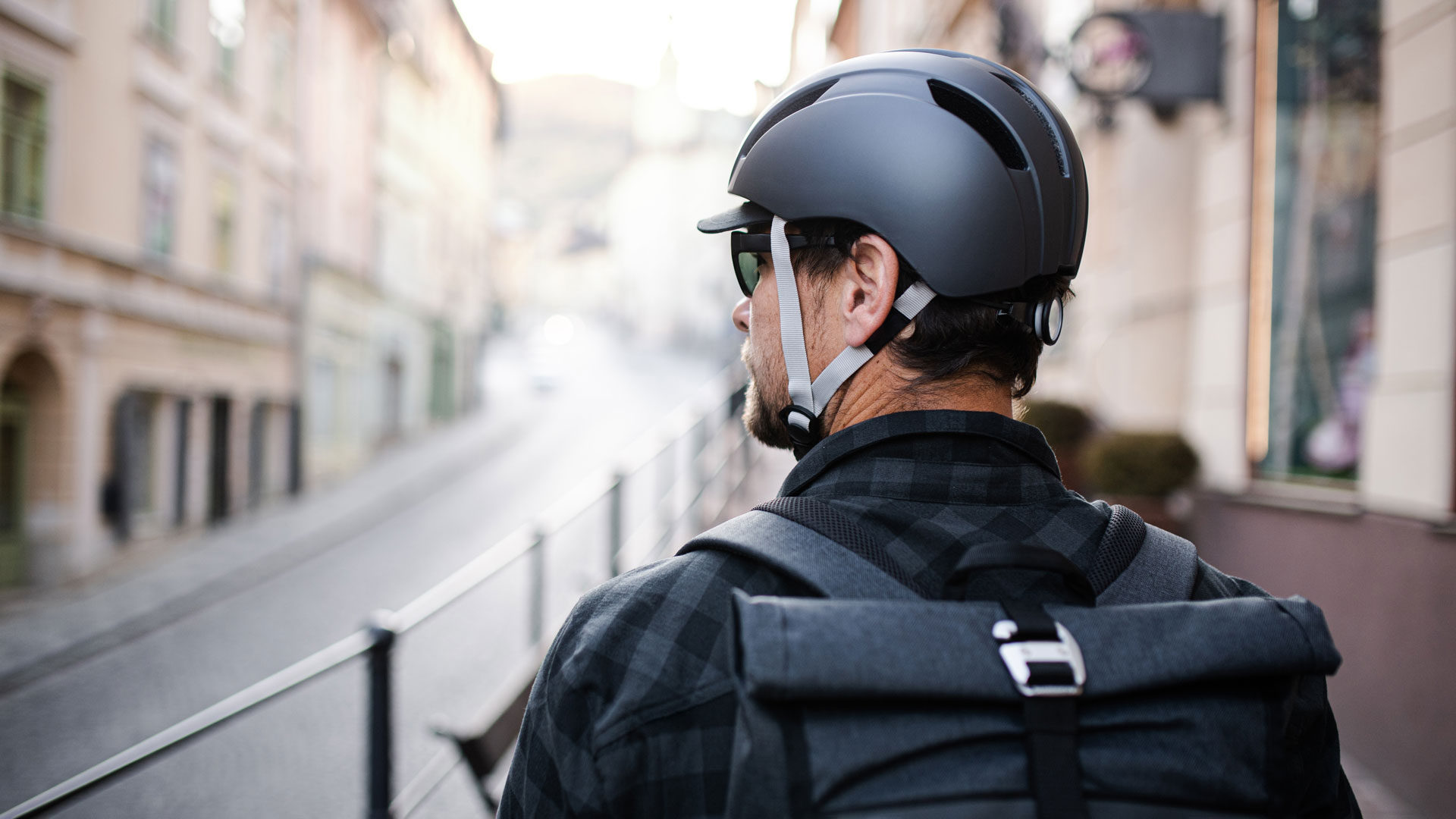 There's nothing like the freedom of cycling to work, feeling the wind on your face and your quads on fire as you pump the pedals, upping your fitness and your planet-saving creds. #smug
But there's a secret stress that many cyclists face. One that nobody likes to talk about for fear of taking the sheen off their cycling prowess.  It's *whispers* helmet hair.
Yup, we're talking about sweaty hair, those tell-tale bits of flat hair, and unsightly helmet ridges. But we've got the insider info from Aurelija Vizgirdaite of Pall Mall Barbers on how to make this hair horror as much a thing of the past as those lockdown Zoom quizzes…
1. Size matters
Well, it does when it comes to bike helmets. 'Choose the right shaped helmet – aim for one that is smooth on the inside and that isn't too tight,' Aurelija Because, let's face it, you don't want to be dealing with the twin 'mares of a headache and a bad hair day.
2. Befriend your barber
'This might sound obvious, but if you're a dedicated cyclist it's best to get a very short, or easily adaptable haircut,' urges Aurelija. Especially if your style usually involves a lot of mirror time. (MFH recommends a Caesar cut, French Crop, Buzz Cut, Crew Cut, or styles with a high fade).
3. Prep that bonce
Washing and conditioning are key. 'It's important that your hair is clean and not sticky with sweat or two-day old hair products,' Aurelija says. Or, frankly, your helmet will use that build up to shape it into something even more unsightly. 'Always use conditioner to keep the dryness away – otherwise you'll get tangles, and your hair is more likely to stick up.'
4. Wet hair no-no
Allow for some pre-cycle drying time. 'Don't wear a helmet with wet hair,' Aurelija 'Not only will it make it difficult to style afterwards, but it can also cause dandruff and scalp problems in the long run.' Noted.
5. Style solutions
'If you've got longer hair, then you can stick it in a bun, ponytail or braids. But if you have shorter hair, with a longer, floppy fringe or curtains, the best advice is to push your hair backwards away from your forehead, or your helmet may make dents in it,' advises Aurelija. (This is where the Jack Grealish headband comes into its own, no?)
6. H20 hair saviour
When you arrive at work? If your 'do is looking more 'doh!' than dope, Aurelija recommends working water through your hair from roots to the ends, using your fingers get the dents out.
7. Helmet hair heroes
'Always have a small hand towel in your backpack and use it to dry off the excess moisture. Then spritz a sea salt spray in your hair from roots to ends,' Aurelija (Depending on your hairstyle, you can also use texturising clay, or even dry shampoo if you need to add a bit more volume once it's dry). For Afro hair, keep an Afro comb in your backpack and gently use it to can pull the hair out into shape where it has been flattened.
8. Bathroom blow dry
'If your work bathroom has a hand dryer, stick your hair under that and use your fingers to shape it and ruffle some texture into it. For curly hair, you can scrunch some curls back in,' Aurelija adds. If you have a long fringe and are especially fussy about it being straight? You can get small, battery-operated straighteners that'll easily fit in a backpack side-pocket.
9. Simplicity rules
Ultimately, it's about keeping your kit simple, and your mirror time minimal. Your barber can give you on-the-run styling tips, too (don't be embarrassed to ask!) or advise you on the kind of wash and go cut that'll work for your face shape and hair type.