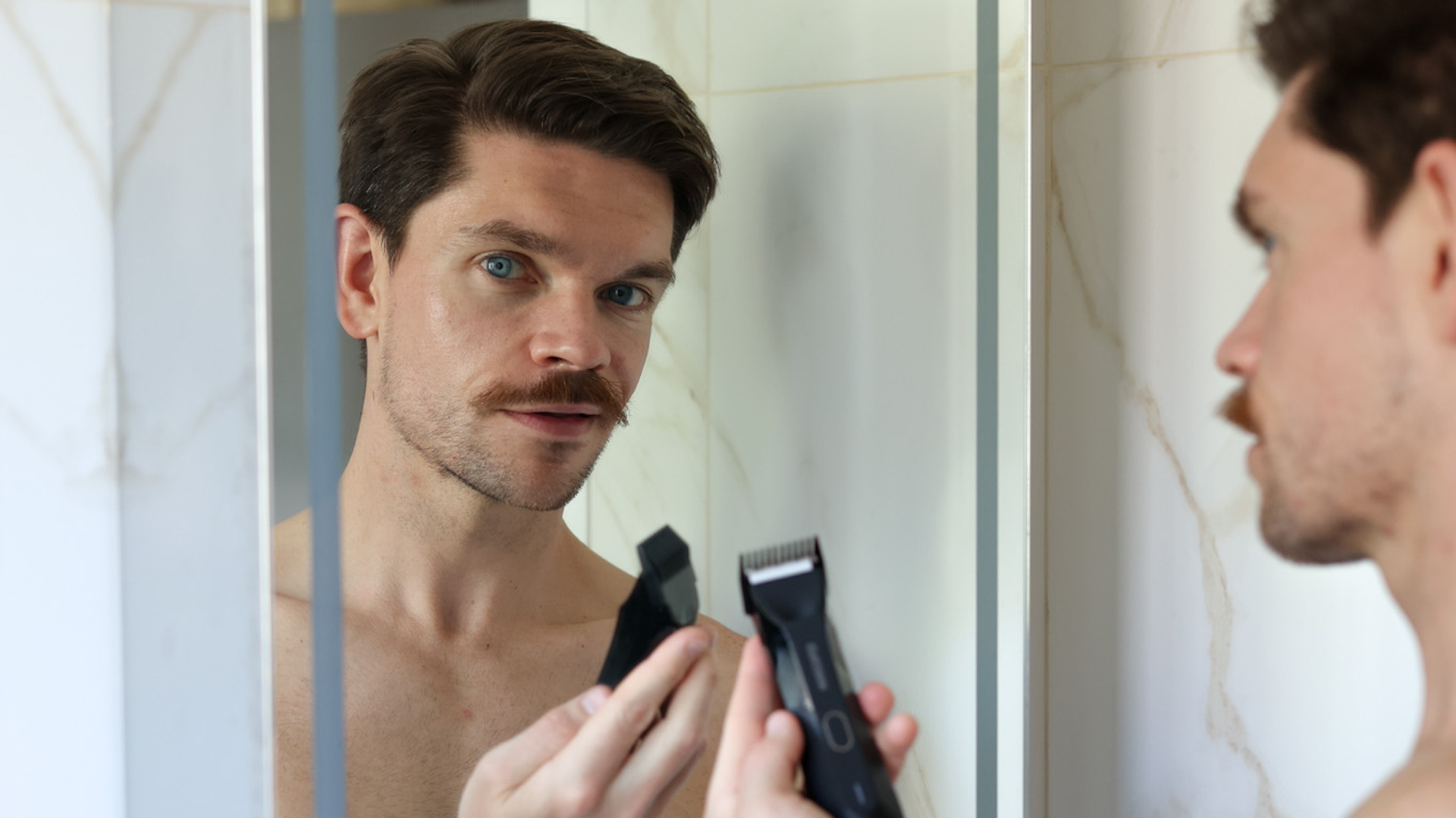 Manscaping (body grooming) was once quite a divisive topic. Many of us would trim our body hair; but most wouldn't admit to it!
But those days are gone. And we should be championing the grooming choices we have; and the technology that allows us to neatly – and safely – trim our chest, balls and 'bits'.
But, it's not just a case of whipping down your briefs and going wild with a razor. There are some important things to do (and not do) when manscaping.
Follow my tried and tested top 5 tips here.
1. Have the right tool
I've experimented with lots of different tools to tame and trim my body hair. Not all of these experiences have been good!
I've shaved, waxed, used hair removal creams and also trimmed.
Wet Shaving:

You run the risk of ingrown hairs – especially around your crotch area.
The feeling of body hair growing back can be really uncomfortable. It can itch like nothing else!

Waxing: 

Waxing is great for dealing with back hair. It will take it all off and last a good amount of time.
For other areas, waxing can be pretty tricky to do right and may require professional help.

Hair removal cream: 

If this goes wrong, you will know about it.
One minute over the '5 minute maximum' will leave your skin in a heated, itchy rash. No amount of moisturiser will take the sting out. Believe me. It isn't worth it. 

Trimming 

Using an electric trimmer is my preferred method.
You can choose what length you want.
Choose a tool like the Manscaped Lawn Mower 4.0 that can be used in the shower, wet or dry.
It's the quickest method.
---
I'm using the Manscaped Lawn Mower 4.0. As part of the Performance Package 4.0 by Manscaped, you get their iconic Lawn Mower 4.0 tool; the Weed Whacker (nose and ear trimmer); Crop Reviver (ball toner); Crop Preserver (ball deodorant); She Travel Bag; and anti-chafing boxers.
The Lawn Mower 4.0 is a rechargeable tool that can be used wet or dry. With adjustable settings, you can go as long or as short with your body hair as you like. And the ceramic blades mean that your trimming (or shaving) experience is as safe as it can possibly be. No more accidents downstairs!
Use code MFH for 20% off and free shipping at Manscaped. 
---
2. Pick the right length
There's no right or wrong length for body hair. It really is a personal preference.
Experiment with it and see what suits you. Sculpting your body hair can add muscle definition and give your package a boost in the size department.
Back 

You really want to get this waxed. It will last longer.

Chest

If you're a guy with thick facial hair, your chest hair should compliment this. If you whip it all off, there will be a hair imbalance across your body.
I'd always recommend starting long with your trimmer and reviewing at different stages.
Go as short as you feel comfortable with.

Underarms

You can go as much or as little with this.
If it's poking out of your t-shirt, take off some of the length.
Gym-going guys tend to keep this pretty short.

Pubic hair 

The easiest area to trim – keep some of the hair but make it neat.

Balls 

You want to try and get as much hair off here as possible.
It'll take time, but it's worth it.
Use the trimmer bare against your skin – using it in short and slow strokes.
The ceramic blade on the Lawn Mower 4.0 ensures a clean and safe experience – reducing grooming accidents.

Perineum (aka grundle/gooch)

Like your balls, you want to keep this area totally trimmed.
As close as possible.
If you're going in for a back wax, consider getting this done at the same time.

Bum 

Yep, we're keeping this trimmed too.
Not too short, but you want to be able to see the skin.
Again, you can get this waxed. I've never done it, but some guys swear by it.
Remember: After trimming around any of these areas, apply a light moisturiser to keep the skin cool and to avoid any redness. The Manscaped Performance package includes their Crop Reviver (ball toning spray) and Crop Preserver (ball anti-chaffing deodorant) to help with this. 
3. Wet or Dry
Do it dry
Although you're doing it in the shower, keep the shower off until you're totally finished.
Wet hair can bunch up and stick to skin.
Dry hair will allow a closer and more accurate trim.
Do it in the shower
This is more about cleanliness rather than some magic technique.
It will keep all the hair contained in one place, and you can shower straight after.
4. Stretch the skin
Stretching your skin will allow you to get into all areas of your body, especially around your crotch.
There are skin fold and grooves on the the crotch area.
With your free hand, carefully stretch this area to allow your trimmer to get right in.
5. Cut the way your hair grows
You guys will know about this from shaving your face and neck.
Trim the way your hair grows – this will allow a more even length across your body.
Your hair grows in different patterns, especially on your chest.
In the Manscaped Performance Package 4.0.
Lawn Mower 4.0.

The 4th generation trimmer features a cutting-edge ceramic blade to reduce grooming accidents thanks to their Advanced SkinSafe™Technology.
The Lawn Mower 4.0. has a 7,000 RPM motor, a multi-function on/off switch that can engage a travel lock, AND gives you the ability to turn the 4000k LED spotlight on and off when needed for a more precise shave.

Weed Whacker!

Waterproof and shock-resistant nose and ear trimmer.
Designed with proprietary SkinSafe™ technology, the Weed Whacker helps reduce nicks, snags, and tugs.

The Crop Preserver™.

Ball deodorant – helps create an anti-chafing barrier and provides freshness below-the-waist.

The Crop Reviver™.

Ball toner – features soothing aloe and witch hazel extracts for protection among the highly sensitive areas of the body.

Shed Travel bag.
Anti-chafing boxers.
---