Trending styles have generally become more casual over the years; and you are more likely to see a pair of trainers on the red carpet with a suit, than a pair of brogues. So when the dress code 'smart casual' pops up, it can be a little vexing as to what exactly is the right thing to wear.
Man For Himself has worked with Swedish brand John Henric to pick out some pieces that work really well for those less formal occasions, and styled 5 looks to show you how to wear them.
---
Use Code: Robin30 FOR 30% OFF ENTIRE ORDER at John Henric
---
What is Smart Casual?
There is no exact definition of smart casual. That's not helpful, we know, but it does mean it is open to personal interpretation. So, you can get creative. There are definitely some dos and don'ts though, like no ripped jeans or your worn-in Sunday tracksuit!
To make it simple, smart casual is a compromise between very formal and your typical weekend/at home casual wear. It is 'informal'. So, that means stepping out of your office uniform (which is probably a suit for a lot of you guys), and wearing something more comfortable, but with a slightly formal edge.
Top Tips For Dressing Smart Casual
Consider the occasion you are dressing for. Do some research into what you think other people might be wearing.
When picking items, go for muted tones. They tend to look slightly more formal and are easier to wear.
Ripped and overly baggy jeans are a definite 'no'.
If you want to wear denim jeans, make sure you wear ones which fit you well and are a dark navy or black wash.
Chinos are a great go-to for smart casual trousers. You can style them up and even try an unusual colour should you wish.
Trainers are acceptable but just make sure they are clean and not beaten up.
Don't wear your office leather black shoes. Try a brown lace up or a Chelsea/desert boot instead.
Layer up. You can wear a shirt under a sweater if you don't want to wear t-shirt. Layering enables you to be a bit more creative.
If you are not massively into fashion, try to avoid trends and buy pieces that are classic, timeless and comfortable.
Find brands that use high quality fabrics, like John Henric. The items will last longer and they will physically look better.
An unstructured or knitted jacket can be an alternative to the classic stiff suit.
Accessories: wear a nice watch (nothing garish), try a decent belt – perhaps leather or a textured material, also we suggest a patterned scarf to add a bit of interest to the look.
Outfit 1
This is a really simple smart casual outfit and the layering over a soft cotton shirt is ideal for that post-work look.
Oatmeal can wash out some skin colour tones, but this beautiful cashmere jumper from John Henric is more brown than beige. Wearing this blue, or another white shirt, underneath will lift the colour.
Cashmere always looks and feels high quality. It is always worth spending a little more on it as well. Just keep it away from the moths!
The colour of this shirt almost makes it look chambray and due to its soft nature it looks more casual than a stiff oxford shirt.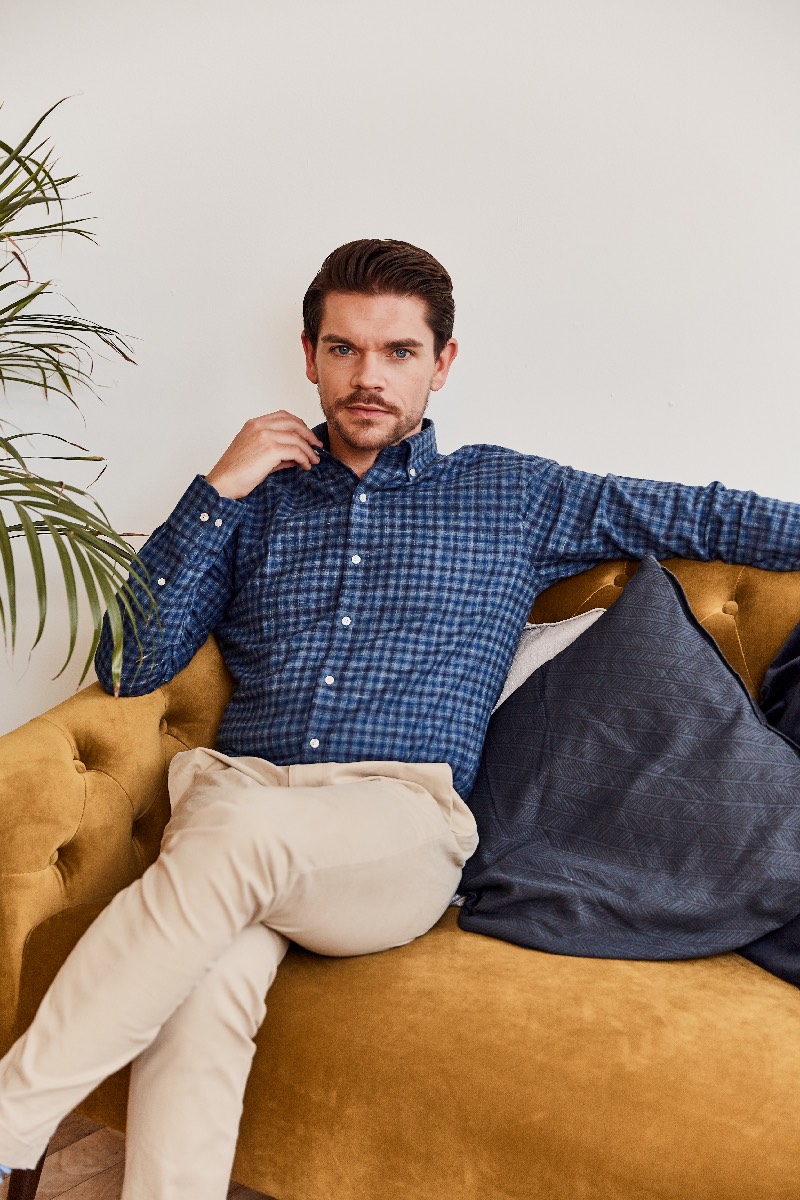 Outfit 2
A brushed cotton or flannel is another great alternative to a classic dress shirt.
The checked print works on its own and doesn't necessarily need layering. The pattern adds a bit more style and interest to an outfit.
If you do want to layer it up, you can wear it with a loose blazer. This will act as added warmth and another style element.
This Berin shirt is extremely wearable and can be worn with dark denim or chinos.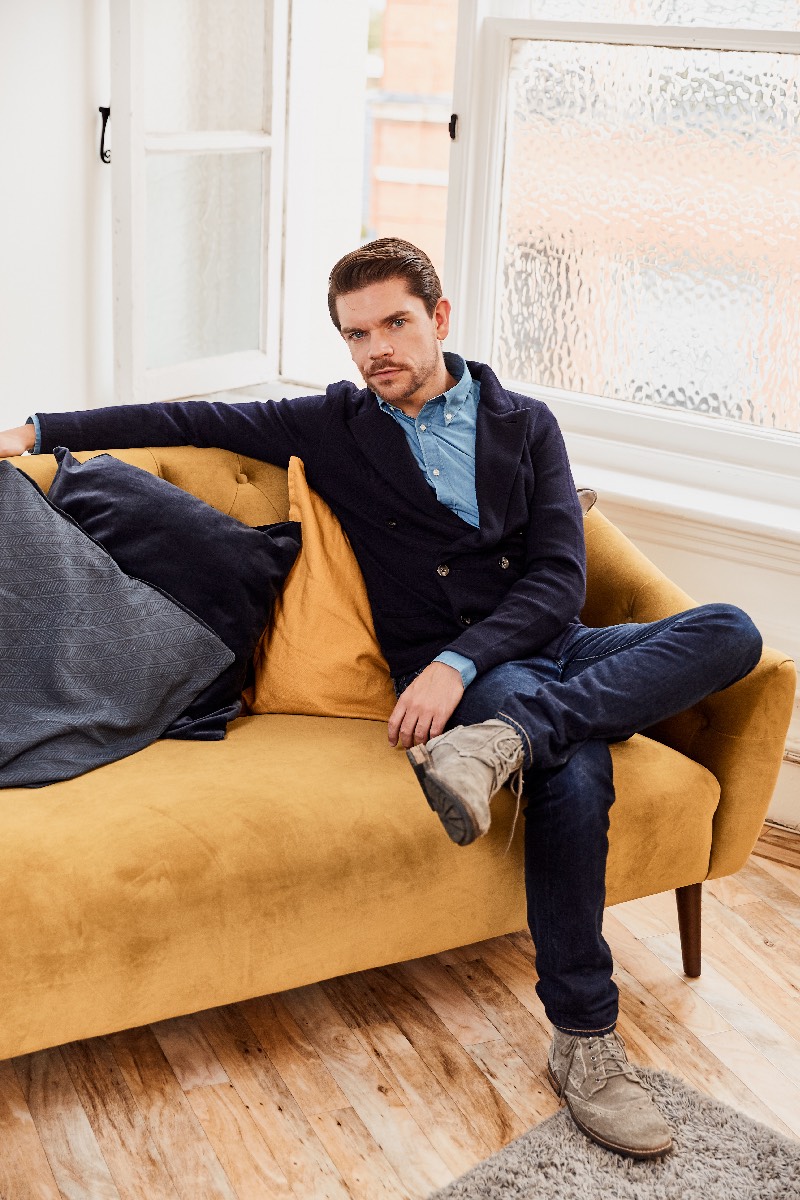 Who are John Henric?
John Henric was founded in 2008 in the Swedish city of Lund.
They brand started by producing high quality accessories for other high-end brands but after a while decided to branch out and build their own brand, with knitwear, bags and shirts.
The two founders John Ekström and Nicklas Nordbergh wanted to create a men's brand that focuses on high quality craftsmanship and creativity. They also aim to produce affordable luxury clothing and accessories  which they do by cutting out the middle man and working with small and family-owned manufacturers.
They offer a wide selection of stylish clothing and are all cut extremely well, using high quality fabrics. And with free worldwide express shipping, you can receive your order in 1-2 days!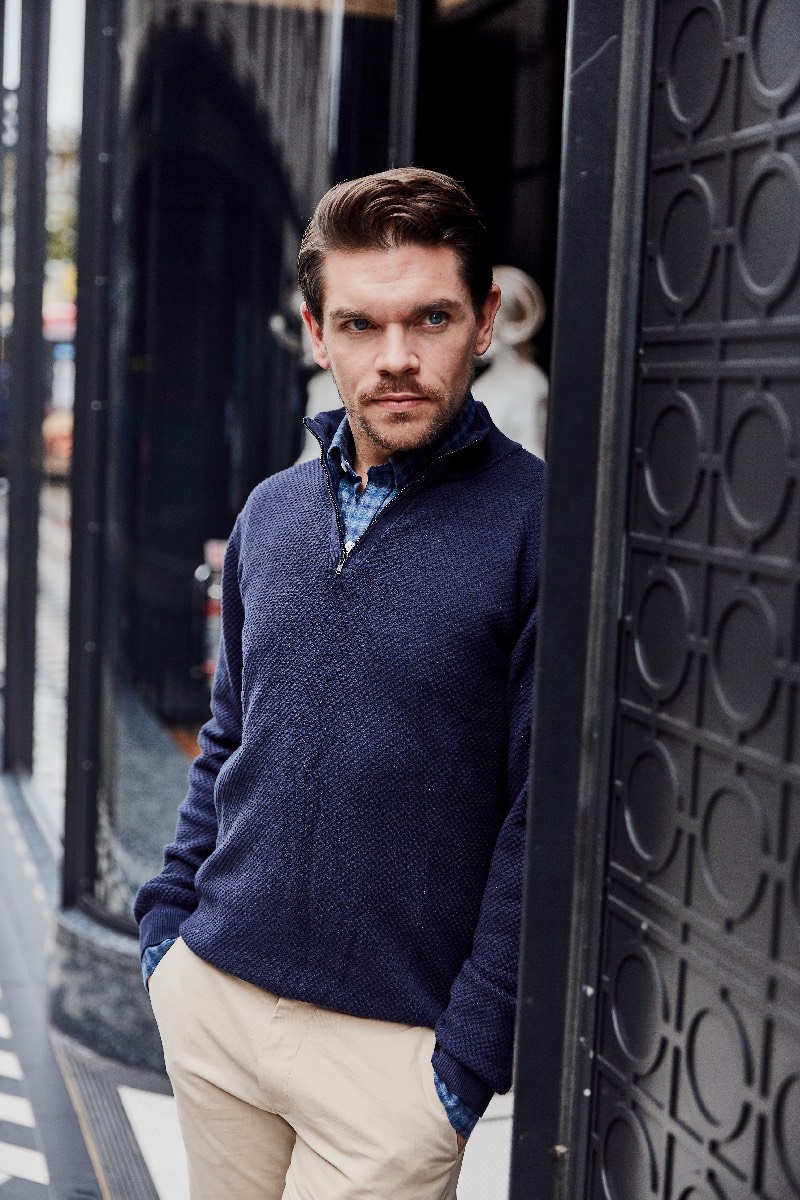 Outfit 3
This zip up knit sweater from John Henric is a more formal option to a crew neck sweatshirt.
Loose sweaters can look a bit too sloppy for smart casual. This piece of knitwear is slim fitting and so fits a bit closer to the body, providing a more formal and well-put-together look.
Wear it over a t-shirt or layer with a shirt and a pair of smart trainers.
Plus, this is an ideal transitional piece for autumn into winter. It will definitely keep you warm.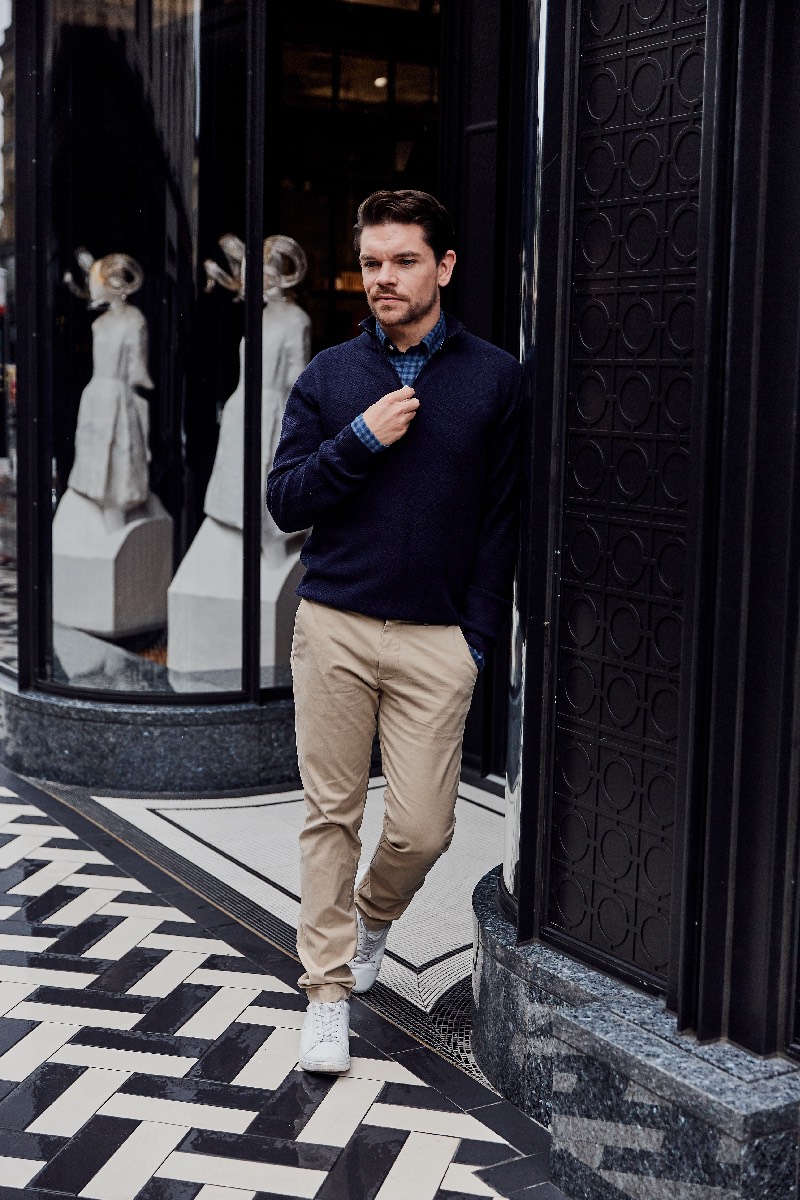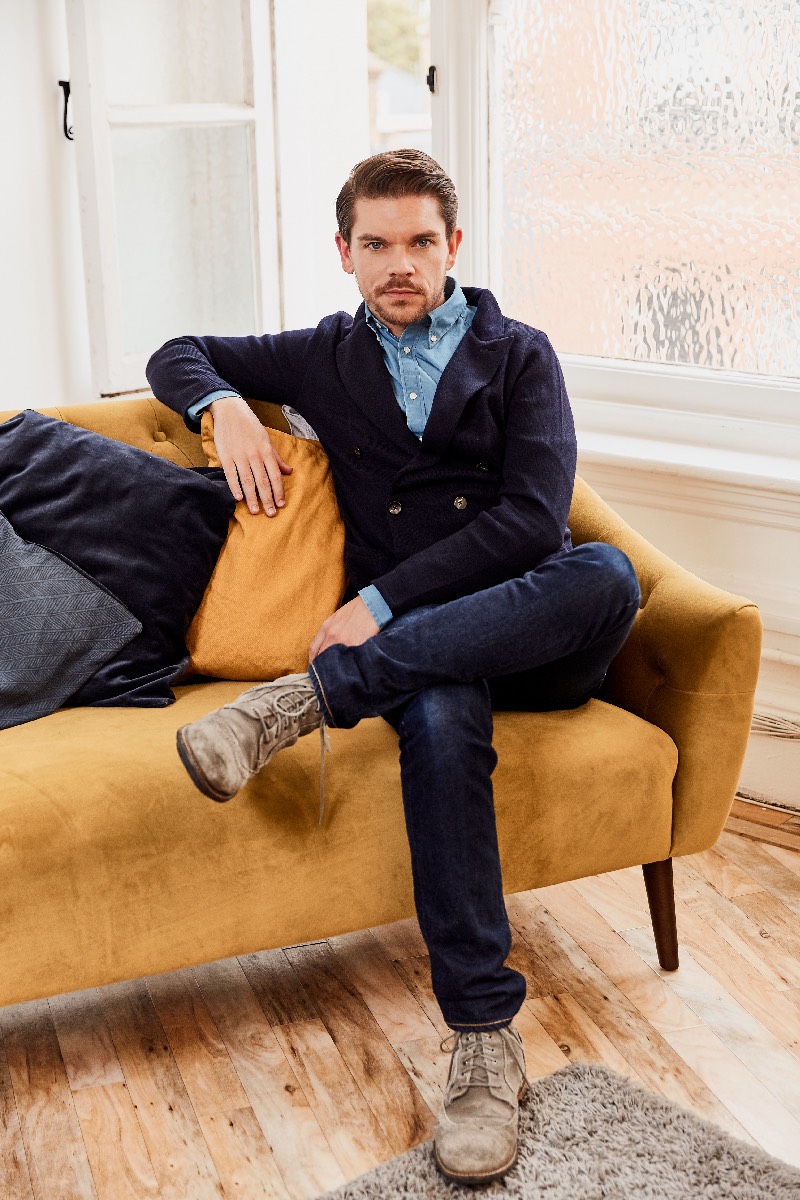 Outfit 4
As mentioned above, a knitted jacket or cardigan are great for swapping with the suit.
The soft lines will drape over the body and, without stiff shoulder inserts like a suit, will create a less formal look.
These John Henric knitted jackets are beautifully made, extremely stylish and the texture will add another layer of interest to the outfit.
Also, be sure to check out the brand new John Henric double breasted cardigan blazers – a contemporary twist on the smart casual dress code.
You can accessorise with a nice cashmere scarf, to style it up or for added warmth.
Being a producer-to-consumer company, John Henric skip the wholesale markup; meaning they offer high-quality clothes at a lower price than you would normally pay.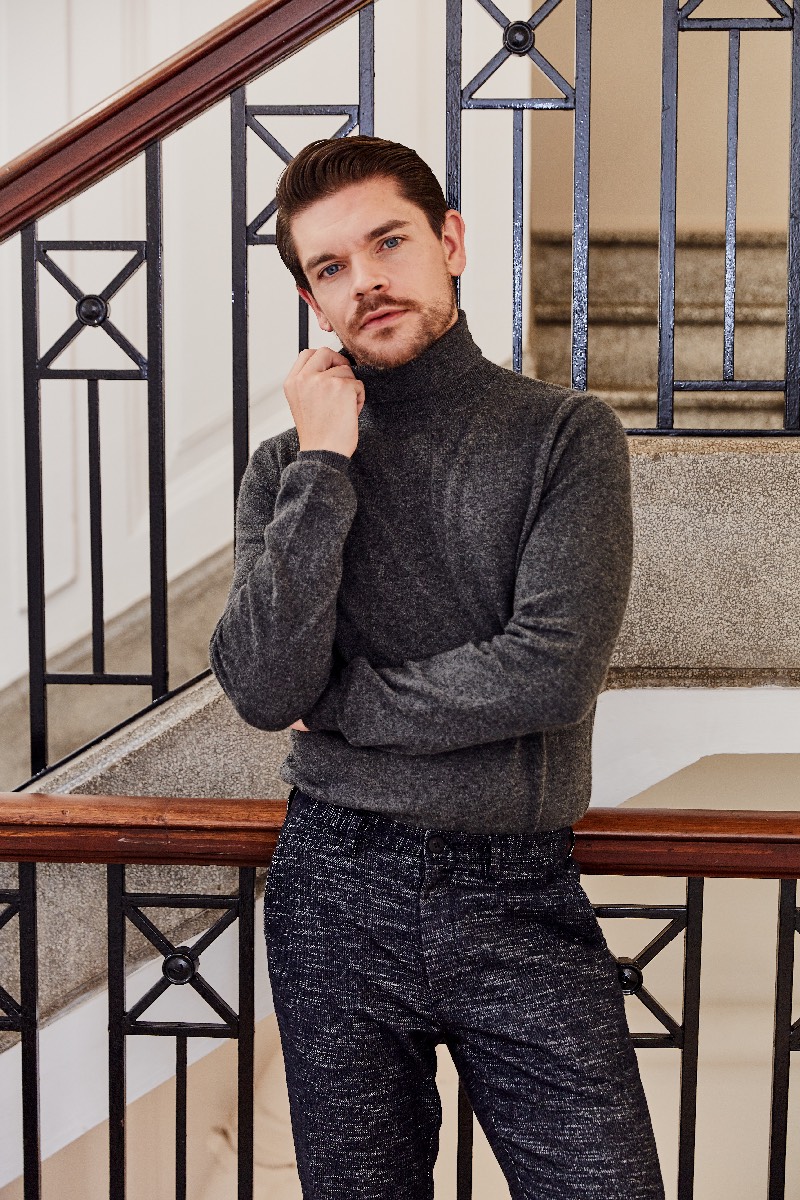 Outfit 5
High quality knitwear complete a smart casual look in the cooler months. John Henric make some fantastic knitwear, as we have already shown. With over 10 years of experience, John Henric have really perfected the production process, ensuring that premium quality materials are used to produce the best fit of clothing.
It is worth saving up for a bit of cashmere, for items like this roll neck jumper, but if not go for a nice muted tone and in a comfortable fabric. Don't go for anything too oversized, otherwise it risks looking too casual.
Another option is this long-sleeved fine knit polo shirt. Cotton shirts can become a bit of a staple for guys in summer, worn with a pair of short or denim. The long-sleeves make it look smart and it is almost like a jumper in terms of warmth. The fine knit make it still breathable though. The soft collar adds a less formal touch.
Any decent piece of knitwear can be worn with chinos or denim. It will provide a classic look and you can style it up with a trendy pair of trainers if you wish.