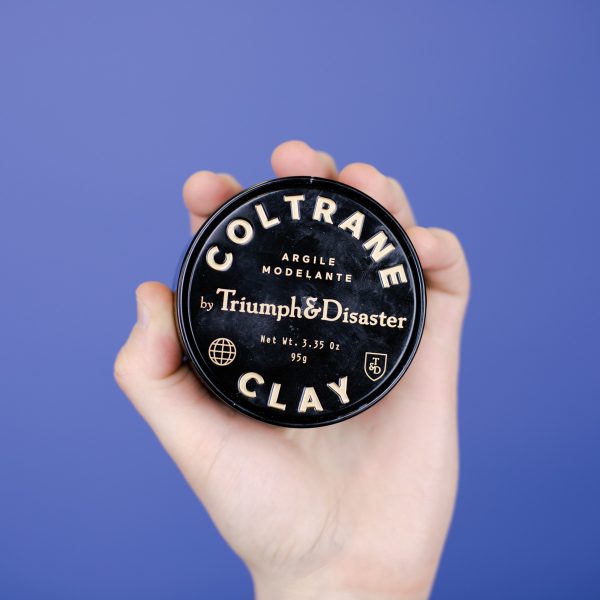 Triumph & Disaster Coltrane Clay
This is a medium hold hair styling clay which is designed to create the perfect hold for those who want a matte, firm, healthy wave that is flexible enough to mould your own way, but strong enough to keep it that way.
MFH says
A gritty, heavy hold clay. Fairly hard to scoop out and work through the hair. But once it's in, it styles well (use with a comb or brush) and gives a really great dry/matte finish.
About Triumph & Disaster
"Triumph & Disaster's philosophy is to use the best of science combined with the best of nature to produce naturally derived but scientifically engineered products that work. We use local indigenous ingredients such as Horopito oil and Ponga fern extract blended with scientifically proven and natural ingredients from around the globe, such as clay from Australia, Jojoba extract from Mexico and Tamanu oil from Polynesia."
Directions
Work a small about of Coltrane Clay through dry or damp hair.
Triumph & Disaster Coltrane Clay Ingredients
Aqua (Water), Kaolin (Clay), Cera Alba (Beeswax), Vegetable Petrolatum, Stearyl Alcohol, Copernicia Cerifera (Carnauba) Wax, Polyester 5, Coco-Caprylate, PEG 29 Castor Oil, Glycerine, Gluconolactone, Sodium Benzoate, Polysorbate 60 (Caster Derived), Pongamia Pinnata Seed Oil, Pentaclethra Macroloba (Pracaxi) Seed Oil, Parfum (Natural Fragrance), Tapioca Starch, CI 77499 (Black Oxide), †Linalool, †Eugenol, †Citronellol, †d-Limonene. (†Component of Natural Fragrance).
Key Ingredients
Kaolin/China Lay, Beeswax, Pracaxi Oil, Brazil Wax.
Kaolin/China Clay – Is soft white clay named after the hill in China (Kao-ling) where it was first mined. Used for centuries to make Chinese porcelain when kaolin is mixed with water it can be moulded under pressure, the shape is retained after the pressure is removed making it a fantastic base for styling clay.
Beeswax – Visually it adds texture and volume making it appear stronger and thicker which means it is easier to mould and style. Beeswax assists in preventing split ends whilst delivering shine and natural protection from the elements.
Pracaxi Oil – Found in the deepest darkest Amazon Pracaxi oil is obtained by a natural (Chemical Free) cold press process that draws the oil from the seeds and flesh. The secrets of the Pracaxi seed have been widely known in the Amazon for generations where it has been used on anything from acne and burns to body and hair oil. In Coltrane Clay, it works in combination with the waxes and clays to leave hair feeling smooth and soft.
Brazil Wax – It helps create the hold and waterproofing to give your look longevity.
Consistency
Fairly thick and dry to the touch. Takes some scooping to get it out; and even more to warm it up.
Application
Slight tackiness when applying Coltrane Clay to your hair. Really requires some effort.
Styling
Despite being pretty thick and tacky, the product is responsive in styling. Works well with a brush or a comb to add more volume and direction.
Finish and Hold
Matte finish. If anything, a slight natural sheen. But more on the matte scale!
Washability
Despite being water-based, this product requires a shampoo to fully remove it. It is pretty tough to fully remove from your hair due to it being so thick.