Korean car company, Hyundai, has taken massive leaps in their designs over the last few years and are now producing some of the most advanced mainstream cars in the eco sector. Man For Himself headed to the countryside with Hyundai to enjoy a full day of driving around the scenic roads of Warwickshire and the Cotswolds.
We were lucky enough to test drive a full production model of the hydrogen powered Nexo, as well as few others. This is definitely the future we are heading in, in terms of technology, and the countryside was the ideal location to really get to grips with them.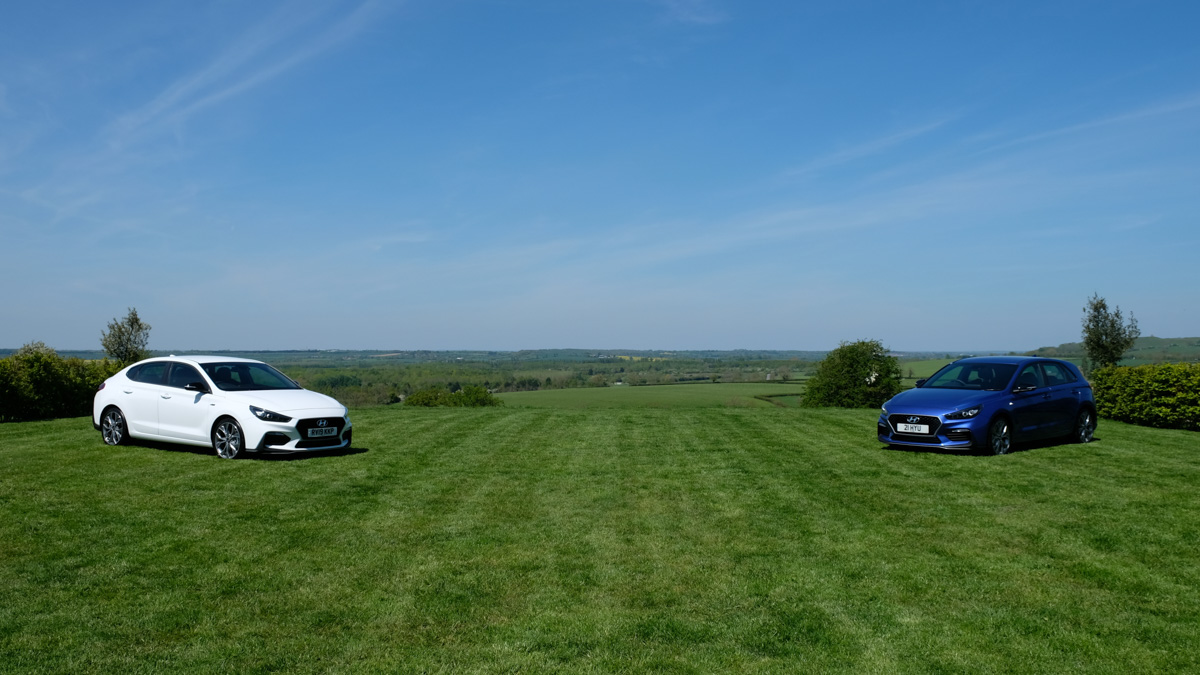 Spring Drive At Primrose Hill Farm
After a quick train journey from London Marylebone to Banbury, we swiftly headed to the beautiful venue of Primrose Hill Farm, in Arlescote. This privately owned property, surrounded by luscious green farmland, perfectly framed the cars glistening in the sunshine.
Here we were introduced to the cars and given free rein to book out a chosen model and take it for a spin. It was an extremely relaxed and enjoyable day, with plenty of time to really get to know the ins and outs of the cars. We were even treated to rally car experience with British rally driver, Tom Cave. Hyundai know how to get that adrenaline pumping!
Although there were 15 different models available, Man For Himself decided to focus on the electric, hybrid and hydrogen vehicles. After all, we ALL need to start making dramatic changes to help save the environment and these models are certainly helping us head in the right direction.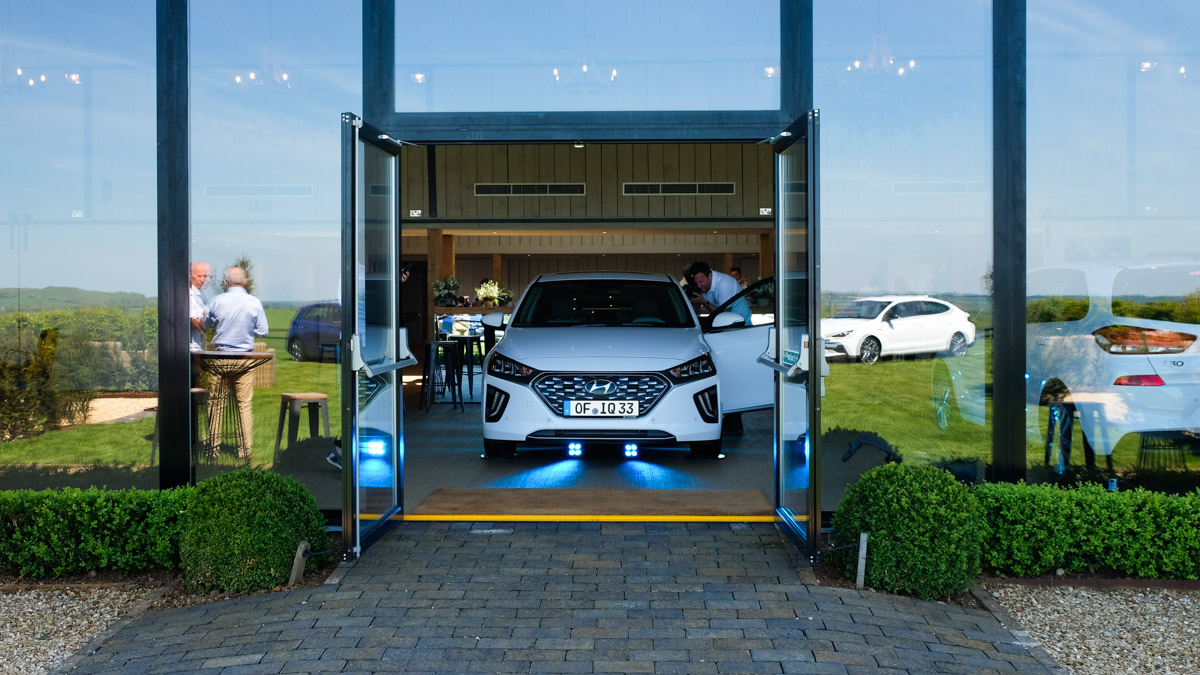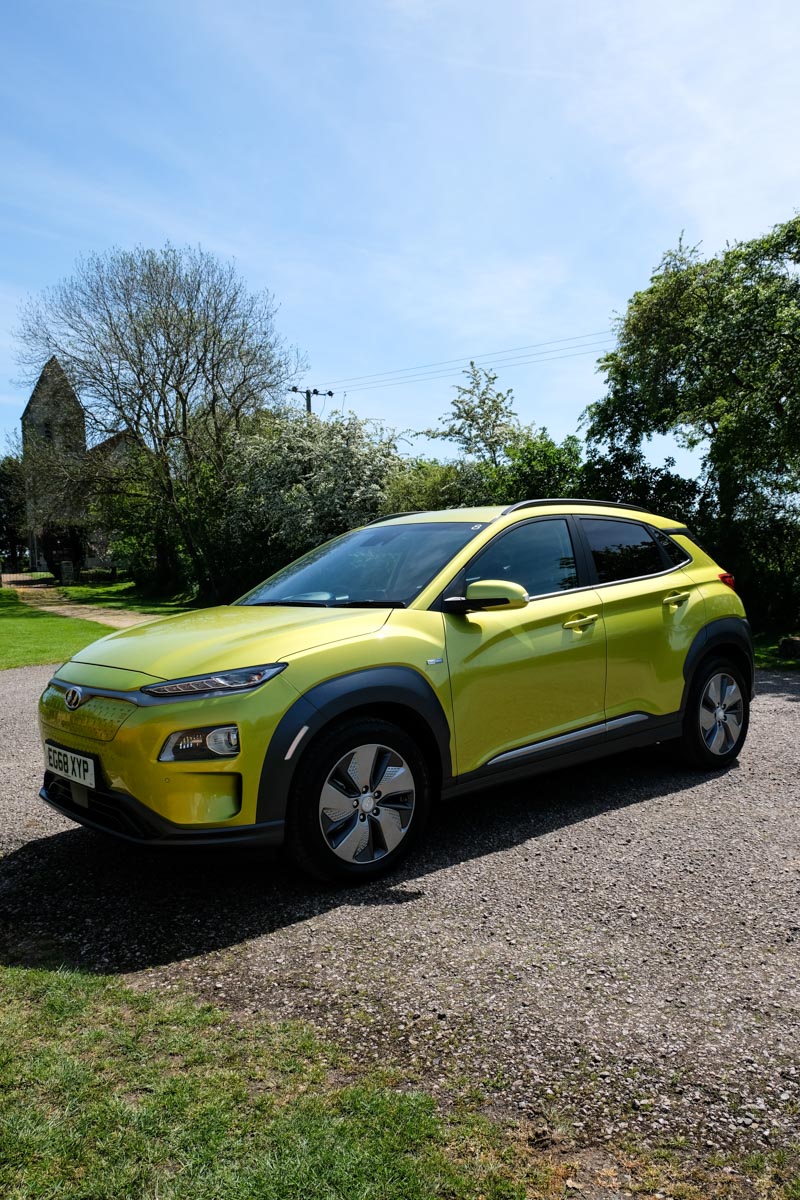 KONA Electric Premium SE
First impressions of the KONA Electric is that it is a surprisingly handsome looking car! The colour on this particular model definitely woke us up, but the overall shape and design was extremely pleasing on the eye.
The KONA Electric is available in two battery capacities; the 64kWh which has a WLTP (Worldwide Harmonised Light Vehicle Test Procedure) certified range of 279 miles, and a 39kHh version which has a range of 180 miles when fully charged.
When driving the car, what we first noticed is how smooth it is. This comes with most electric cars, but it feels particularly enjoyable to drive and is extremely responsive. It has some punchy power and can do 62mph in 7.6 seconds.
The leather interior, only available in the Premium SE model, is very comfortable and there is enough space in the back to take your mates with you on a weekend road trip.
Specifcations
Battery Capacity: 64kWh
Transmission: Single Speed
Electric Motor Max Power: 204PS
Electric Motor Max Torque: 395Nm
Retail Price: Starts from £38,645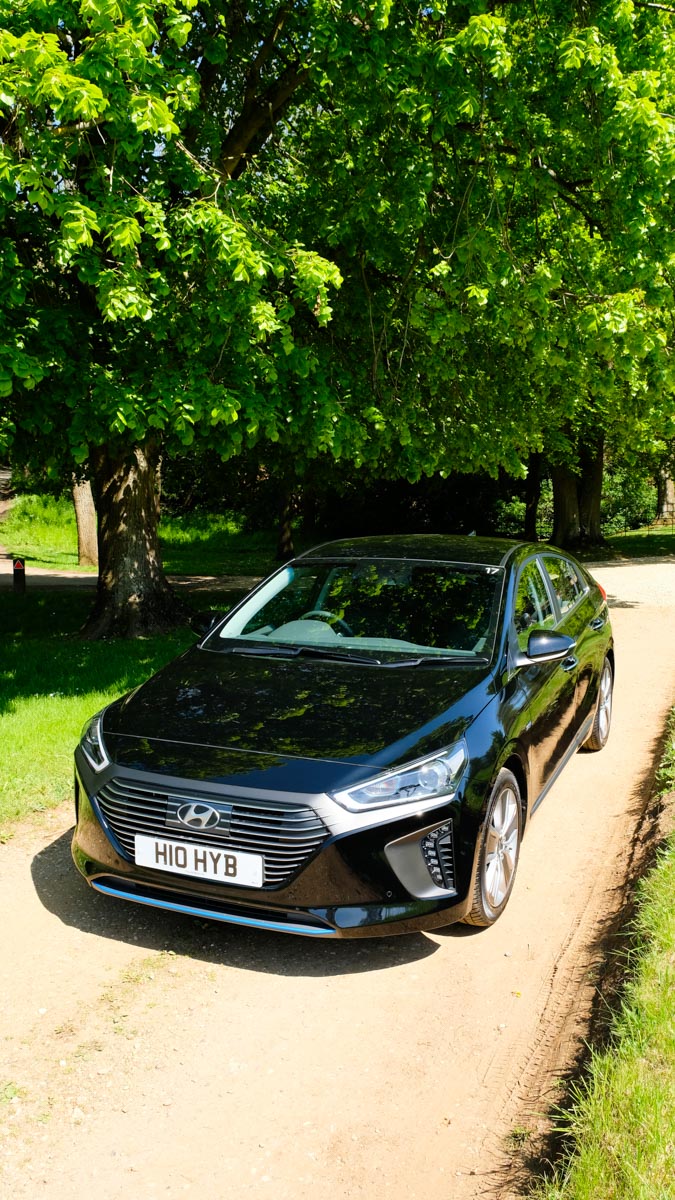 IONIQ Hybrid
The IONIQ is available in three different electric variations; fully electric (EV), a petrol engine and electric hybrid and plug-in hybrid. As we tested the KONA EV in the morning, we decided to drive the hybrid.
This award-winning car is perfectly suited for anyone who is considering making the move from a combustion engine to electric, to dramatically lower their CO2 emissions. We thoroughly enjoyed driving in electric mode, knowing that it was making a difference. It would make a great commuter car if you live outside the city.
In the IONIQ Hybrid a Lithium-ion polymer battery works with a petrol engine and electric motor to improve fuel economy and lower CO2 emission. The electric motor provides extra power at higher speeds (maximum speed is 115mph) and helps to minimise fuel consumption.
The IONIQ comes with all the handy technical gizmos such as; wireless phone charging pad, smart key, touchscreen satellite navigation and bluetooth connectivity.
Specifications:
Engine Type: Hybrid 4 cylinder Atkinson cycle
Transmission: 2WD 6 speed DCT
Max Power: 105PS @ 5,700rpm
Max Torque: 147Nm @ 400rpm
Retail Price: Starts from £21,795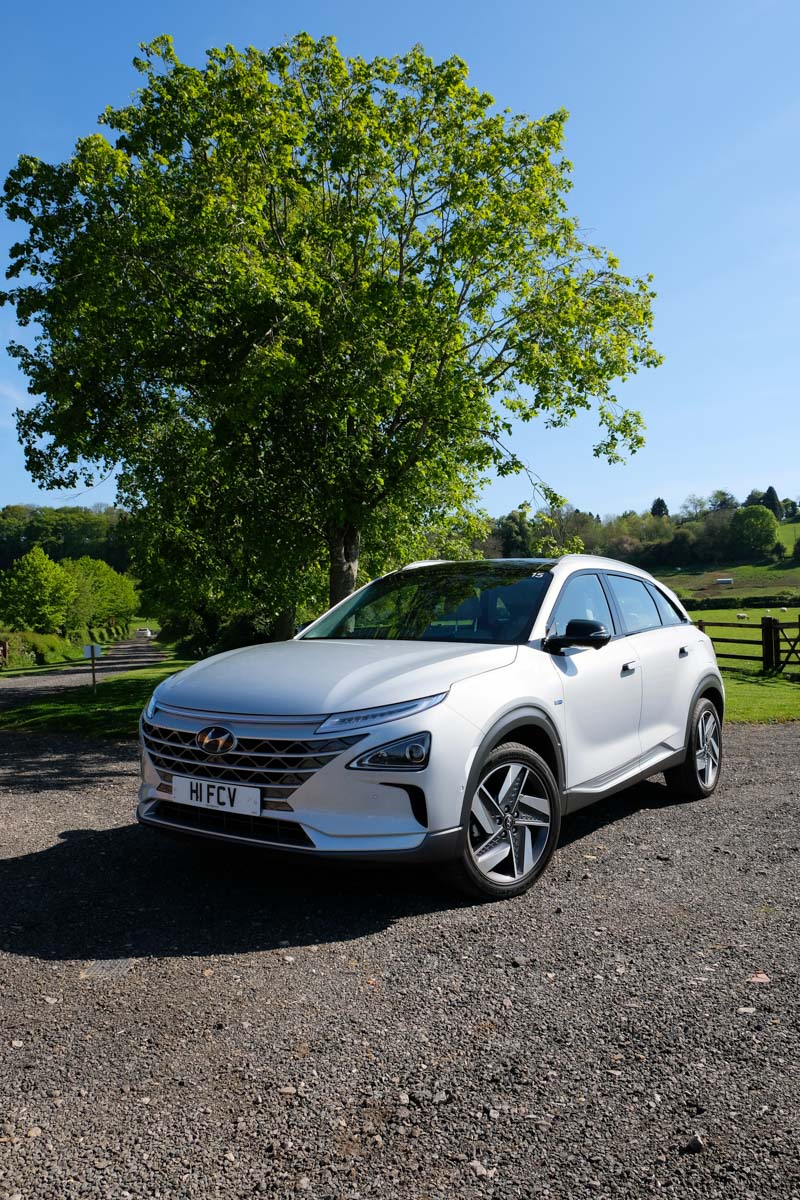 NEXO Premium SE
The new NEXO was by far the most futuristic car available on the day, in terms of technology and style. We had to take this car for a spin, especially as it is the first time Man For Himself had driven a hydrogen powered car.
If you are not sure about how hydrogen works, basically oxygen and hydrogen form together to create electrons that power the electric drive motor and charges the battery. There are literally no CO2 emissions the only by-product is water, and NEXO even cleans the air around it of pollutants as it drives. Driving at a steady base, the maximum mileage has been measured at 414 miles on a full charge – pretty impressive.
Stepping inside and viewing the dashboard, you instantly feel like you are about to jump aboard a spaceship. The dashboard is vast, including the impressive 12.3 inch wide-screen navigation. Whilst driving it will tell you your current energy flow within the car and air purification, as well as where the next hydrogen fuelling station is.  The screen is split into three so you can connect it to your phone and play all the music you want.
This car was amazing to drive and quite an experience. There is literally no noise from the fuel cell and it is very smooth on the road. You also feel very safe with their advanced SmartSense technology, such as Lane Keep Assist, Blind Spot Detection and the blind spot mirror camera. It even includes a self-parking system.
If there was ever a car to persuade Man For Himself to move away from a typical combustion engine, this would probably be it.
Specifications:
Power Source: Hydrogen Fuel Cell
Fuel Type: Hydrogen Gas
Max Power: 120PS
Max Torque: 395Nm
Retail Price: Starts from £69,495