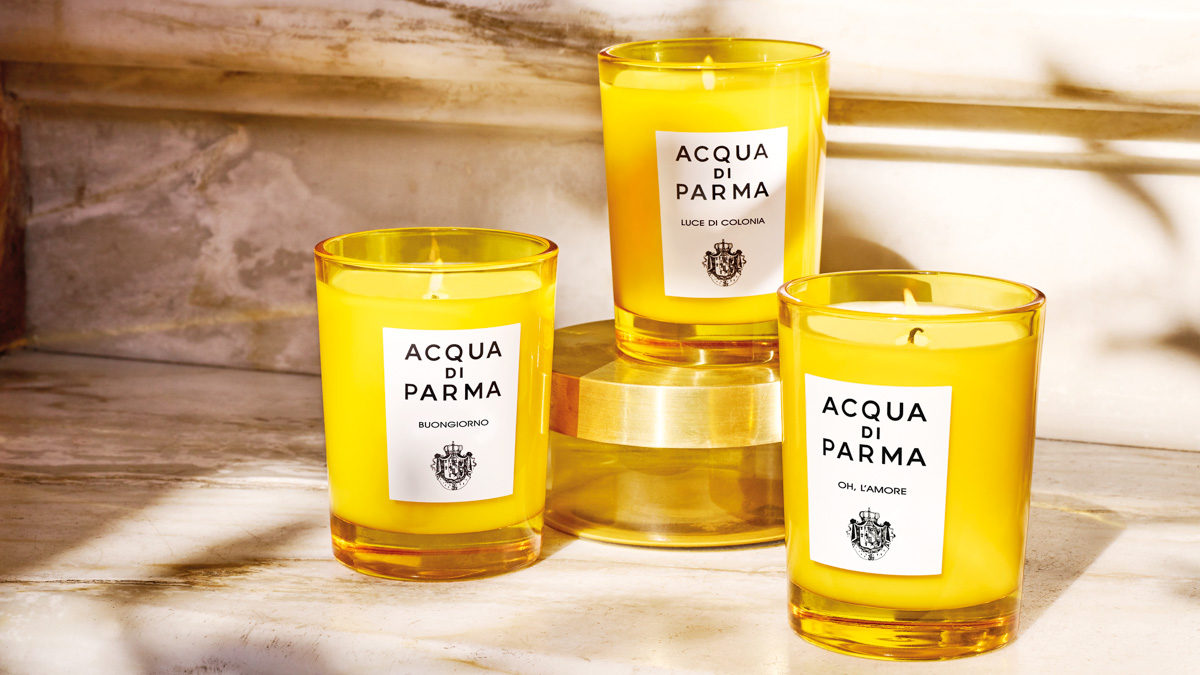 Acqua Di Parma Home Collection
Italian lifestyle, fragrance and fashion company, Acqua Di Parma, have just launched a new luxurious home collection… and we love it!
Man For Himself recently mentioned Acqua Di Parma's new Barbiere collection and shaving salon in Selfridges. This month the original Italian brand, launched in 1916, launched a new home collection.
The collection features a variety of fragranced products intended to light up your living spaces with Italian style, whilst also making you feel perfectly at home. As always with Acqua Di Parma, the packaging alone is stylish and elegant enough to sit happily on any shelf.
The candles are priced at £51 and the diffusers are £60.
The brand that is the symbol of Italian lifestyle has produced ten new fragrances for candles and room diffusers. A range of sensory impressions, not just for your personal pleasure but also for the well thought out art of welcoming guests, or for an elegant, carefully-chosen gift. Five different fragrances capture the typical moments of Italian living: Luce di Colonia, Buongiorno, La Casa sul Lago, Caffè in Piazza and Oh, L'amore.
And for those who want to recreate the breath of the unforgettable Italian Mediterranean in their own home, five fragrances inspired by the Blu Mediterraneo line: Arancia di Capri, Fico di Amalfi, Bergamotto di Calabria, Chinotto di Liguria and Mirto di Panarea.  Essences that contain ingredients symbolising the magnificent natural landscapes of the Italian Mediterranean.
Italian Moments
Luce di Colonia, Buongiorno, La Casa sul Lago, Caffe in Piazza & Oh, L'Amore
Unforgettable Places
Arancia di Capri, Fico di Amalfi, Chinotto di Liguria, Bergamotto di Calabria & Mirto di Panarea
Candles
If you love Acqua Di Parma's colognes or eau de colognes or eau de toilettes, you will love these new candles.
There are two collections within the candles, which reflect their range of fragrances; the classic Acqua Di Parma and Blu Mediterraneo.
Man For Himself has been burning the Buongiorno candle; and we've received a lot of compliments from our visitors to MFH HQ. It smells incredible!
Shop Acqua Di Parma Candles
[show_boutique_widget id="835154″]
Diffusers
And if you're more of an all day scent kinda guy, the new Acqua Di Parma diffusers could be great for you!
Light, subtle tones are released into the air by these  simply designed room diffusers; bringing the brightest Italian style to every room.
And again, there's a range of scents to suit everyone.
Shop The Acqua Di Parma Diffusers
[show_boutique_widget id="835156″]