I'm a big advocate for Scandinavian design; they just know how to get things right with clothing, accessories, and homewares and a lot of items in my own wardrobe are from 'Scandi' brands. Their designs are known for their craftsmanship, simplicity, clean-cut lines, and muted tones. Plus, they tend to be affordable! Exactly how I like it.
Nordgreen fit into all of this, which is why I really enjoy their watch designs. Not only do they make classic timepieces, but they are also making strong moves in sustainability.
---
Get 15% off your order using code 'MFH'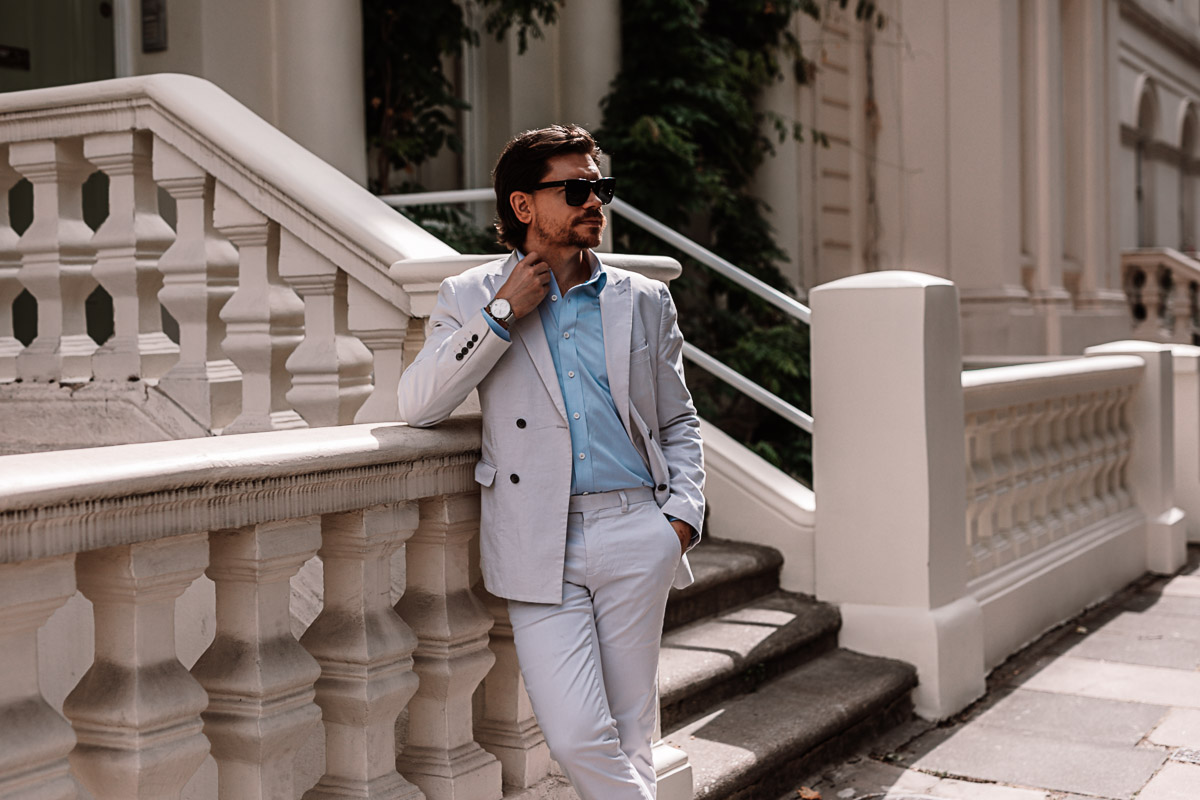 Who Are Nordgreen?
Pascar Sivam and Vasilij Brandt started this modern Danish accessory brand with a passion for watches and also a passion for high quality, design, and sustainability. They are a relatively new brand, with the duo founding Nordgreen in 2017 and launching their collection, through Kickstarter, in 2018.
Together they work with one of Scandinavia's most recognised designers, Jakob Wagner, who has worked for Hay, Alessi, and Bang & Olufsen. He is well-known for his minimal style of design, which you can see throughout the Nordgreen watch collections.
The ethos behind the brand is to create a timeless accessory with the finest standards of production, that are affordable, functional, sophisticated and that also give back to the environment via their customers.
This ethos is represented in the brand name; "Nord" standing for their Danish values, and "Green" for their commitment to sustainability.
Nordgreen Watch Design
Nordgreen have three styles in their men's watch collection:
Pioneer.
Native.
Philosopher.
Each men's watch style is unique but still maintains their core minimal design, with a round face and a discreet logo that sits at the top of the face. The styles are available in a variety of colours, with the option of a nylon, metal mesh, leather or vegan leather strap.
For my personal style, I chose the silver Pioneer with a white dial and metal mesh strap. The Pioneer style is Nordgreen's take on the classic Chronograph watch. Classically, a Chronograph has a stop watch feature that is also used as a display watch. The Pioneer is actually a 2020 Red Dot award-winning design.
I particularly like this design with the minute and second dial, as well as the tachymeter measurement. Also, the useful date stamp at the bottom of the watch face. The watch casing has a solidness to it, that makes it look like a watch that will last, and I can hopefully use it for timings whilst working out! The silver colour is classic and will definitely go with everything I wear.
Nordgreen's Pioneer is available with a black, white, or navy face and with a gunmetal, silver or rose gold casing. The straps are also interchangeable so I can change it to fit with what I'm wearing.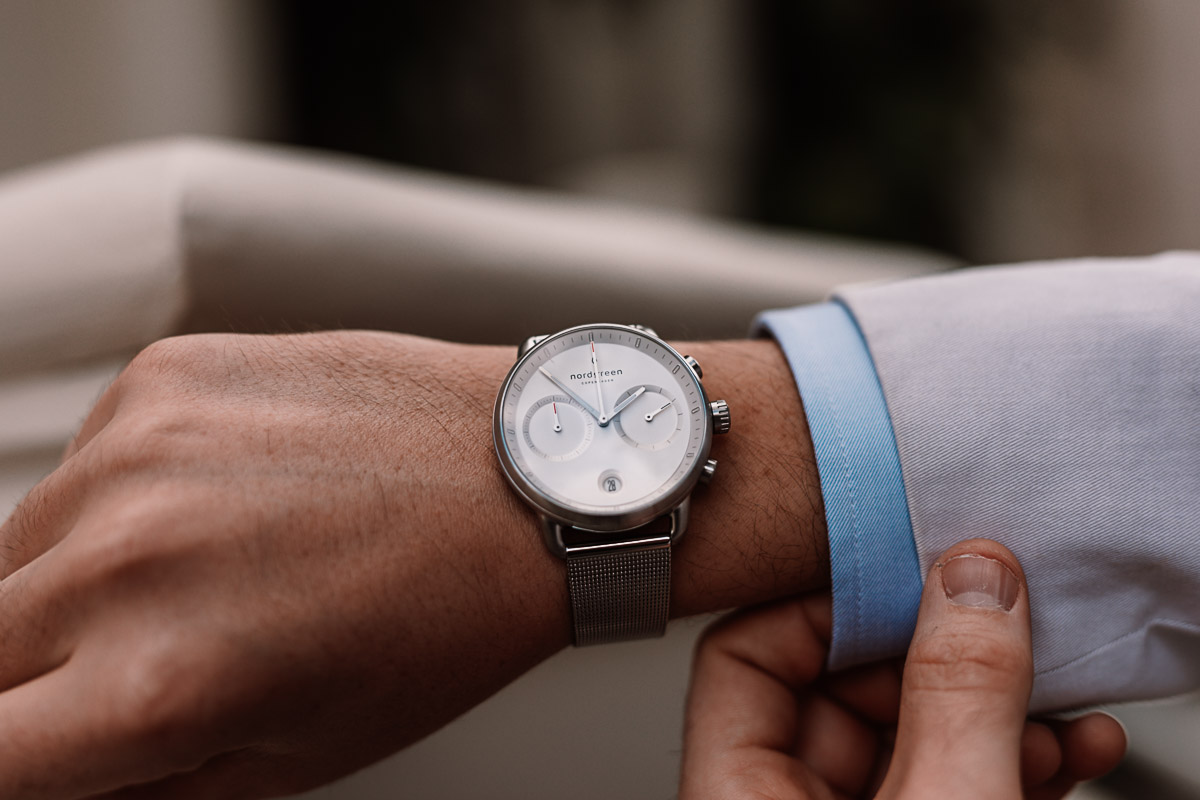 Styling My Silver Pioneer
My statement style is all about tonal colour blocking and classic cuts.
Working with the white dial and metal mesh strap of my Nordgreen watch, I've paired it with a simple off-white suit. Although a white suit could be thought to be hard to wear, the secret is in keeping it the styling as simple and paired-back as possible.
Much like the Nordgreen Pioneer, I have picked out just one accent colour (always blue for me) to really allow the suit – and the watch – to do the talking.
Although this look is a little more on the formal side, the Pioneer goes just as well with my 'daily uniform' – washed denim and a navy t-shirt. You really cannot go wrong!
Nordgreen Sustainable Design & Giving Back
As we all know, Scandinavia are one of the leaders in sustainability when it comes to retail and design. And Nordgreen are no different.
They have ensured that through every step of their production process, all the way to the final details in the packaging, they can be as ethical and sustainable as possible.
Their watches are produced in union-certified factories that comply with international labour and human rights. The factory owner is also Danish. When it comes to packaging, the interior is made out of recycled felt and is encased in an FSC (Forest Stewardship Council)-certified carton.
Nordgreen also engage with their customers by asking them to help give back. For every purchase made, the customer has the option to choose between 3 global NGO's and involve them in your purchase. You will be gifting between two months of free education for children in India, two months of clean water to a person in The Central African Republic, or preserve 50m2 of rain forest in Latin America.
To help improve their carbon footprint and offset their carbon omissions in Copenhagen, Nordgreen has also planted 1000s of trees, as well as donating 5 trees, via One Tree Planted, for every watch sold to help with reforestation in Australia.
Most recently they have partnered with Fuel Them LA, and for each watch sold, they have donated a meal for a frontline worker during the Covid19 pandemic.
---
Check out the full collection of Nordgreen men's watches here. 
Get 15% discount off your purchase using code: MFH