We all like to change our hair every now again; and a new year is a great excuse to press that 'refresh' button.
Whether it's experimenting with a dramatic colour, shorter cut or simply growing your hair out, a new look can give you a boost in confidence for the year ahead.
Below are a selection of the best hairstyles around, all worn by some of the biggest celebrities out there.
But remember… 
We all know that hair trends come and go – just like in fashion. Have a chat with your barber to find something that will work for you, your face shape and personal style.
And remember: enjoy it! Your haircut and hairstyle are both a great reflection of you.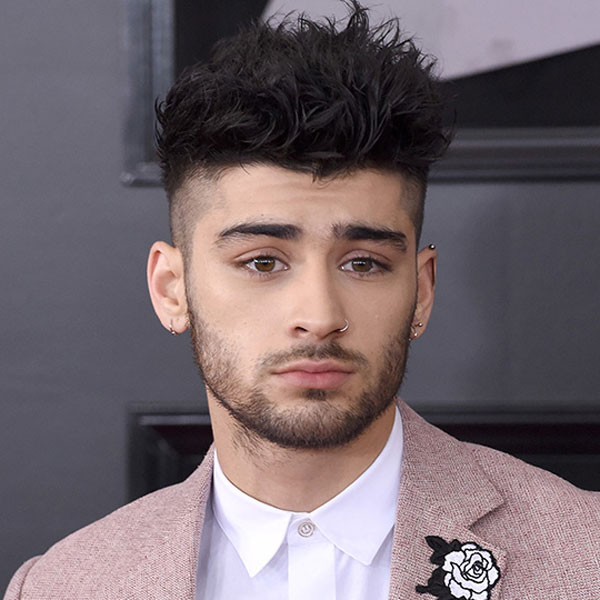 Getty Images
ZAYN MALIK HAIRSTYLE 
Since his One Direction 'boy next-door' style, pop-star Zayn Malik has seen many changes with his hairstyle. He's tried some brave styles and colours… including full neon green and fuchsia pink highlights (we've all been there), and more recently added a sizeable tattoo to his shaven head. His most recent style is slightly less risky with short sides but much longer on top.
How to achieve this style
High disconnected haircut.
Skin fade back and sides.
Top left long and weighty.
Use a sea salt spray for loads of texture.
Use a dry finish spray to add definition to the hair.

Instagram @DavidBeckham
DAVID BECKHAM HAIRSTYLE 
There is no way we can count how many different hairstyles David Beckham has tried. Some successful, some not so successful… remember those braids and the double pony tail? He certainly is the king of experimenting! Luckily now, he has gone for a style that is more suited for his age with a classic short back and sides with more volume and texture on top. He has also started to embrace the inevitable greys!
How to achieve this style
Give into the grey!
Ask for your hair to be cut square.
When it comes to styling, it's more about volume and less about texture. Try a mousse or smooth spray.
Style with a cream wax or softer clay for a less severe finish.

Instagram
RYAN REYNOLDS HAIRSTYLE 
The shorter style is becoming increasingly popular and actor, Ryan Reynolds, looks great with his longer stubbled facial hair and a cropped hairdo. Adding texture to the top makes it look thick and healthy and is slightly longer all over compared to his Deadpool crew cut.
How to achieve this
Classic haircut and style.
2 grade back and sides.
Top left with a little length in the front and shorter into the back.
Use a matte finish clay to give the hair a natural finish.

Pinterest
DAVID GANDY HAIRSTYLE 
Known for his dashing and well-groomed look, this British supermodel hardly ever has a hair out of place. David hasn't changed his hairstyle much over the years and is clearly comfortable with his classic suave style. More recently he has be seen wearing it less wavy and more sleek and smooth.
How to achieve this style
Sides and back scissor cut and left longer.
Pre-style with a smoothing prep-spray.
Style with a cream wax to slick the hair back and give it a natural gloss.

thenewdaily.com.au
BRAD PITT HAIRSTYLE 
Brad Pitt has, in previous years, tested the waters with various hairstyles. He has gone from long and blonde to shaved and mousey. Most recently, and not too dissimilar to David Beckham, he has been seen embracing his peppery-grey facial hair with a more choppy and textured styled look. The added length on top will keep it thick and prevent it from looking thin.
How to achieve this style
This is a timeless haircut that suits men of all ages. It's contemporary but smart.
The sides are slightly longer and actually look connected to the back and sides.
It should be cut round, which will be lower maintenance.
The top has been kept long in the front and shortened in the back.
Style with a sea spray for loads of texture and hair clay to style and define.

Entertainment Weekly
CHRIS PINE HAIRSTYLE 
American actor, Chris Pine, keeps his hair relaxed but well-groomed. His classic look featured a longer length with the top swept back off his face. Today, he can be seen with a more obvious side parting with his hair pushed towards one side and slightly over his forehead. This is a great way to keep a youthful look but help hide that inevitable receding hairline.
How to achieve this style
Longer sides and longer top. Scissor cut.
Use a thickening tonic or spray into damp hair and dry with a hair dryer.
Use a round brush with the hair dryer to tease the hair up and over.
A volumising/styling powder will add volume to the roots of the hair and give it effortless movement.

Instagram
JARED LETO HAIRSTYLE 
Hollywood actor and singer, Jared Leto, has quite literally been rocking this grown-out look for quite sometime now. Chosen as a muse for Gucci, Jared and creative director Alessandro Michele are starting to look like siblings! During his earlier 30 Second to Mars days, Leto tended to keep his locks cropped and even mo-hawked. It seems however, he is now thoroughly enjoying his longer loose waves and facial hair.
How to achieve this style
Cut to mid-shoulder length.
Styled on the centre part.
A dry finish fixing spray will give the hair texture without weighing it down.

Twitter
JI MIN HAIRSTYLE 
Do blondes have more fun? Well Ji Min from K-Pop band BTS went viral as soon as he dyed his hair from black to bleached blonde – not an easy task! Korean music and skin care has crossed over into international waters with a huge impact over the last couple of years and BTS have become super celebrities with their catchy tunes and pristine looks.
How to achieve this style
This is a 90s bowl cut.
Go for an undercut to keep the hair from looking overly heavy.
Style with styling powder for weightless volume and movement.
Avoid waxy products that will make the hair look greasy.
Upkeep: use a blonde shampoo to keep the brassy tones away and keep it fresh. It also depends how much you can afford to keep it dyed. Jimin dyed his hair from black to blonde, which needs a high amount of upkeep.

Getty Images
TOM HARDY HAIRSTYLE 
For one of his next leading roles in 2019 (as Al Capone in Fonzo), Tom Hardy had to completely shave his head earlier in the year. Just in time to receive his CBE from Prince Charles in November, Tom has grown it back, keeping the sides shaven and longer and slicked back on the top.
How to achieve this style
Ask for a skin fade with little length left on top.
The top is disconnected from the back and sides.
If you have facial hair, fade it down from the sideburns into your beard.
To style, go for a wet-look finish wax or gel.
For something a little more wearable, try prepping with a soft cream wax and styling with a hair dryer and comb.

Twitter
JASON MOMOA HAIRSTYLE 
Jason Momoa has become an important part of the DC Comics family staring in their most recent film, Aquaman. Rumours have it this role will be continuing for the foreseeable future, meaning he cannot cut it, however, he has also recently been quoted as saying he can't change his hair as his wife will leave him! With his rugged and almost exotic Hawaiian looks, if anyone can pull off the unkempt lengthy locks, he certainly can. The sun-kissed highlights add some texture and life to his curls.
How to achieve this style
This is a rugged and masculine look.
Really grow it out.
Have the hair cut to the shoulders and kept at one length.
Style with salt spray, scrunch and leave to dry naturally or use a mousse and hairdryer diffuser to build in bigger waves and curls.