Man For Himself took a break from the office to explore the sunny streets of London and find what out what men are wearing this summer.
It was great to chat to so many of you with a unique sense of style; using pieces from the high-street, luxury stores, as well as vintage and charity shops. We spotted some perfect summer prints, along with some alternatives to the classic summer shorts and t-shirts.
Which look is your favourite? Let us know in the comments below!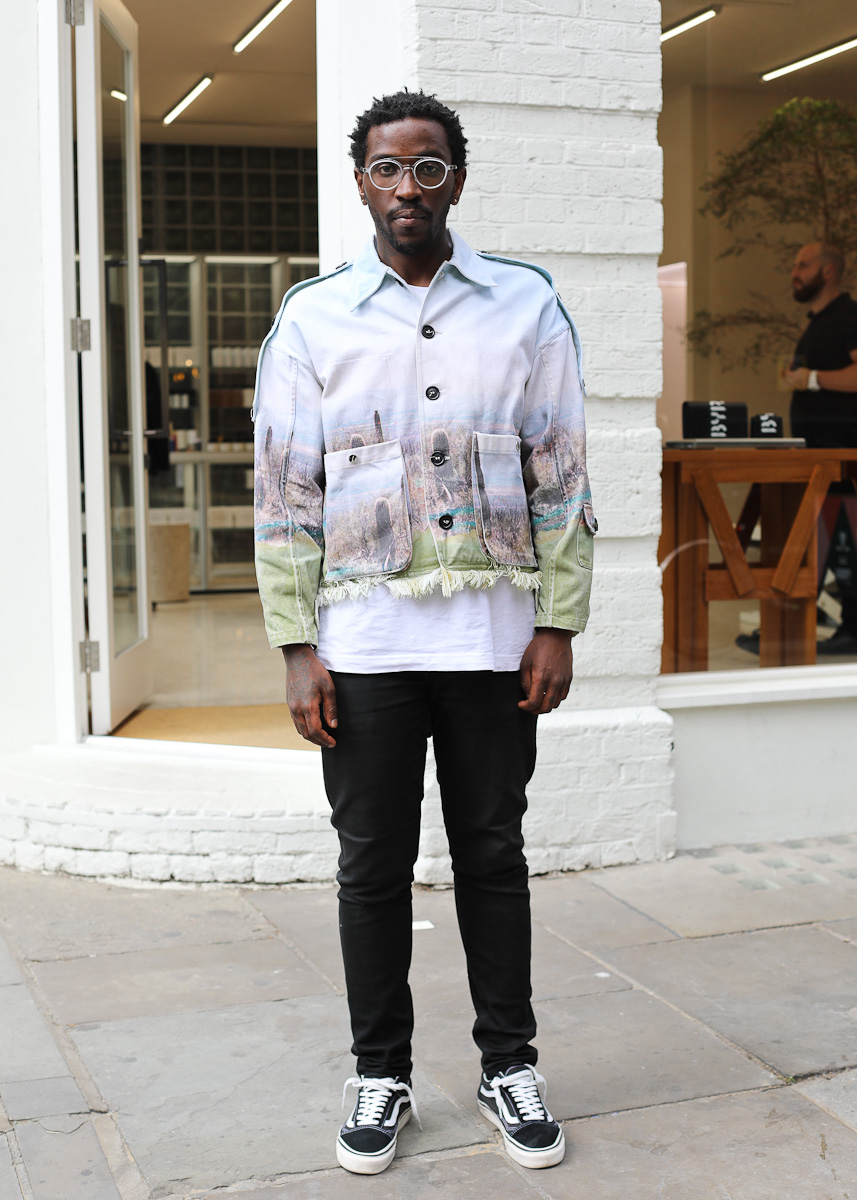 Adrian
We love the unusual print of Adrian's Nounion jacket. The cropped style looks great, layered over a longer white t-shirt, worn with Uniqlo jeans and classic monochrome Vans.
His fashionable outfit was finished off with a pair of clear vintage glasses.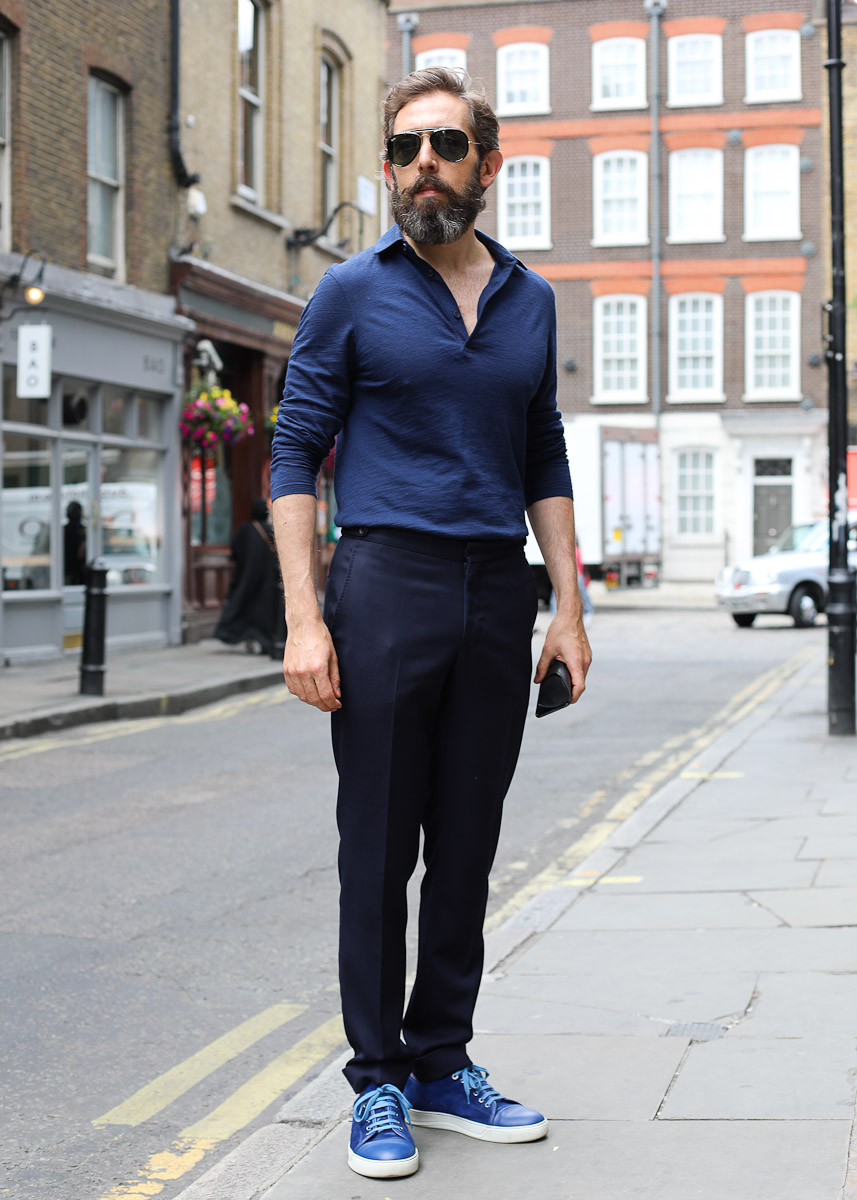 Alexander
This is such a suave look from Alexander. His perfectly groomed hair and beard matches his clean-cut sense of style.
His navy palette includes an Orlebar Brown shirt ,classic tapered trousers, and luxurious Lanvin shoes. Man For Himself actually spotted his scent before his style, which was Tom Ford Tobacco Vanille.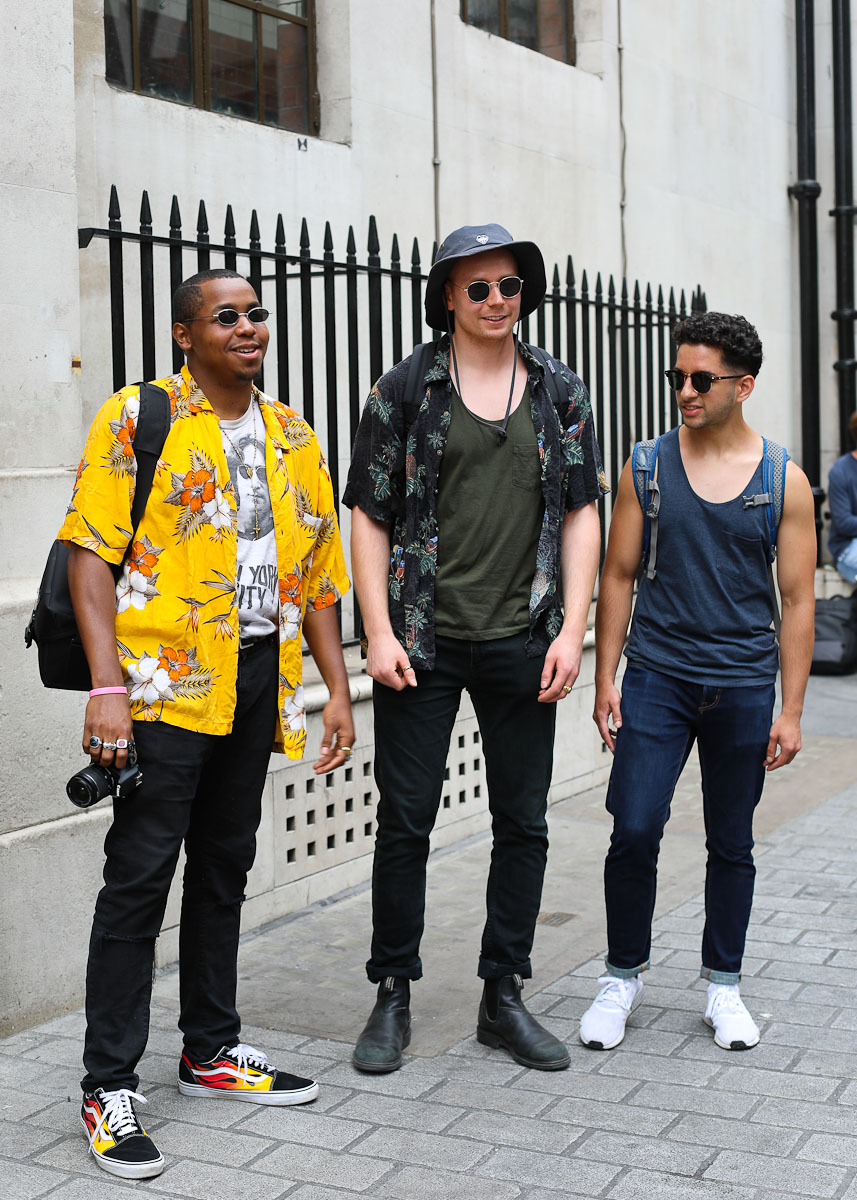 Evan, Jacob, Eric
Evan, Jacob and Eric were over from America for a trip around Europe. We really enjoyed their love for visiting vintage stores in London, with two of them wearing printed havana-style shirts they picked up in thrift stores back home.
They have cleverly mixed these pieces with high-street items such as American Eagle denim and their adidas and Vans trainers.
Evan
Jacob
Eric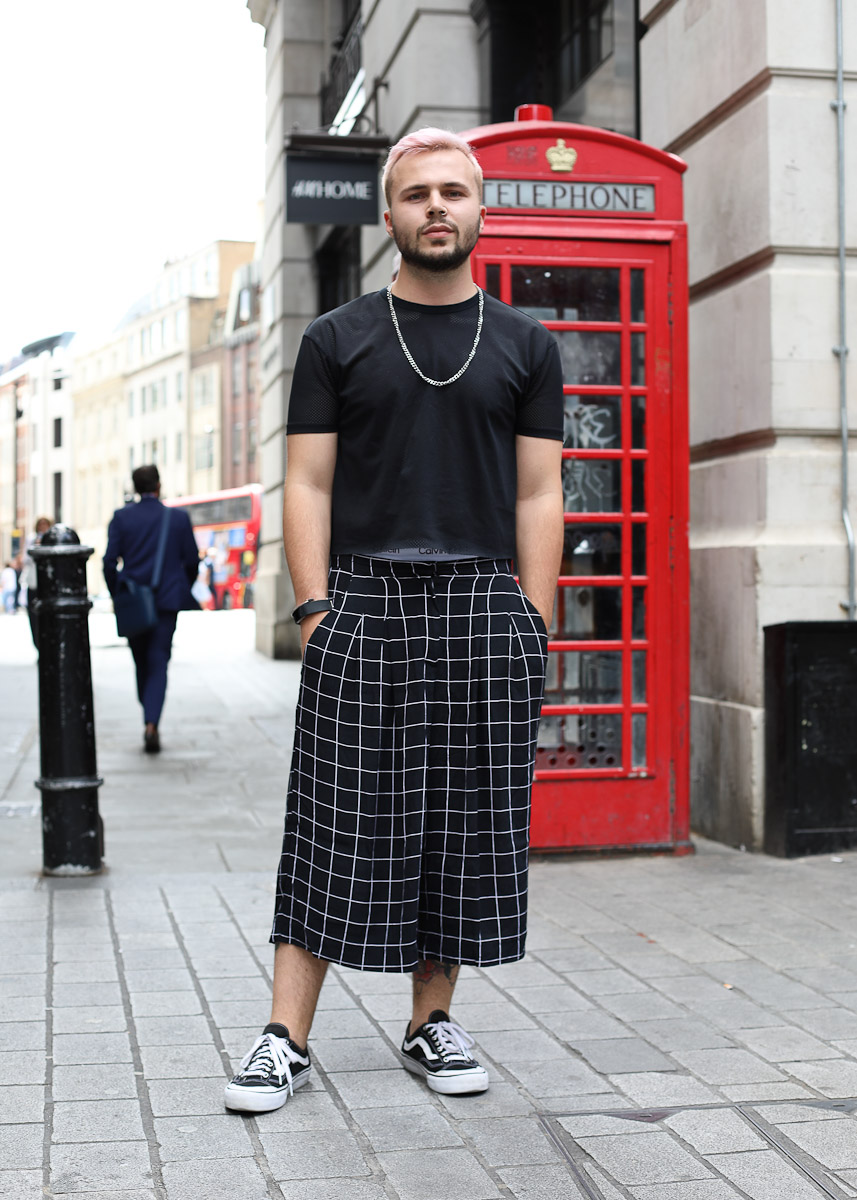 Alex
Alex's pink hair is certainly eye-catching but so is his personal style. He really enjoys modifying his clothes, and he actually made this top himself.
The over-sized shorts, which we think are a great alternative for the summer, are from H&M, which he has matched with his monochrome Vans.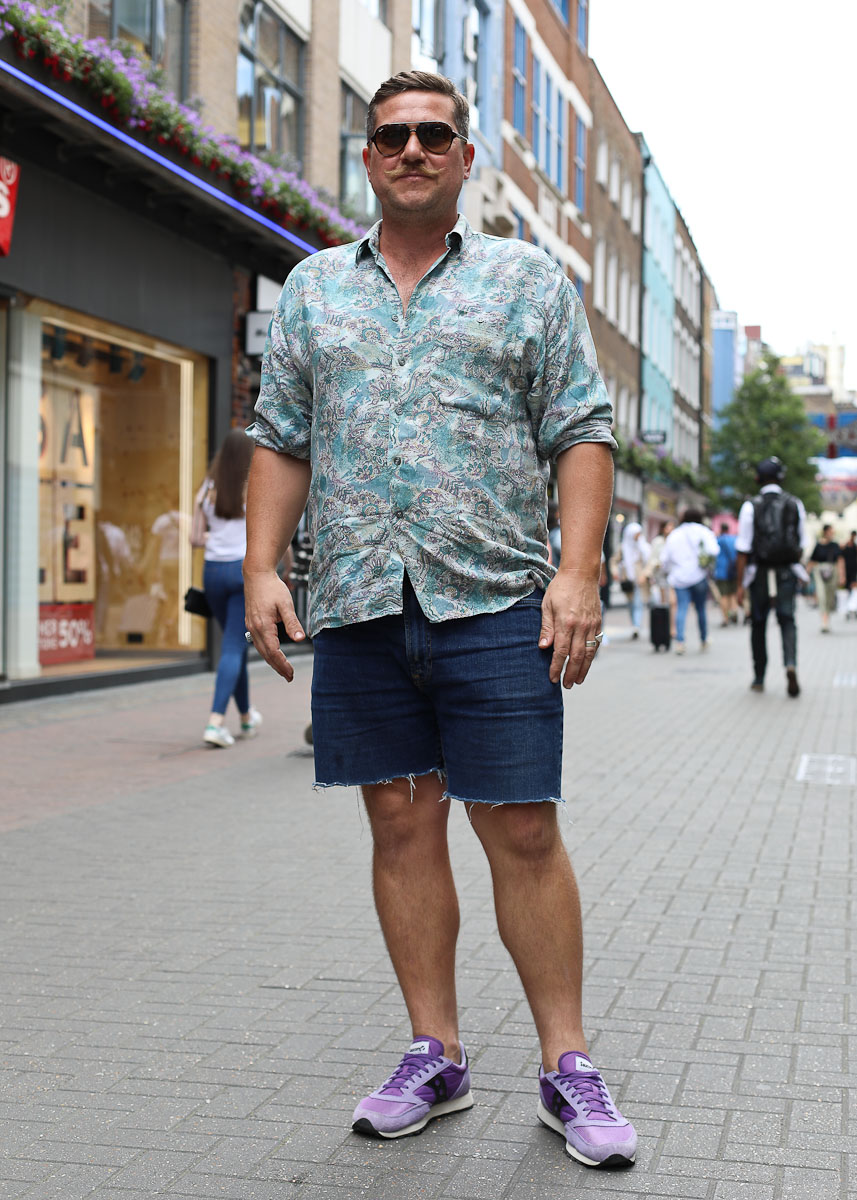 Paul (aka Lardy)
Paul was certainly embracing the summer weather in London, with his loose printed shirt and cut off denim shorts. All of which he picked up from a charity shop. As they say, one person's trash is another person's treasure, and this outfit definitely works for us! The purple Saucony trainers add a welcome pop of colour.
Shirt – Charity shop
Denim shorts – Charity shop
Trainers – Saucony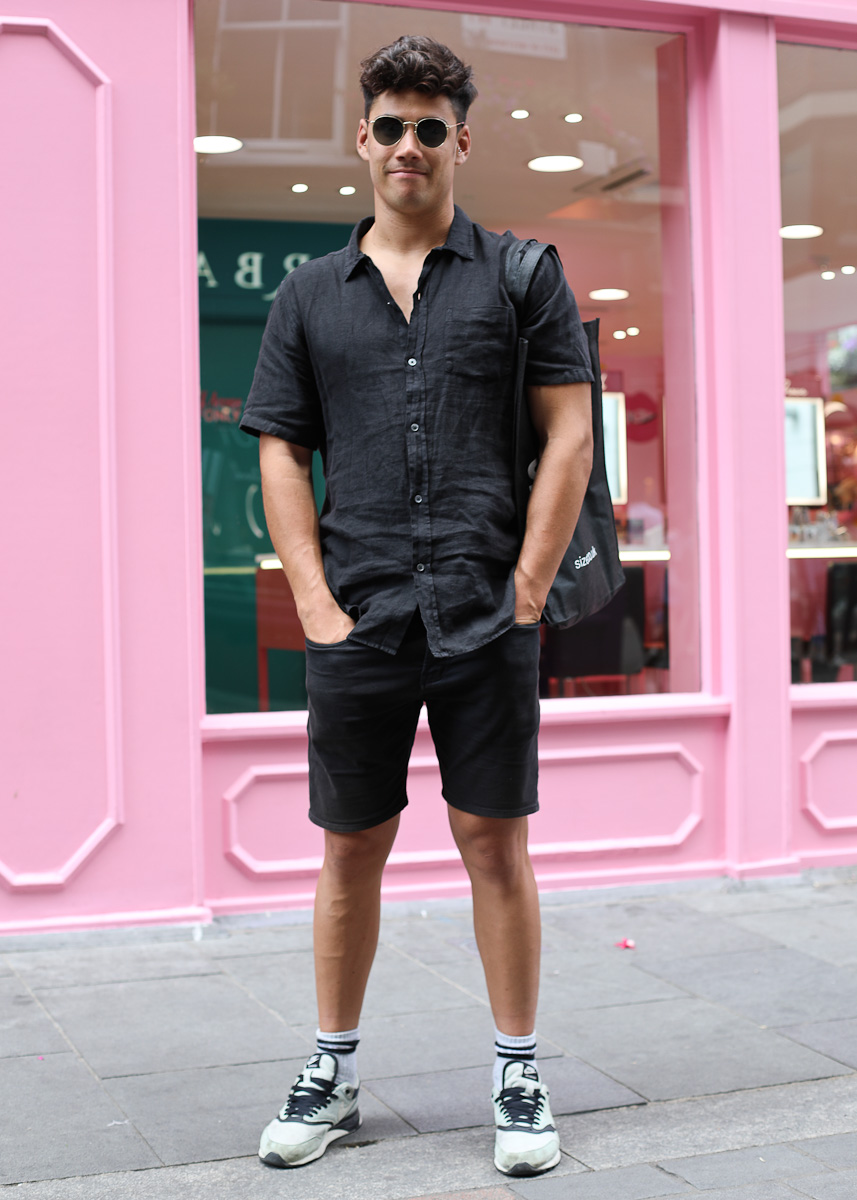 Jai
Australian-born Jai has nailed his low-key summer look and kept it simple with black denim shorts from Ripcurl and black linen shirt.
You can't go wrong with a classic pair of Nike trainers, which add a pop of colour to this minimal outfit.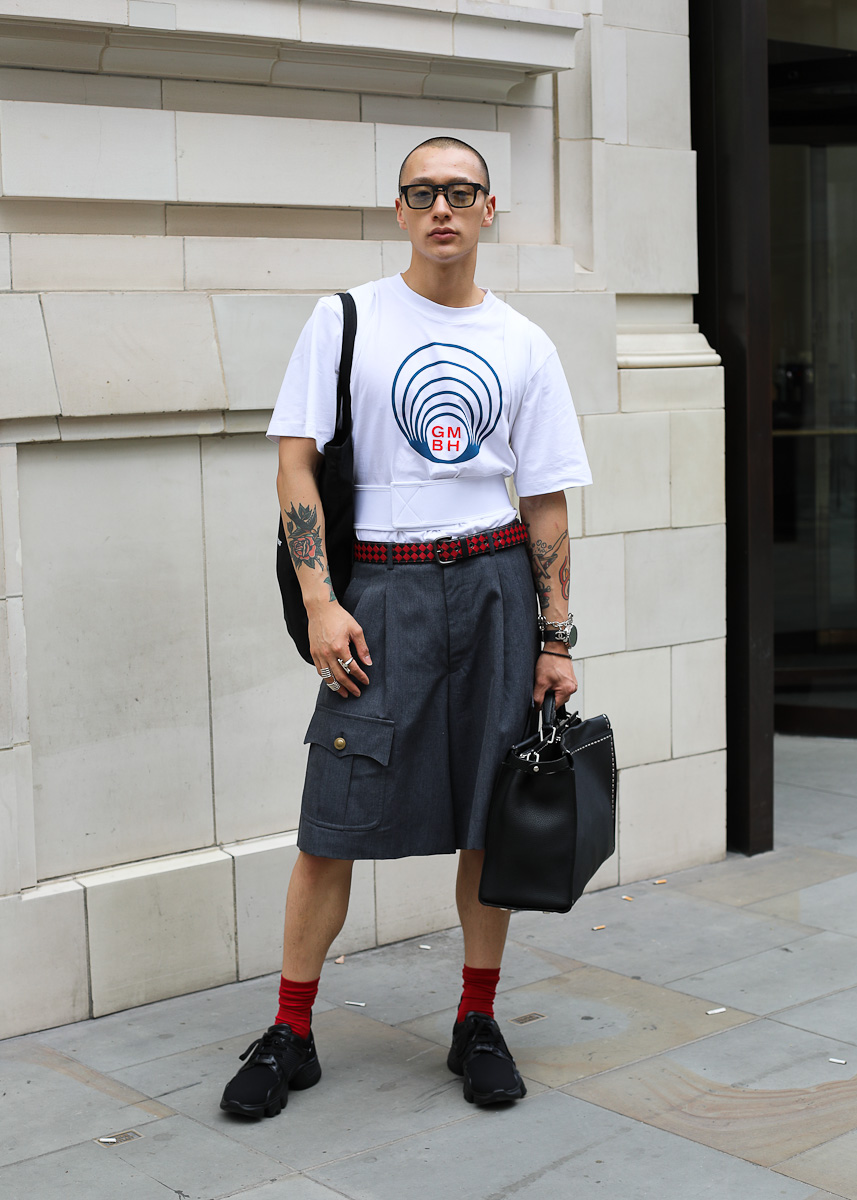 Gareth
Stylist, Gareth, clearly loves his fashion. We love how brave he is with this look and it is obvious each piece has been well-thought out and put together.
We particularly enjoy his military-esque oversized Comme Des Garcons shorts; worn with a Bottega Veneta belt that perfectly ties in his red socks and black Givenchy trainers.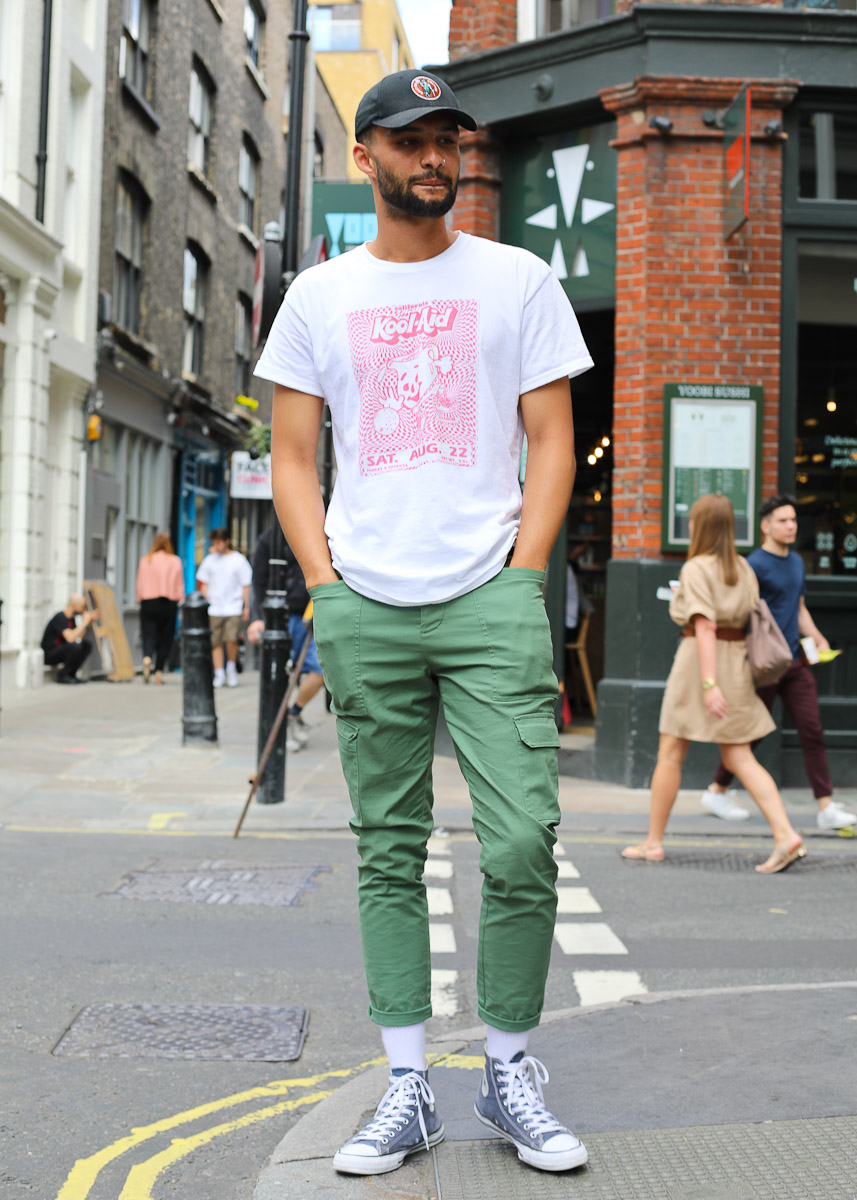 Ollie
When we spotted Ollie, he had just come back from Glastonbury, where he picked up this fun retro printed t-shirt.
His ASOS military trousers look great turned up with white socks worn underneath. And the contrasting green works surprisingly well with his blue high top Converse trainers.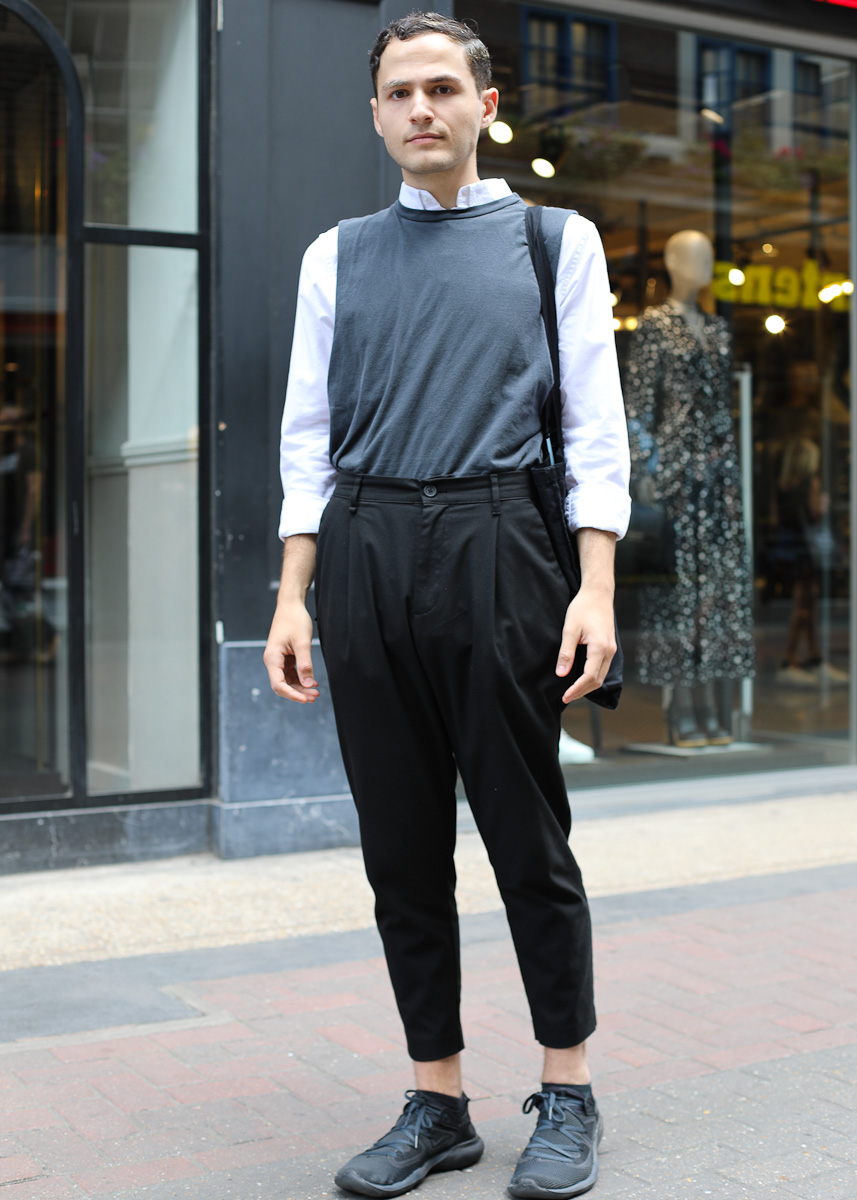 Sam
Sam has cleverly put together a mixture of high-street brands to achieve his stylish look. We particularly enjoy how he has styled this white Topman shirt with his Primark tank top. His trousers are from Bershka.
He also explained he uses the cheapest gel he can find in his hair, and we think it looks great!