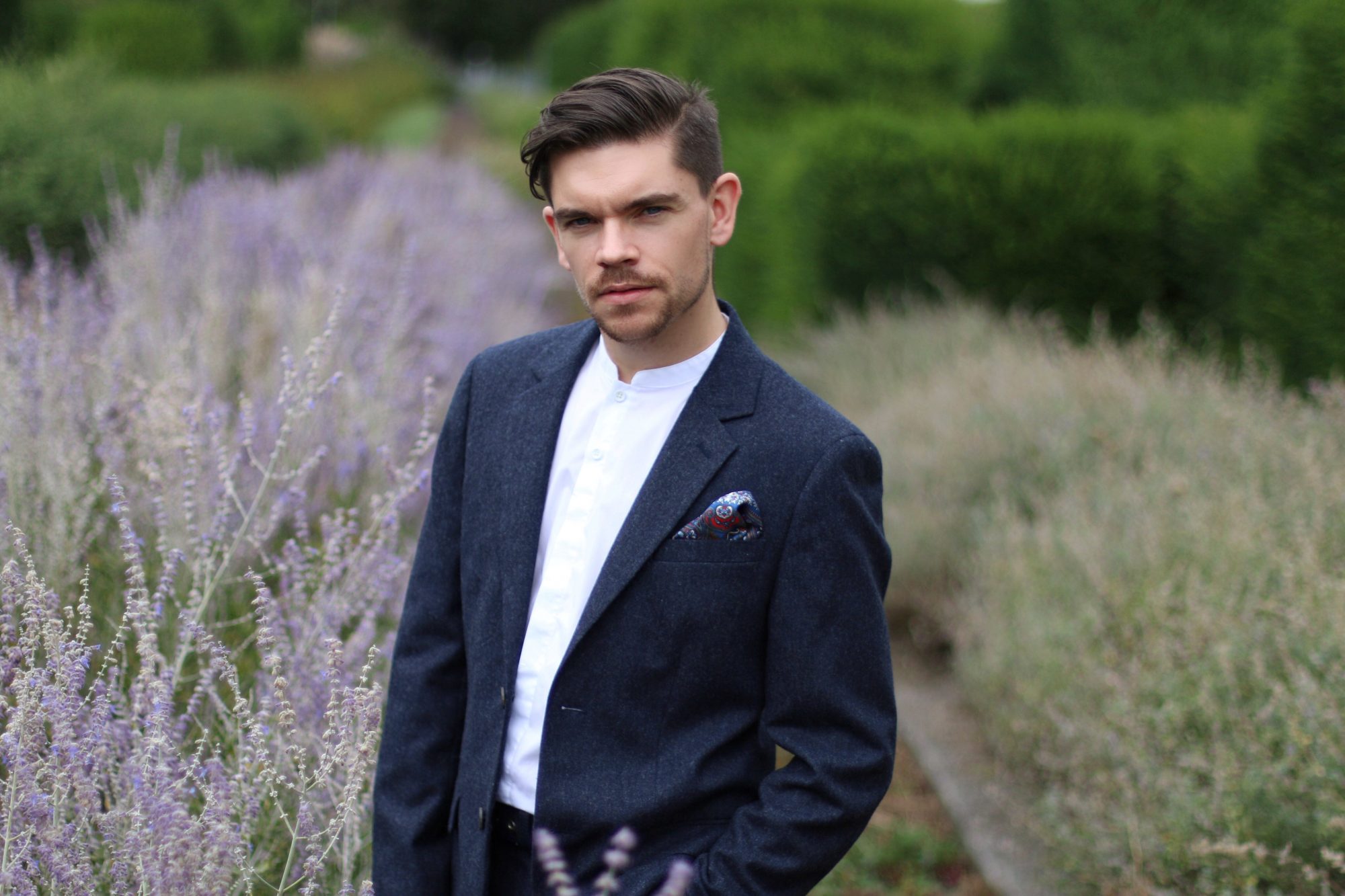 It's time to upgrade your wardrobe this autumn with a brand new suit.
This season, Jack Wills have launched a brand new range of suits – with British designed fabrics and seriously impressive craftsmanship at the heart of their tailoring.
I'm wearing the navy Bloomsbury tweed suit by Jack Wills.

 Photography: Gallucks



My styling
Teaming the Bloomsbury suit with a mandarin collar shirt and nayv woven brogues, I've kept the look clean and simple.
Wearing a suit doesn't (and shouldn't) have to mean that you have to feel overly formal and stuffy. I'm pleased to say that the days of having to wear a tie with tailoring are gone! Open collared shirts are a great alternative to keep you looking styled and contemporary.
I'd always recommend investing in a good quality suit. Not only will you get great use of it for formal events, but you also have the option of wearing the blazer and trousers as separates.
In navy tweed, I'll be wearing this blazer with roll necks in winter and lighter, brighter colours when we move back into spring.
The Jack Wills Bloomsbury Suit
Inspired by the 20th century collective known as the Bloomsbury Group, the Jack Wills Bloomsbury Suit has been created in two bespoke fabrics – a Donegal tweed (my suit) and a more traditional wool flannel.
The fabric of the suit originates from Abraham Moon & Sons in West Yorkshire, a British manufacturer of luxury wool textiles.
After the fabrics have been woven in England, they are transformed in to suits in a state-of-the-art factory in the seaport of Dalian in China. It's at this point that the suit goes through 200 stages of production to create the final product.
So much detail and craftsmanship have gone into the suit. Its single vent, two-button jacket has a triple layer half-canvas construction, with hand-stitched buttons and linings and functioning button cuffs; and the trousers have an internal herringbone detail too.
To make the most of the superior quality of the fabric, Jack Wills have created a layer of canvas that 'floats' between your jacket's outer shell and lining. This allows the jacket to maintain its sharp silhouette and mould to your shape the more you wear it.
Details
Triple layer Half Canvas Construction, for natural drape and durability
Ergonomically designed soft shoulder for an improved fit and ease of movement
High cut armhole for a sharp, modern silhouette
Pad stitch detail ensures perfect collar and lapel presentation
Two button front with notch lapels
Single vent
Functioning button cuffs
Contrast heathered undercollar melton
Half lined trousers, with rear flap pockets and internal herringbone detail
Hand-stitched buttons and linings
Pricing
Blazer – £249
Trousers – £98.50
Why choose wool?
If you're anything like me, even the thought of wool will be making you sweat. But it's time to ditch your misplaced worries!
Wool is one of the most practical fabrics out there: it's breathable, durable, water-resistant, soft, and doesn't wrinkle. As a guy who is constantly running on the 'hot' body setting, wool is a great option as it allows your body to breathe unlike a lot of manmade fabrics.
---
The Jack Wills Bloomsbury suit is also available in grey tweed, navy flannel and grey flannel.