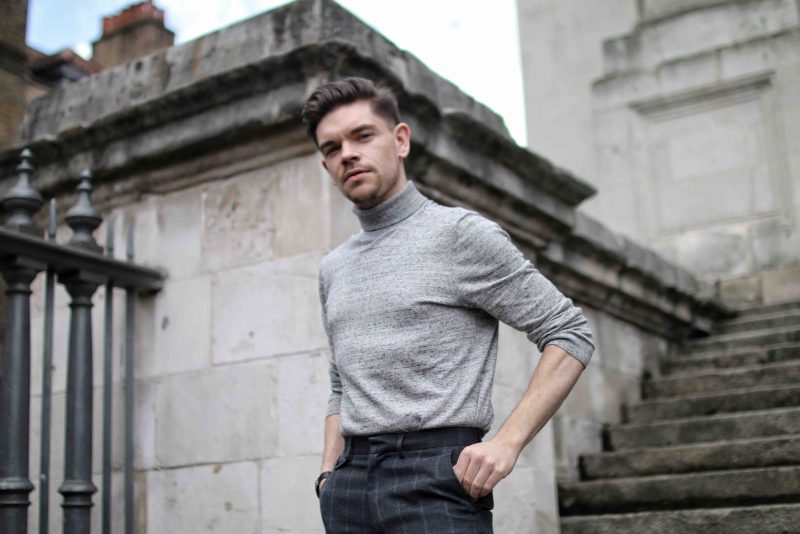 The roll neck (turtleneck – hey US readers!) is one of the most versatile pieces of clothing that you will own this season.
Over the past few years, I've developed a love for the roll neck. Worn with a blazer and suit trousers to business meetings; and under a denim jacket for evenings with friends; the roll neck can fit any style situation.
It's also a totally practical piece – covering you up and keeping you snug all through winter and well into spring.
In this shopping gallery, I've organised my top picks into colour – black, navy, grey, emeralds and pastels – and given you some helpful do's and don'ts on how to wear the roll neck.
Shopping gallery below pictures


I'm wearing:
Photography: Joey London

Black: Men's roll neck
Every guy should own a black roll neck. This – out of all the colours – is probably the most versatile in how it can be worn.
I've worn my black roll neck with formal suits and also more casually with a leather jacket and black jeans.
Do: Layer with different textures – leather and wool especially.
Don't: Mix with bright colours. Bright colours and black can look cheap. The key to this is simplicity.

Navy: Men's roll neck
A softer version of the black roll neck, navy can be mixed with colour and can bring more light to an an outfit.
Texture shows more clearly on lighter colours, so use this as an opportunity to splash out on cashmere (if you can!).
Do: Be adventurous with mixing navy with other darker colour.
Don't: Wear with an all black suit. The colour will clash.

Grey: Men's roll neck
I have four different grey roll necks, all in different tones. They look especially good when worn with shades of blue and cream.
Do: Wear with denim.
Don't: Overheat. Grey is so unforgiving for sweat patches!

Emeralds: Men's roll neck
I've called this colour category 'emerald'. The colours in this are super-luxurious and perfect for the colder months.
Hero colours include burgundy and emerald green.
Do: Mix emerald colours with navy and grey.
Don't: Mix too many emeralds together. Burgundy and emerald green is a major colour clash.

Pastels: Men's roll neck
Pastels and neutrals have been massive this year. It's been really great to see men embracing powder pinks and baby blues.
These colours can be a lot of fun to wear and bring a playful, youthful edge to any outfit.
Do: Use pastels as a playful alternative to white.
Don't: Wear too many pastels together – you are not in a 1990s girl band!