I'm sure I'm not the only one guilty of this: I power through the week, wishing for a weekend of pure relaxation. The weekend arrives and I have no plans. Oh well, another weekend stuck in London!
Weekends of relaxation aren't just a want, they're needed; and they're far easier to do than you'd think. You don't need to be jetting off to the south of France for a week on a yacht, nor do you need to be chasing the winter sun in the southern hemisphere. There are some fantastic – and pure luxury – locations right here in the UK.
Cowley Manor & C Side-Spa is one of these absolute gems!
Why You'll Love Cowley Manor
Featuring 30 bedrooms, a multi award-winning spa, and 55 acres of Grade II listed gardens, Cowley Manor is the perfect Cotswolds getaway.
Located by the regency spa town of Cheltenham, Cowley Manor makes an ideal base to explore the Cotswolds. The quintessential Cotswold chocolate-box village of Cowley itself, with its honey-hued buildings and inspiring views, is the perfect starting point for a countryside walk (with some great pubs on the way!).
The grounds of the hotel are beyond beautiful. During my stay, I let myself get lost in pure tranquility. Although the hotel was totally booked, I only saw one other couple of my walk around the land.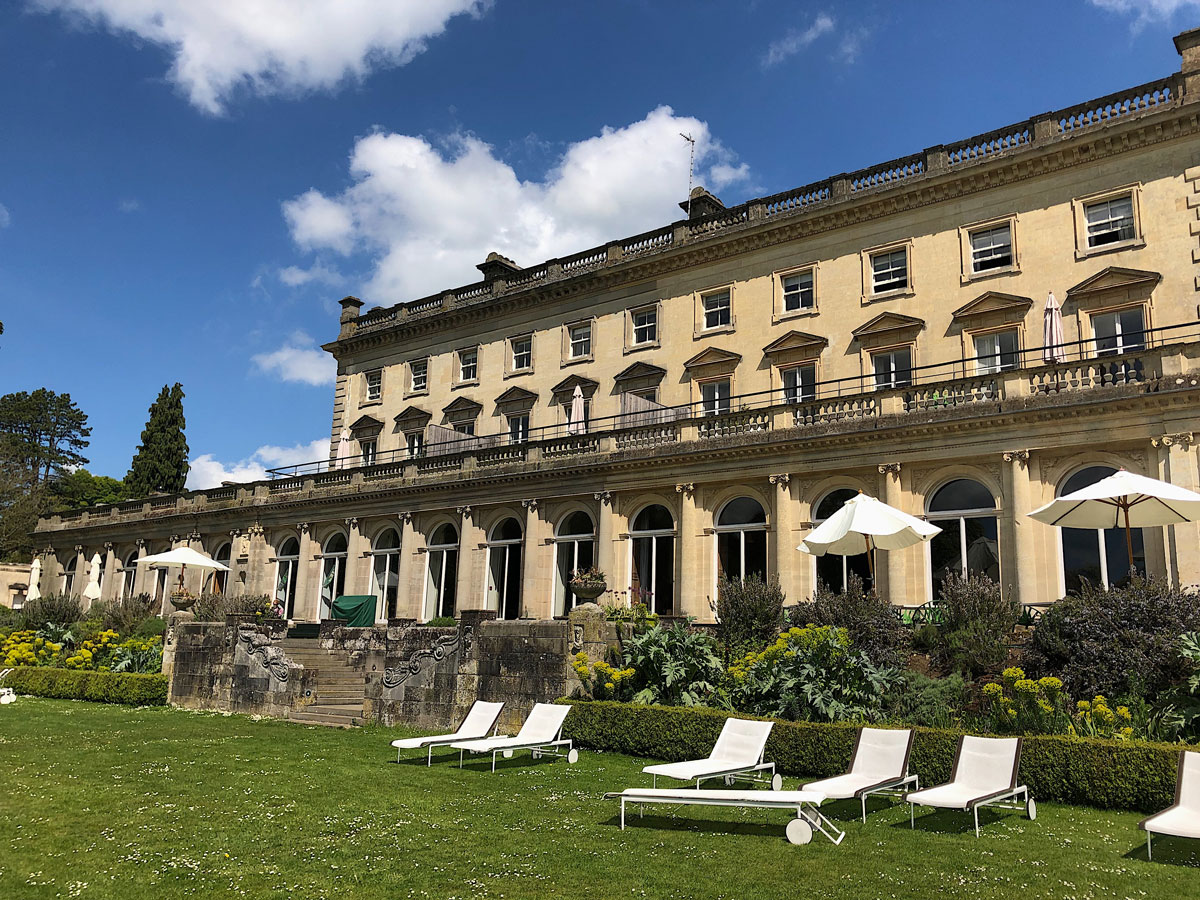 The Rooms
Their rooms go from 'Good' to the 'Best', but even the smallest of spaces have well-stocked minibars, full-sized Green & Spring toiletries (the bath gel is epic!) and fluffy robes.
A tell-tale sign of a great hotel is a great bathroom. They have huge baths and separate drench showers. You may not want to leave!
Despite the comfort of the room, the decor may not be everyone's taste. With bright colours and clashing prints, there seems to be a slight disconnect to the serenity of the grounds outside.
Take A Spa Day
But serenity can be found just a short walk out the front of the hotel.
Carved into the ground of Cowley Manor, this post-modern building features a Cotswold green-slate lined heated indoor pool; a gorgeous heated (thankfully!) outdoor pool; a sauna; steam room; relaxation area; and several treatment rooms.
The spa offers their Proverb treatments – a menu designed specifically for men. Choose from a back treatment; a stretch and align massage; or a facial. Each of the treatments have been tailored to suit our (us guys!) needs.
I went all in with my 60 minute Proverb Back Treatment. Beginning with a balancing electrolyte foot soak and scrub, my therapist then moved on to scrub my back with grains from coconut and avocado stone. The massage is really targeted at relieving stress and pressure across the body, with elitsports nutritional anti- oxidants & omega fatty acids massage oils. These are used to massage your upper body – back, neck, shoulders, chest and head.
This was one of the most relaxing treatments I've ever had. I actually fell asleep; before my own snoring woke me up!
I'd really recommend spending some time next to the outdoor pool after your treatment. It's the perfect way to unwind before more relaxation in the hotel grounds, bars or restaurant.
Food & Drink
And what better way to spend an evening after the day in the spa than hearty meal.
With options of afternoon tea, lunch in the restaurant or al fresco dining on the terrace, you can see where your mood takes you.
The Restaurant offers ingredient-driven dishes with a focus on sustainability and innovation. Check their current menus out here and be sure to see about the wine… the Beaujolais wine I had was next level!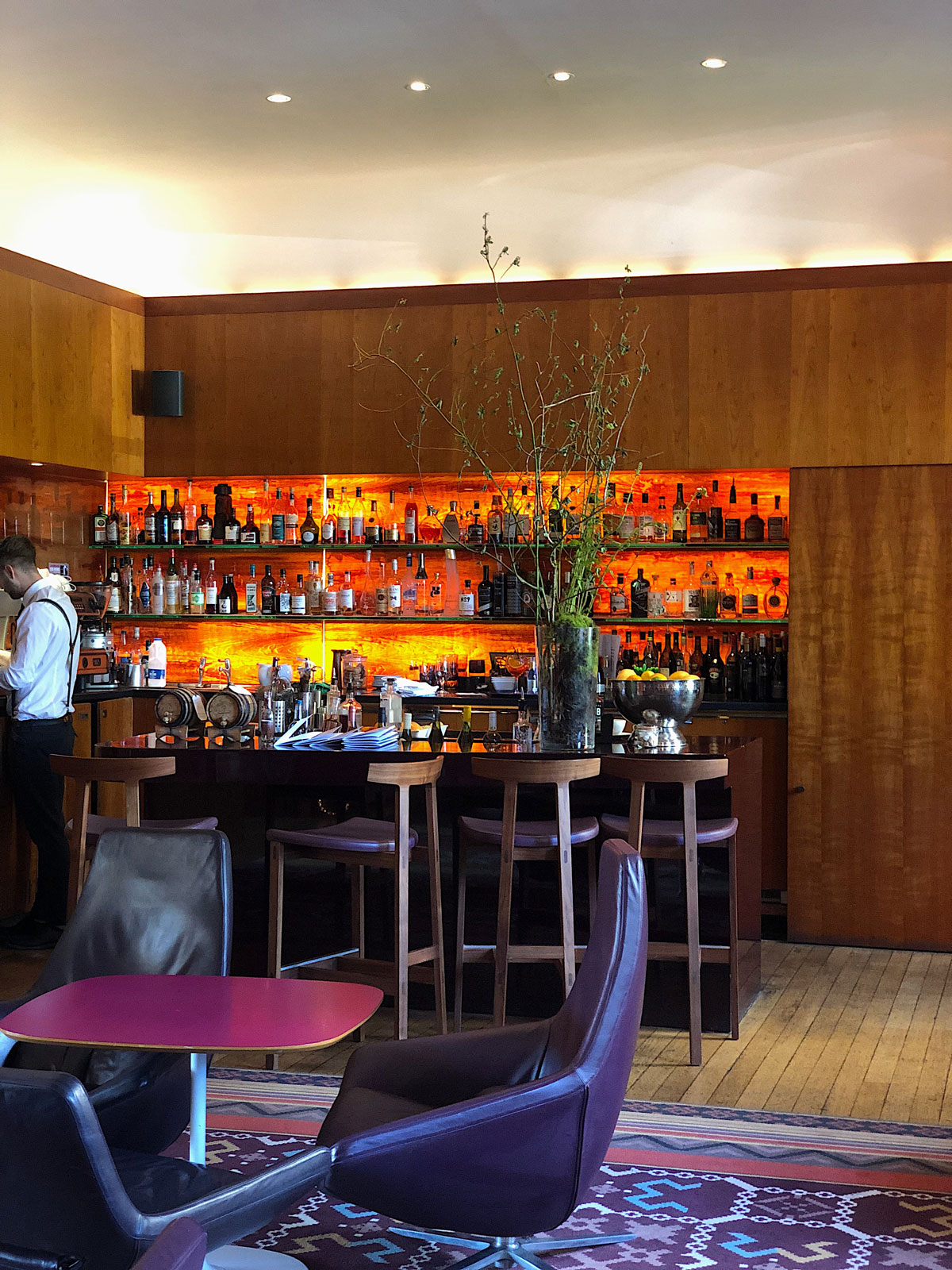 ---
Travel In Style
I was lucky enough to loan the new Jaguar E-PACE R-Dynamic for the weekend.
The compact SUV was an absolute beauty to drive. Super-responsive and agile; from the city roads out onto the single tracks in the Cotswolds. I 'accidentally' slipped it into Sports Mode and really got to see what the car could do.
It felt durable and robust, but nimble enough to work its way through some tight corners.
17″ Style 1005, 10 spoke, Gloss Sparkle Silver alloy wheels;
LED headlights;
Heated door mirrors;
Sportmesh 8‑way heated front seats;
Touch Pro 10″ Screen;
Emergency Braking, Rear Camera, Cruise Control and Speed Limiter, Lane Keep Assist, Driver Condition Monitor, Front and Rear Parking Aid.