 Got plans this month? The House of Peroni has just shot to the top of your London 'to do' list this March!
This post has been sponsored by Peroni
I'm a big fan of the experiential events that Peroni create. They perfectly fuse good food, great drink, art and culture, whilst distilling a hint of Italian spirit in anyone that attends them.
The House of Peroni will be opening its doors in London once again this March, giving visitors the chance to experience art like never before – all within the backdrop of their spectacular Peroni Nastro Azzurro bar.
Popping up on Wardour Street in Soho, The House will be open for a special four day event (Wednesday 15h – Saturday 18th March) and will allow you to experience a virtual world, perfectly blending art with technology.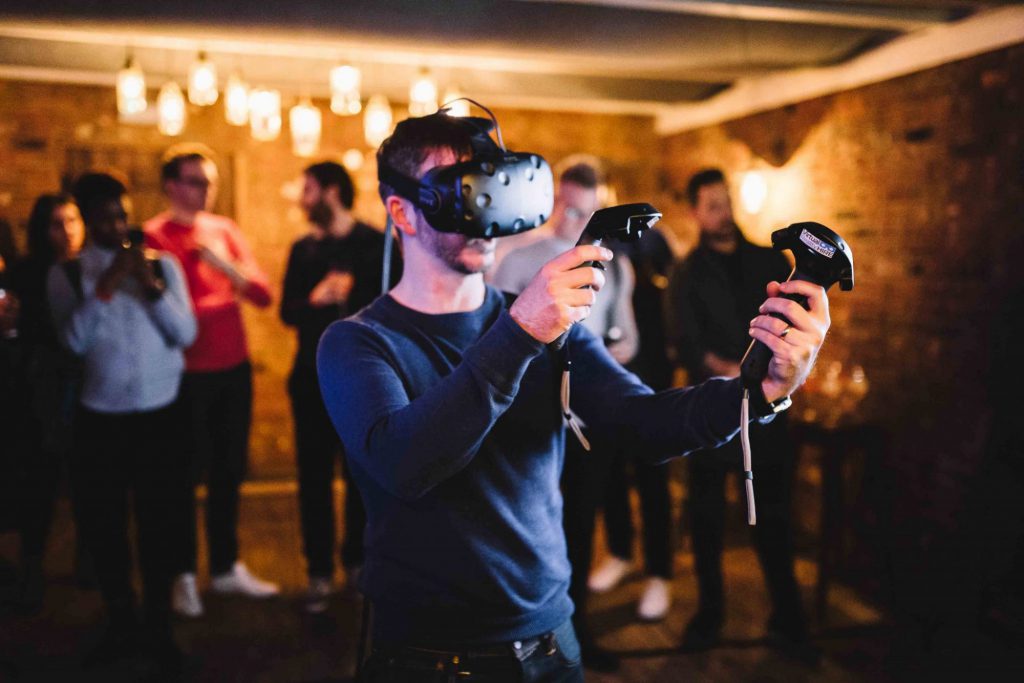 The House of Peroni art experience
Peroni Nastro Azzurro has teamed up with Beautiful Crime Agency and three featured artists to bring this experience to life. The three artists have created works around the theme of 'craftsmanship'– a quality at the heart of Peroni Nastro Azzurro.
A £20 ticket will give you access to a virtual reality art workshop – transporting you into a living and breathing piece of art. You'll then be let loose to create your very own masterpiece with the VR technology!
The featured artists
Italian artist Fabio Giampietro (2016 winner of the prestigious Lumen Prize for digital art) will host two evenings at the House. He has drawn on his early childhood memories with his carpenter uncle; as well as his love of the 'Futurismo' art movement.
"My signature style is to create a fairly abstract cityscape and play with a sense of perspective. For this project, entitled 'Neon Vertigo', I've invoked the craftsmanship that was apparent in my uncle's joinery work and related it to architecture and the concept of the 'metropolis' – a motif that is apparent throughout all of my work."

Fabio Giampietro
British artist Carne Griffiths has taken his inspiration from his 12 year experience as an embroidery designer. From his craft, he developed a real fascination with the creation and manipulation of the drawn line.
Similarly, Italian artist Peeta, has looked to his own heritage and experience in the art world to bring his work to life – using Venetian 'Murano' glassware as his muse.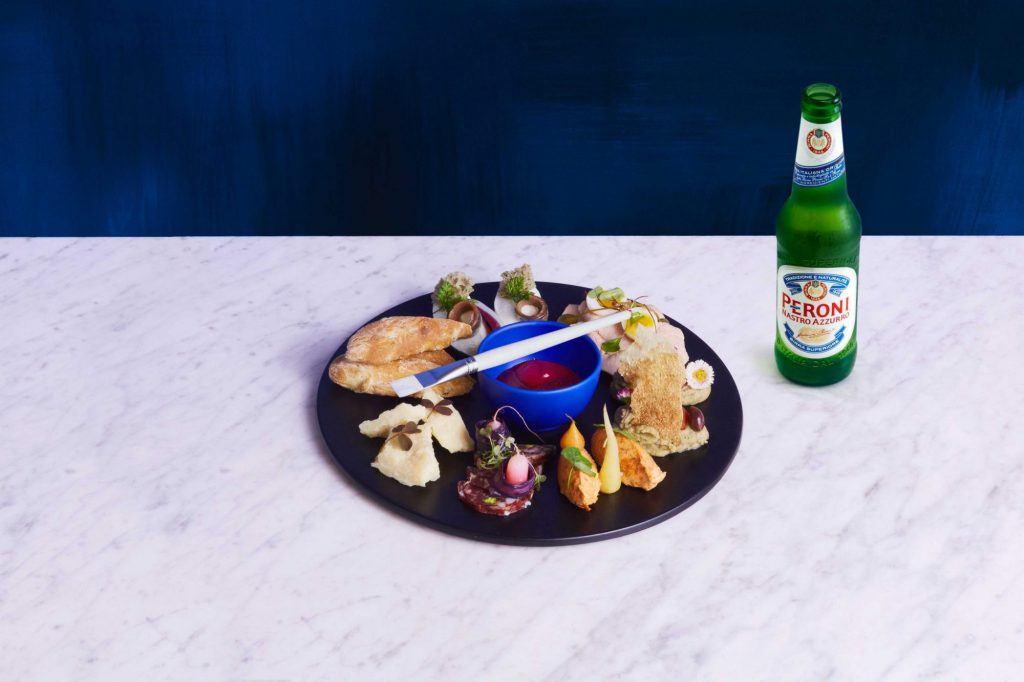 An exploration of food
Like any good House of Peroni event, the entertainment will all be served alongside a top class bar and food service.
Following the success of chef Francesco Mazzei's Calabrian inspired menus from the 2016 Residency, he returns to the role of 'Master of Taste' at The House of Peroni. Francesco's simple yet vibrant antipasti platter will provide the perfect accompaniment to your evening.
Continuing on your journey of Italian craftsmanship and discovery, you'll be introduced to some of Italy's finest meats – nduja mixed with ricotta and chives, salami and cured smoked duck with beetroot puree, all accompanied by a range of Italian breads and a selection of cheeses.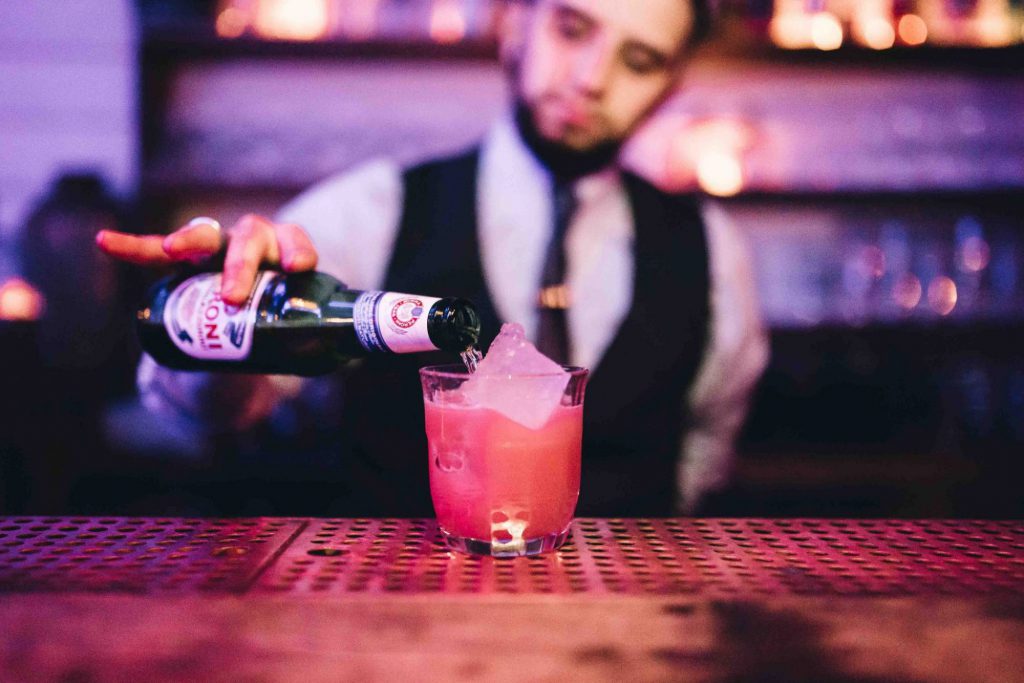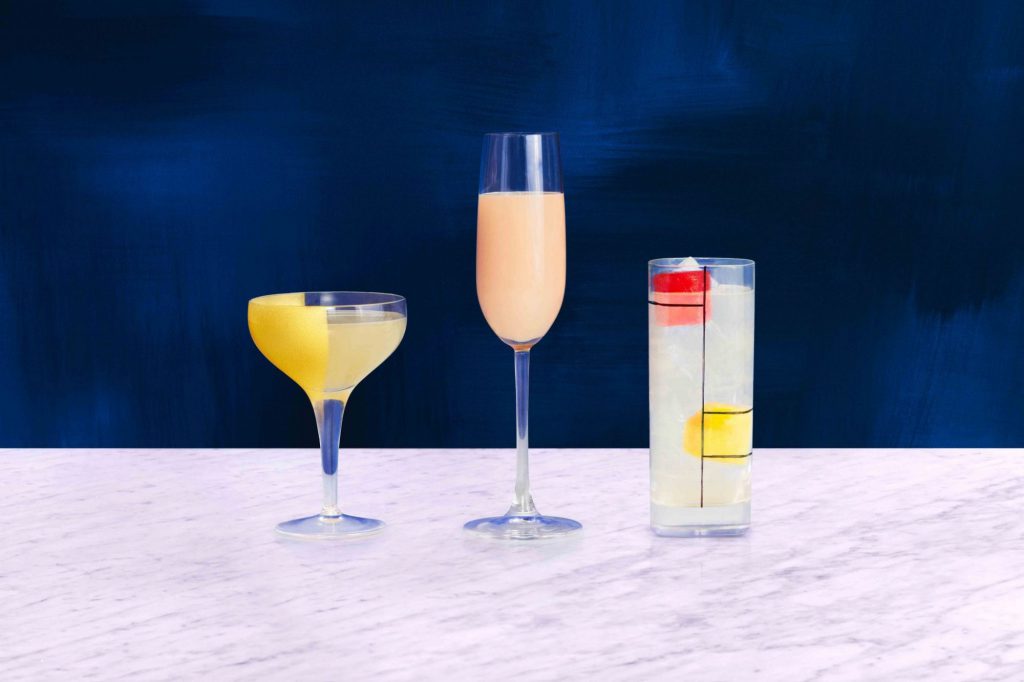 A masterclass in mixology
What I particularly love about The House of Peroni events is their creativity with mixology. Award winning 'Master of Mixology', Simone Caporale will return for a third year to bring his inimitable style of cocktail mastery to the infusion menu.
With gin, Peroni Nastro Azzurro and sweet, spring-like citrus notes, the Oro Liquido (above left) liquid serves up a shimmering gold treat; whilst the L'Astratto serves a long, more bitter cocktail featuring flavoured, coloured ice cubes (above right).
And if you're into something a little more traditional, try the Peroni Peony bellini (centre), featuring crisp white peach, grape, peony and magnolia flowers; or – my favourite – the classic Peroni Negroni.
The centrepiece of the upper space bar (free for all to enter) will be an eye-catching bar structure created by renowned set designer Petra Storrs. Inspired by the rich colour palette and playfulness of the light effects in art installation, she has blended it with the iconic Peroni Nastro Azzurro 'blue ribbon' to create an incredible focal point.
---
The House of Peroni takes residence at 147 Wardour St, Soho, London, W1F 8WD from Wednesday 15th – Saturday 18th March
For more information, for opening times visit www.thehouseofperoni.com
The House of Peroni will then travel to Edinburgh (30th March – 1st April) and Manchester (5th – 8th April)