 Varsity Polo and a bottle of champagne: how else would I spend my Saturday?
Scroll down for the video
Jack Wills celebrated their eighth year of sponsoring the Varsity Polo this weekend. Hosted at the iconic Guards Polo Club in Windsor, I was lucky enough to receive an invite to the day.
Despite the forecast of thunder and torrential rain, we had one of the warmest and driest days of the year. With the event being totally sold out, there was a fantastic atmosphere and loads going on.


The day
With limited polo knowledge (limited = none), I enjoyed a day of dipping in and out of the polo matches and sampling the many delights of the Jack Wills Village – a land of food (amazing sausages), drink (a tented bar and double-decker 'pub'), face painting and live music. What could be better?
The day climaxed with the Oxford vs Cambridge match. A clash of the titans, both teams played hard and fast. But it was Cambridge University who came out on top, winning the match 6-3 and equalling their overall win count to 55 each.
My outfit
The Varsity Polo was my opportunity to ditch the skinny jeans and channel my inner British gent. Basing my look around Jack Wills' Wadsworth Classic Oxford Shirt, my outfit was both functional and stylish. The button down detailing on the collar is a new addition for JW in the UK and smartens the look.
I've never been a massive fan of chinos – finding them to be shapeless and ill-fitting. But Jack Wills' new skinny fit Dalby chinos kept me comfortable and looking young and on trend.
With the weather forecast as cold and very wet, I had planned on wearing the Gosforth textured crew, but with it feeling more like St Tropez than the south east of England, my sweatshirt became an over the shoulder fashion accessory!
It was the perfect day for style spotting – with an array of outfits, ranging from formal suits to more relaxed jeans and polo shirts. It definitely gave me inspiration for future outfits.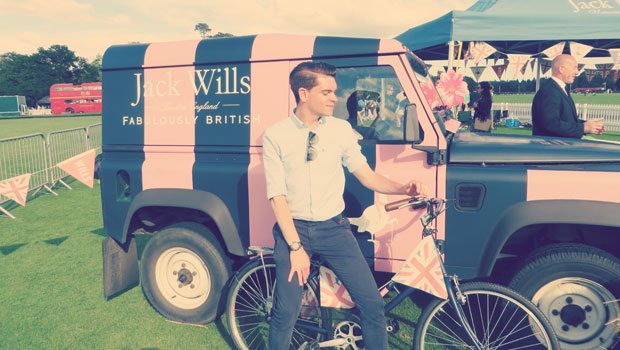 I had an absolutely fantastic day at the event. The Jack Wills Village was a total hoot and the perfect companion to the Varsity Polo. It's certainly an event that I'd love to attend next year.