Don't underestimate the power of a good skincare routine. Using the right products in the correct order can not only help to brighten and enhance your skin, but they also protect the skin and keep us looking – and feeling – young.
The more you know about skincare and the products on offer, the better you will be able to make decisions about what is best for your own skin type.
With that being said, a skincare routine is essentially these five simple steps: cleansing, toning, applying eye cream, moisturising, and SPF. You can never go wrong when you follow these steps!
1. Cleanse
The first and the most important step of every skincare routine is cleansing your face. Cleansing is just a different way to say 'washing your face'.
There are loads of products on the market right now and there is quite literally something for everyone and every skin type. Be careful of brands that heavily push the 'for men' messaging. So many of these products are more about branding than results.
If it feels like your cleanser is stripping your skin, or leaving it feeling squeaky clean, stop using it! Reprogram your brain to know that when your face feels tight, it's a bad sign.
You really do want a light cleanser that is going to clean without stripping.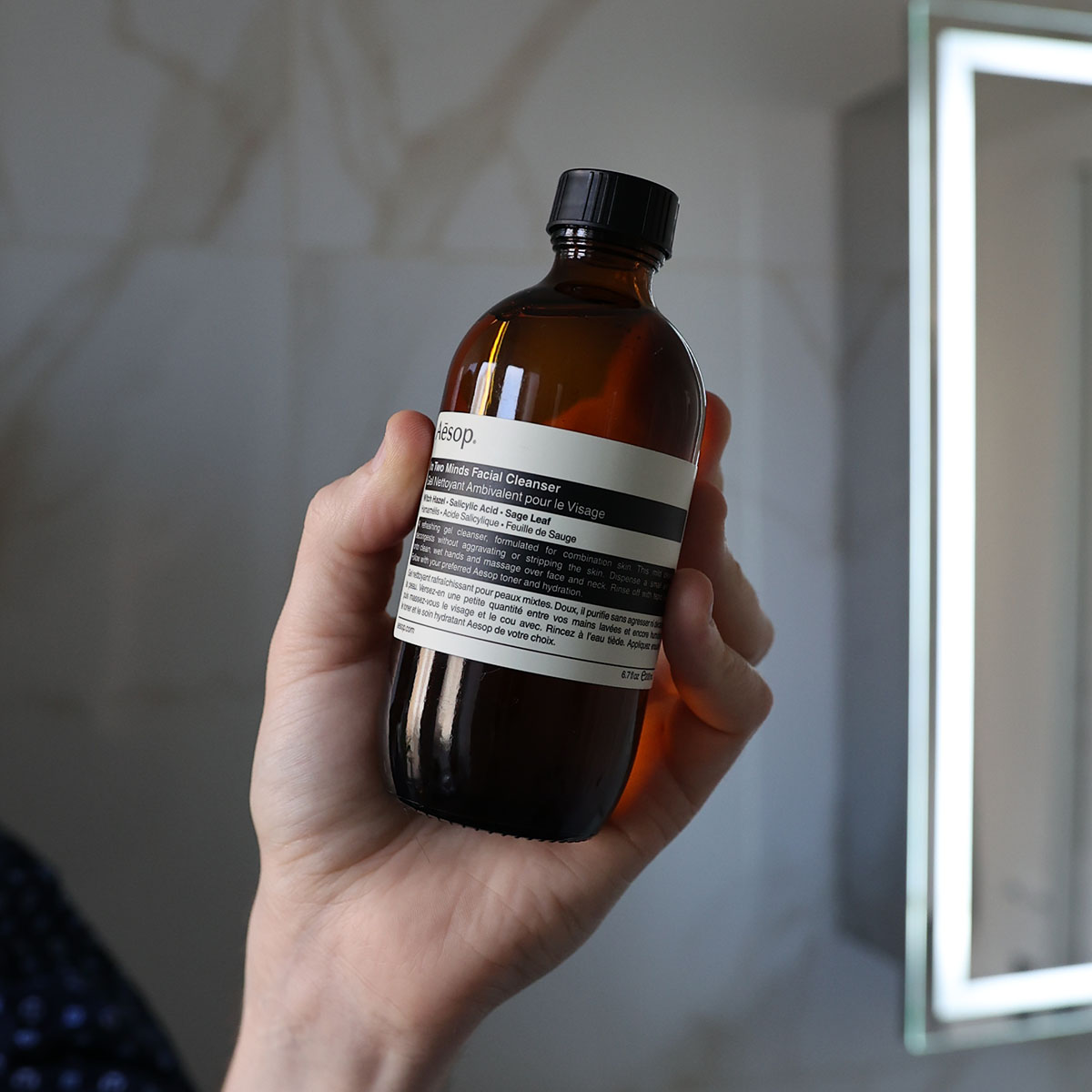 AESOP In Two Minds Facial Cleanser
This cleanser by Aesop is a really great option for someone that wants just one face wash for morning and night.
It's lightweight and gel-based product that cleans away impurities without drying or stripping the skin of its natural oils.
Enriched with Salicylic Acid, Witch Hazel and Sage Leaf, the cleanser's formula is perfect for those with combination skin.
It has a fresh, herbaceous scent and is vegan and cruelty-free! Just half a teaspoon's worth is enough to use morning and night.
2. Tone
A toner will prime and prep the skin. It might seem like an unnecessary step, but it will help to balance your skin especially after cleansing.
If you have dry skin, try a toner with an AHA (alpha hydroxy acid). Glycolic acid is a fantastic AHA lightly exfoliate the surface of the skin.
And if you have oily skin, try a BHA (beta hydroxy acid). Salicylic acid is a BHA that has long been recommended for people that suffer with spots and acne. It will help to dissolve and break-down oil within the pores.
Leave your toner on your skin for about 5 minutes before your next step. Adding another product too early could neutralise the work of the toner.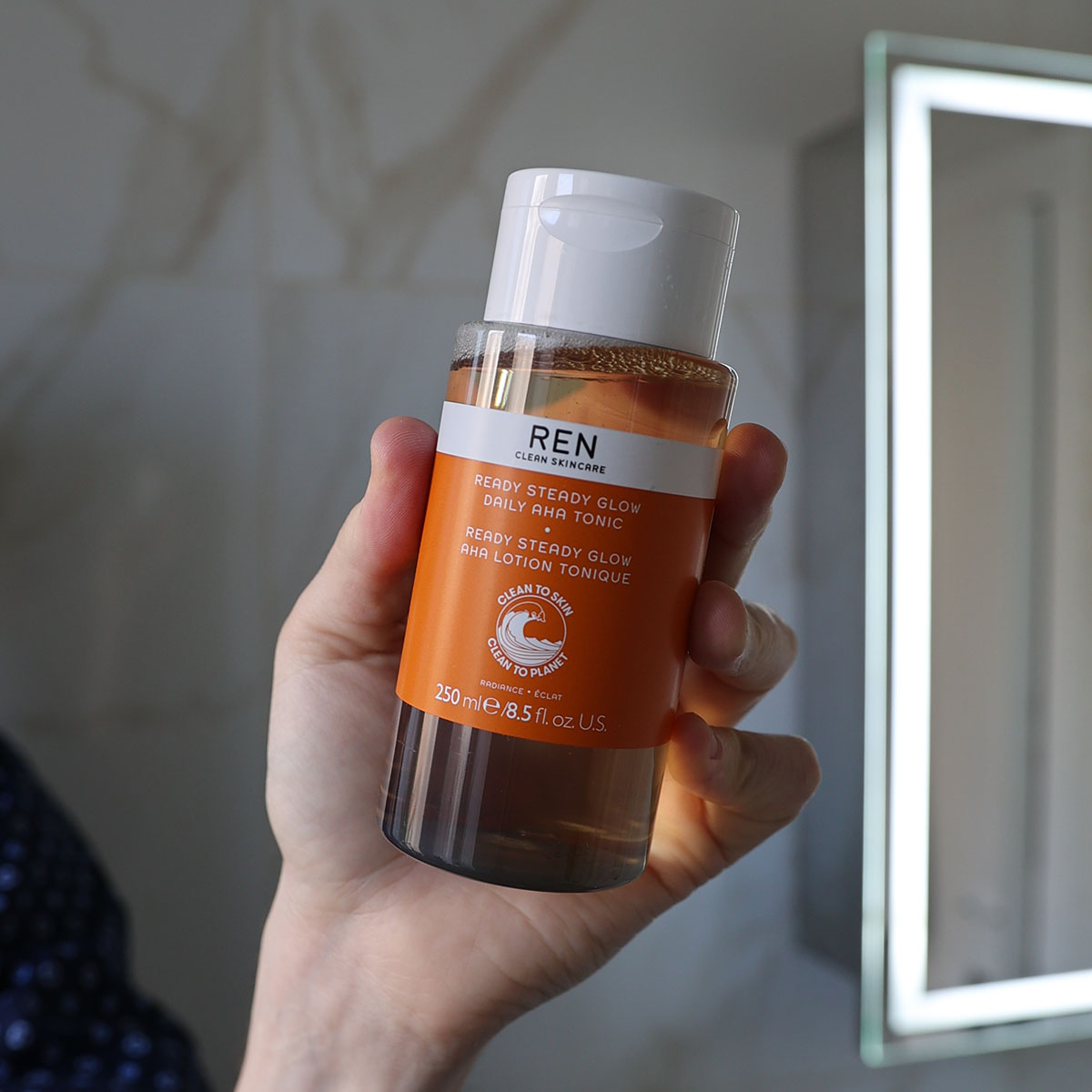 REN Ready Steady Glow Daily AHA Tonic
This toner by REN Clean Skincare will keep your skin glowing all day! It's suitable for all skin types and does an excellent job of nourishing and gently exfoliating the surface of the skin.
The tonic targets dullness, uneven texture, and skin tone to effectively smooth, tone, and reduce pore size without any skin-damaging parabens, sulfates or phthalates.
3. Eye Cream
Applying eye cream is a skincare step that a lot of us guys still neglect. But trust me, adding an eye cream into your routine will make all the difference.
Different eye creams have different active ingredients but they all aim to reduce the look of puffiness and dark circles under your eyes.
Remember: always put your eye cream on before your face moisturiser. An under-eye cream is more lightweight than a normal moisturiser, so it needs a little time to be absorbed.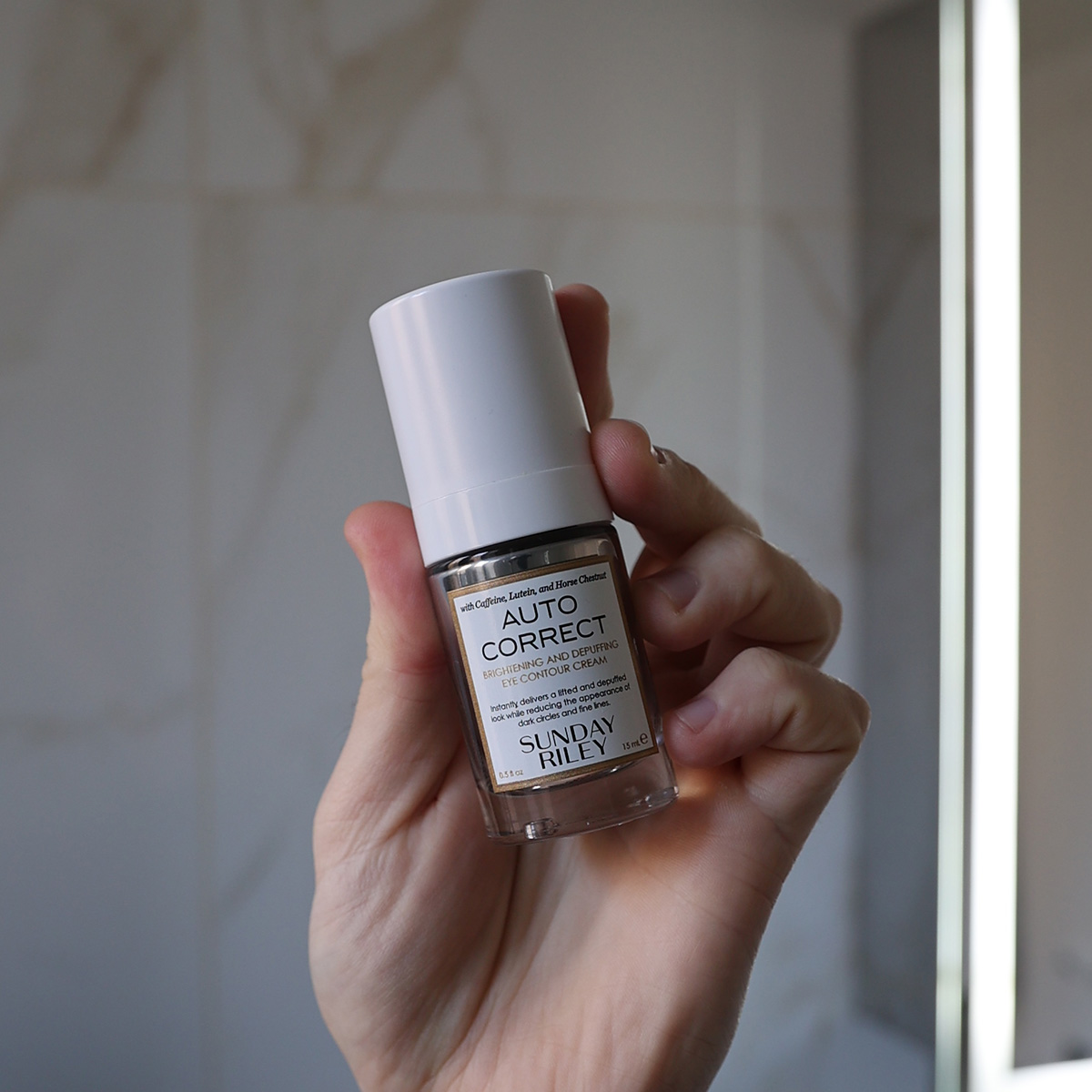 Sunday Riley Auto Correct Brightening and Depuffing Eye Contour Cream
The Sunday Riley Auto Correct Eye Cream is a thing of wonders. Your tired-looking eyes are instantly brightened with just a couple of taps of the product. It also delivers a lifted look while reducing the appearance of fine lines, dark circles and puffiness – the signs of a true bestseller!
Auto Correct is suitable for all skin types and gives you a fresh, youthful glow from the caffeine and Brazilian ginseng root extract within the formula.
4. Moisturise
Moisturising is not just for hydration— it's for protection, too!  We should all be moisturising, morning and night.
Right after applying your eye cream, follow up with a moisturiser. If you have dry skin, opt for a heavier, creamier consistency of moisturiser. If you have skin that tends to feel slightly oilier and greasy, try a water lotion or oil-free lotion like the one below.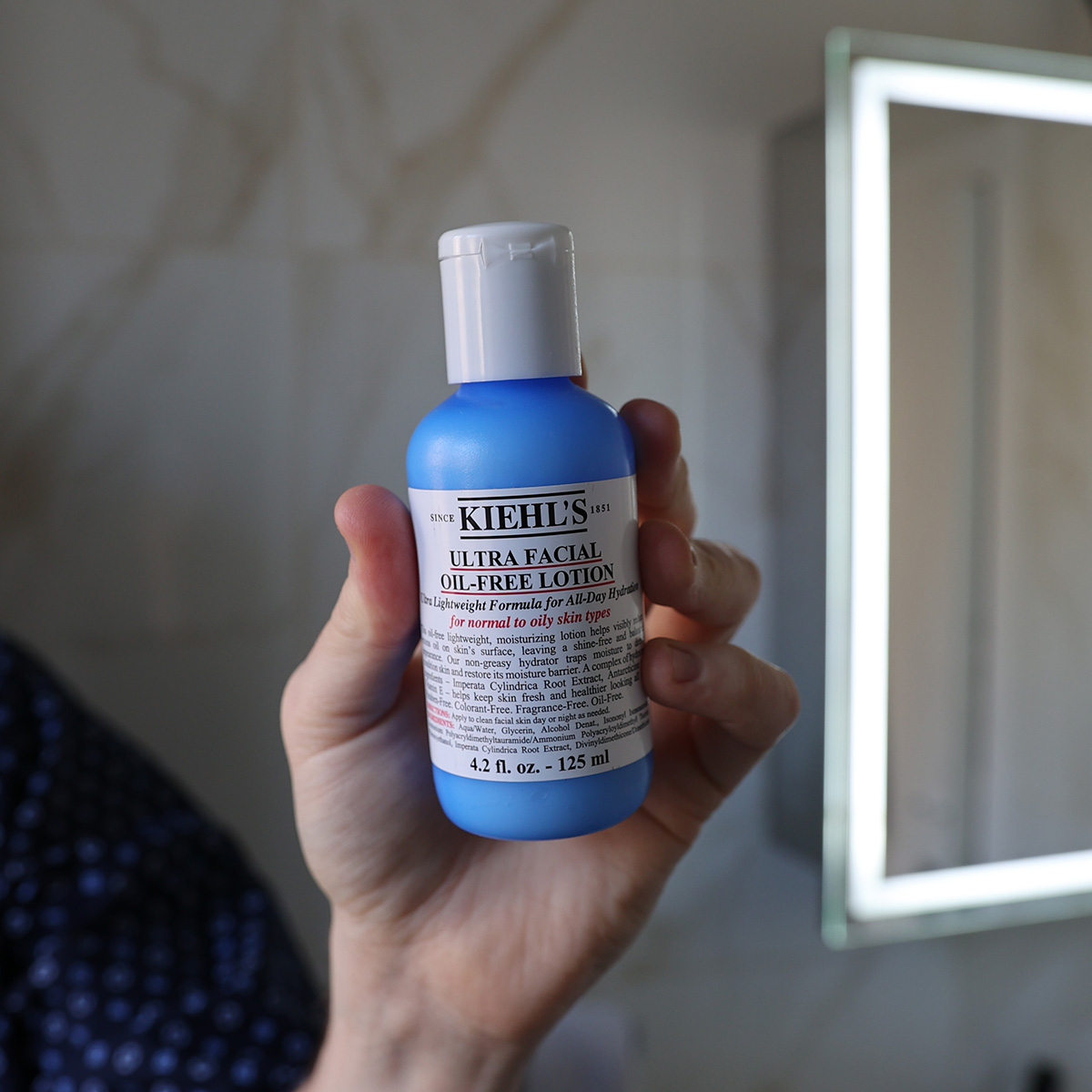 Kiehl's Ultra Facial Oil-Free Lotion
If you find that moisturisers can leave your skin feeling oily and looking shiny, then this one's for you!
Kiehl's Ultra Facial Oil-Free Lotion is a staple product of the brand and has been reformulated for oily skin.
This face cream may be ultra-light and non-greasy, but it still provides all-day hydration. It has a shine-free finish and can be used day, night, or whenever needed.
5. SPF
SPF is the final thing you should put on your skin in the morning. SPFs aren't just for summer, an SPF is needed every day! An SPF really is the product that will most effectively keep your skin looking young and healthy.
A broad-spectrum (important to look for that) SPF will protect against both UVA and UVB rays. UVA are really the rays that cause ageing. It's what the sun does to alter the skin's cells. UVB is more about the surface and what causes the skin to burn.
A good SPF doesn't need to be expensive and it shouldn't sit heavy on the skin. Your skin should still feel like it's able to breathe, and shouldn't feel greasy or oily.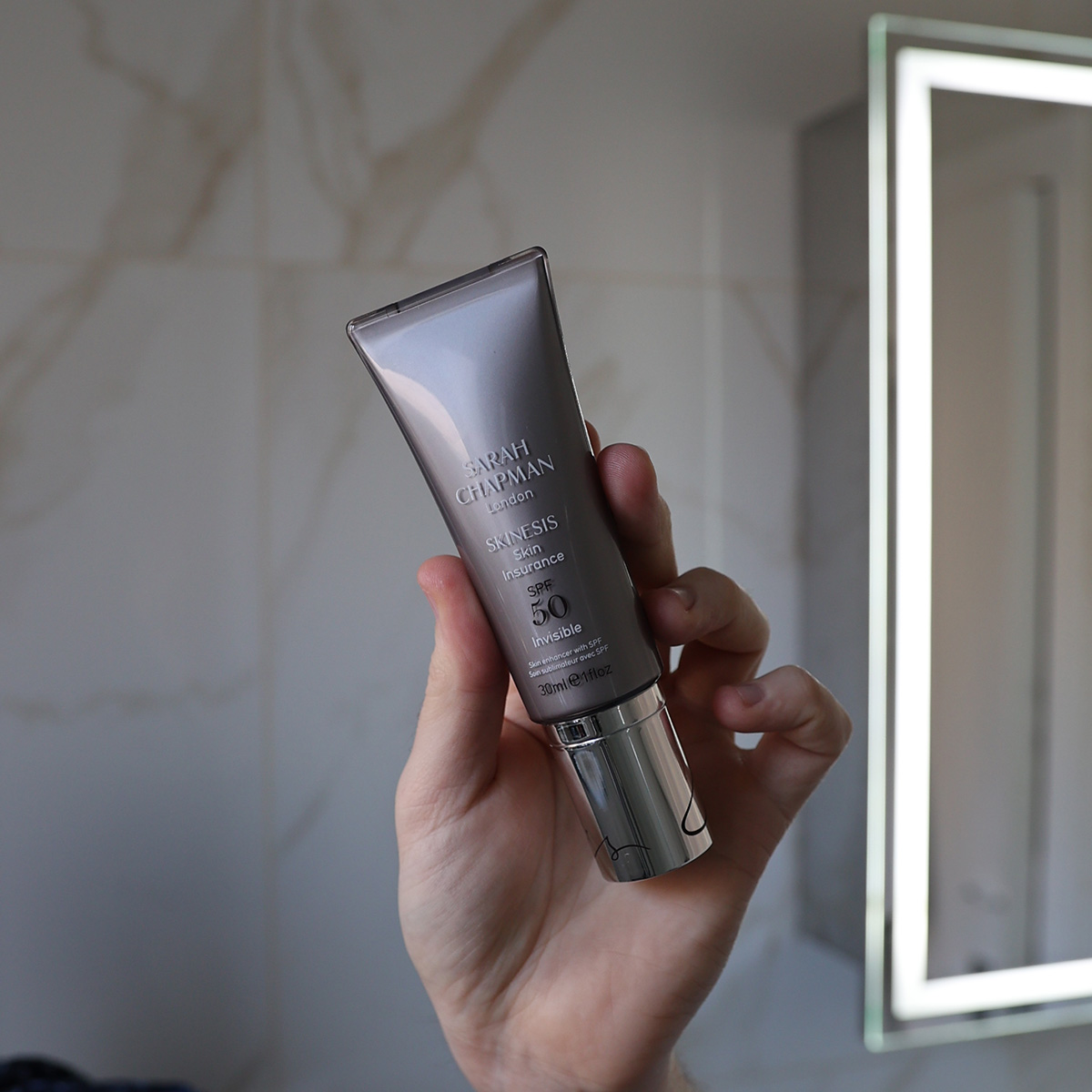 Sarah Chapman Skin Insurance SPF 50 Invisible
The Sarah Chapman SPF 50 is everything you want in an SPF! Not only is it a skin enhancer (it blurs the look of pores), but it also protects you from infrared, thermal, and UV ageing.
Bioactive and multivitamin complexes are also integrated into the product to leave it feeling soft and nourished. This is a skincare essential that takes skin protection seriously!