 Choosing what to to wear when you travel is important. Your outfit should be equal parts style and comfort.
You don't need to go overboard with your travel outfit. Keep it simple for minimal effort with maximum impact. Choose pieces that you can layer – adding or taking off depending on how cold the airport is; or how hot your travel destination will be.
You'll see that all items of clothing featured in this article are from ASOS menswear. For me, it's one of the easiest and quickest online retailers to use. With a Premier Delivery account, I receive next day delivery on my orders to ensure that I'm ready for a night out, formal event or last minute trip away with my friends. It's happened a lot!
What To Wear: Pick One Colour
The key to a successful travel outfit is to stick to one colour palette. Make it easier for you (and your hand luggage) by picking one key colour to build your travel outfit around. Black, blues and whites are the easiest colours to wear. They're versatile enough to mix and can work across various locations and climates.
Do work with block colour. Don't wear hectic patterns and slogan prints.
What To Wear: Travel Jacket
Wherever you're going, always pack a light jacket. From early morning train journeys to the over zealous air con on your flight, you'll be pleased that you packed a jacket.
A denim jacket like this one is an easy addition to your outfit. Light, bright and well fitted, it perfectly straddles both comfort and style.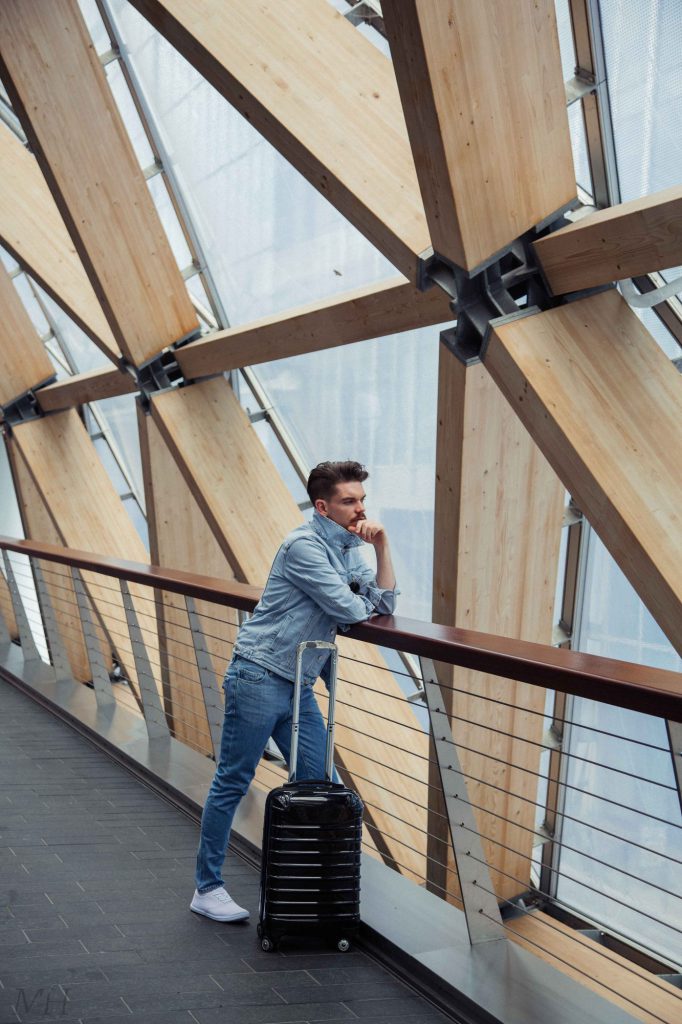 What to wear: Travel T-shirt
T-shirt or shirt, keep it light and breathable. There is nothing worse than wearing a thick shirt against your skin on a long, hot flight.
The mesh t-shirt shown here may be a step too far for most, but it is a great option for guys who find themselves in a sweaty mess whilst crushed up against the an airplane window.
Other options to go for are button down shirts and relaxed fit t-shirts. Again, keep it in your colour palette.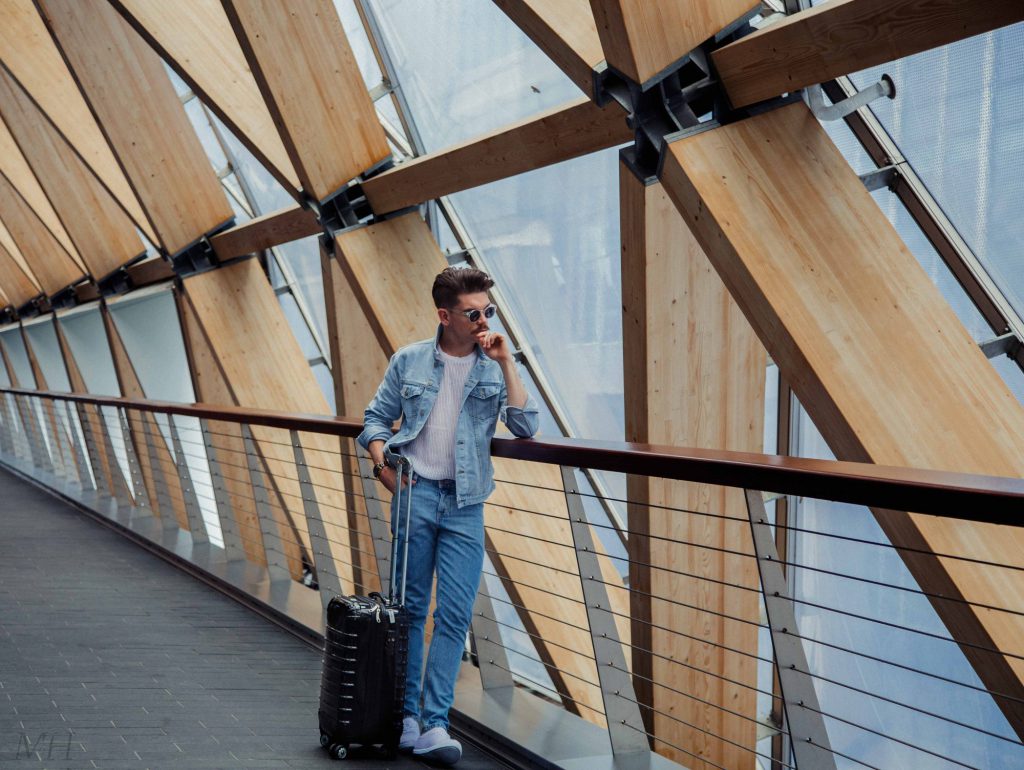 What To Wear: Travel Trousers
You really have three options when it comes to the trousers you wear to travel in. You can either go for pure comfort in jogging bottoms; a smarter comfort in chinos; or a more styled and relaxed look in jeans.
There's a common misconception that jeans are uncomfortable and restricting to travel in. Wear a slim to relaxed fit of jeans for maximum comfort and avoid spray on or skinny fits whilst flying.
If your travel destination is hot, consider a cropped fit or roll them up on arrival!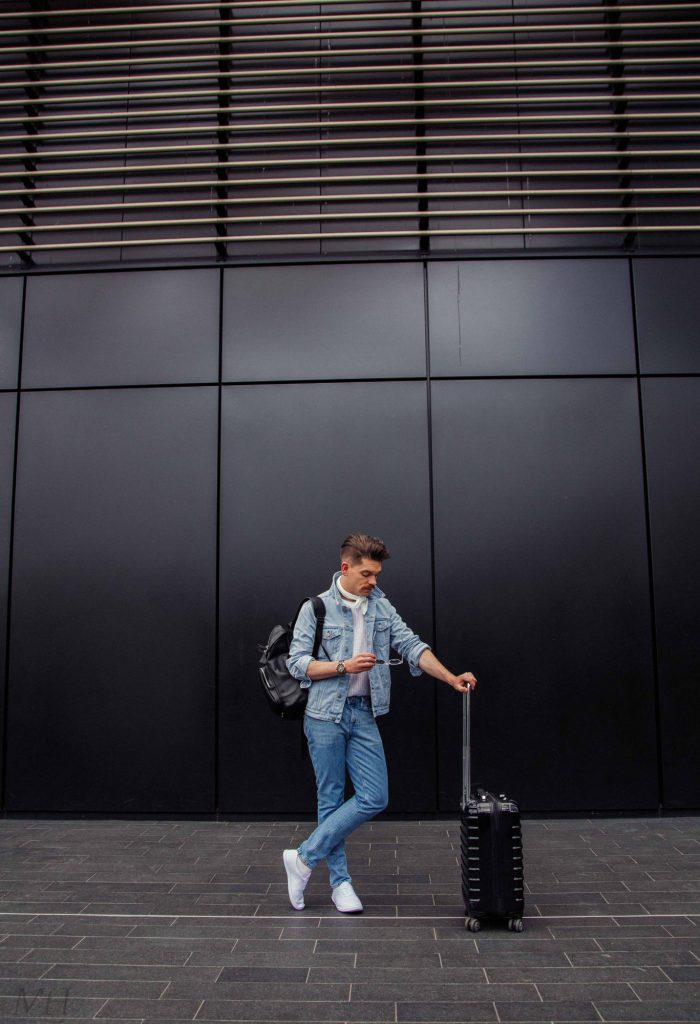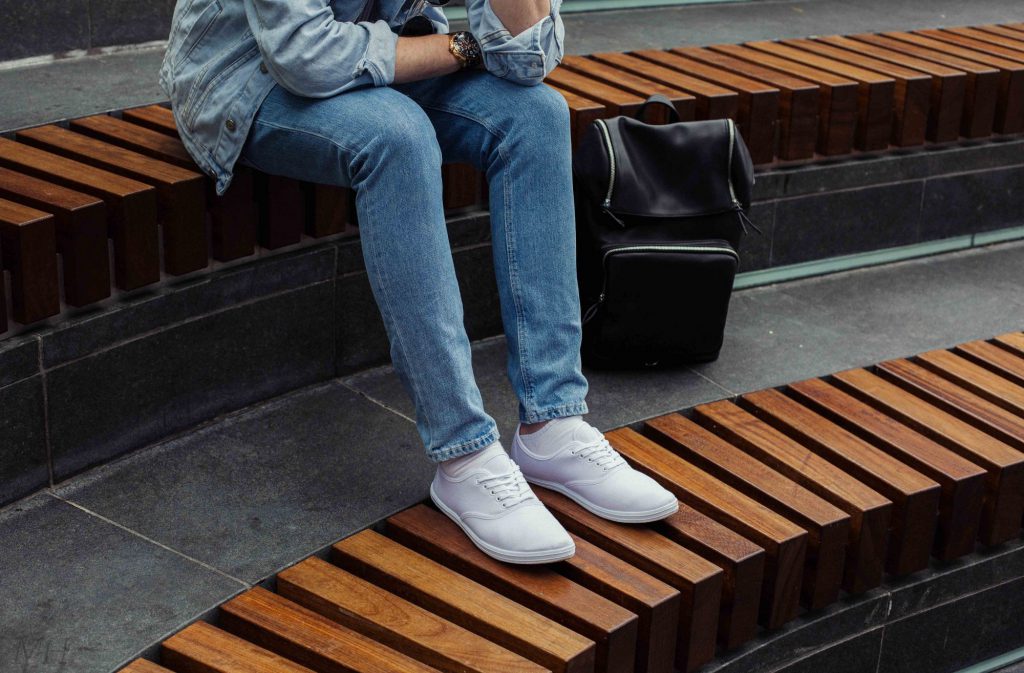 What To Wear: Travel Shoes
This is where it can all go horribly wrong. Your feet will naturally swell when flying, so ensure that you're wearing a pair of shoes that will allow your feet to breathe.
A pair of plimsolls like these are a cost effective summer staple and will keep your feet comfy all the way from home to your boutique (we're aiming high here) hotel.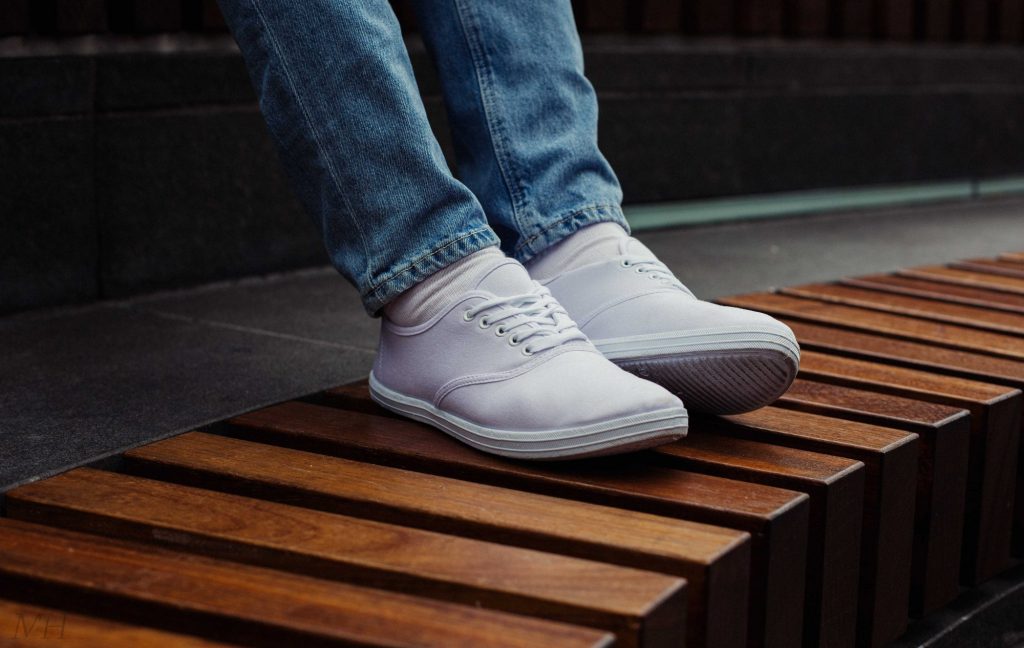 What To Wear: Travel Backpack
A travel essential, don't forget your backpack. Keep it small enough to bring on as carry on luggage, but big enough to fuel up on duty free purchases.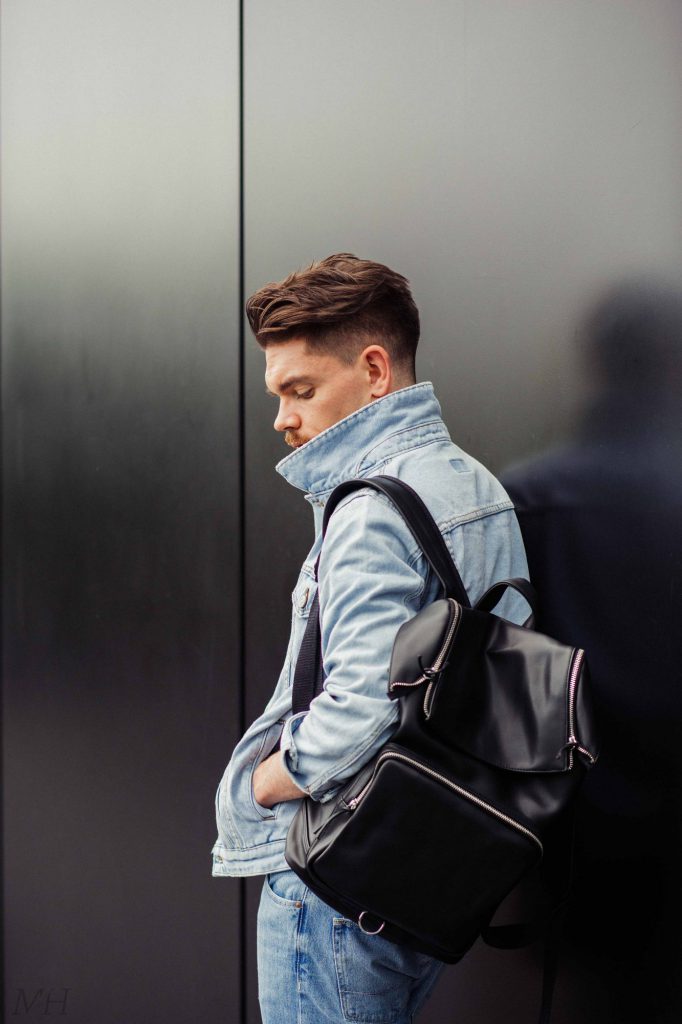 What To Wear: Travel Sunglasses
Early mornings, late nights, sunglasses are always your friend. Keep your sunnies close by for those, "please don't look at me or talk to me," moments on the plane or to have the, "I'm just a celebrity trying to relax in the airport lounge," vibe.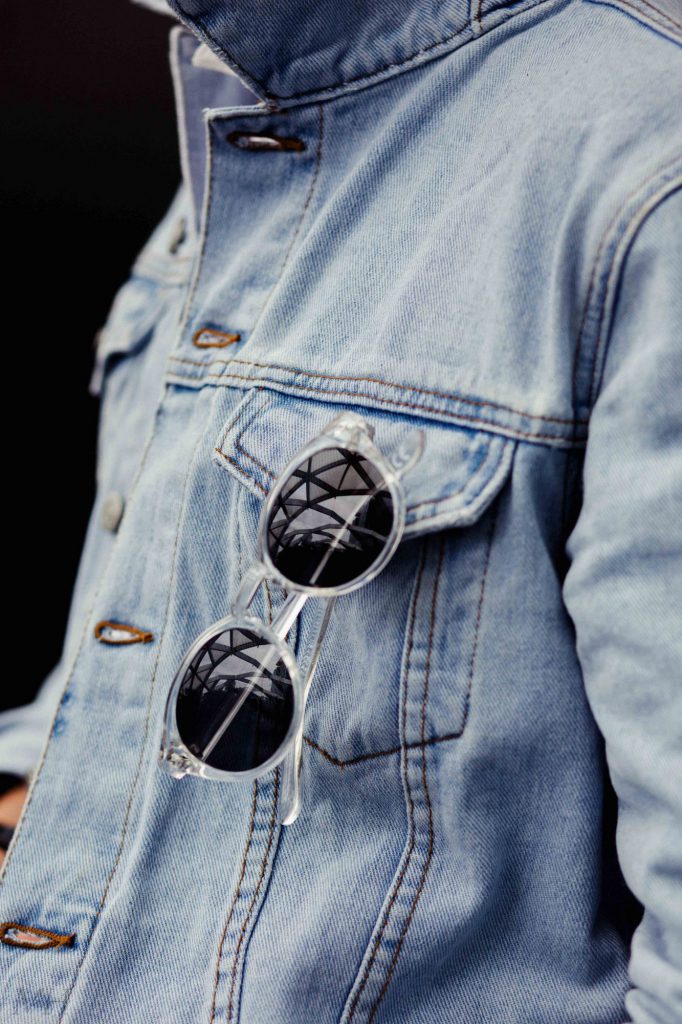 What To Wear: Travel Accessories
Keep your accessories to a minimum. If they don't have a function, leave them at home.
Bandanas are a great extra – worn round the neck, on your wrist, tying your hair back… or quite simply to blow your nose! And if you need one, don't forget a belt.