 I've picked out some of my absolute favourite products from 2015 for you to add to your Christmas wish list.
This is also perfect to give you options and suggestions for what to buy a man for Christmas.
Check out the hair products, skin care and fragrances that I think you'll love… and so will he!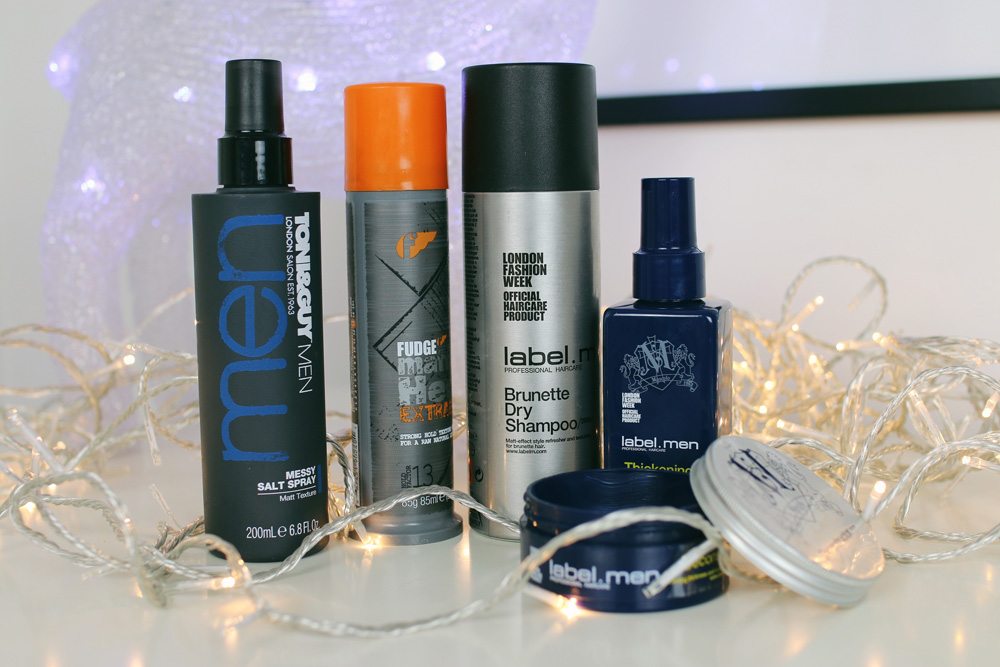 Label M have had such a strong year for male grooming, releasing some absolute corkers in hair products – three of which have landed right onto my Christmas gift guide.
Label M Thickening Tonic – £8.75 150ml
The Thickening Tonic has become my absolute go-to pre-styling product. A couple of squirts and a quick blast with a hairdryer and my hair is big, voluminous and glossy.
Label M Deconstructor – £9.55 50ml
Deconstructor is a no fuss product. With a matte finish and pliable hold, it's perfect for guys with short to medium length hair. Use straight after the thickening tonic for a hairstyle with volume, definition and great hold.
Label M Brunette Dry Shampoo – £8.50 200ml
I've gone big on dry shampoo this year. Early mornings and late nights have made Label M's Brunette Dry Shampoo an absolute essential. It's got all the properties of a dry shampoo (volume, cleansing, grip), but without the white powder finish. It's also a fantastic cheat to cover up any small bald patches. Use like a spray paint for a quick fix!
Toni & Guy Messy Salt Spray – £7.50 200ml
A salt spray is a great product for guys who are looking for a loose hold and beachy finish to their hair. Toni & Guy's Messy Salt Spray is quick to apply, non-sticky and also easy to remove.
Fudge Matte He'd Extra – £10 85g
No gift guide would be complete without this old favourite of mine. Fudge Matte Hed was one of the first products I properly used – and loved – in my hair. The Xtra version has a matte finish and firm hold – the perfect partner to a mousse, for a big quiff.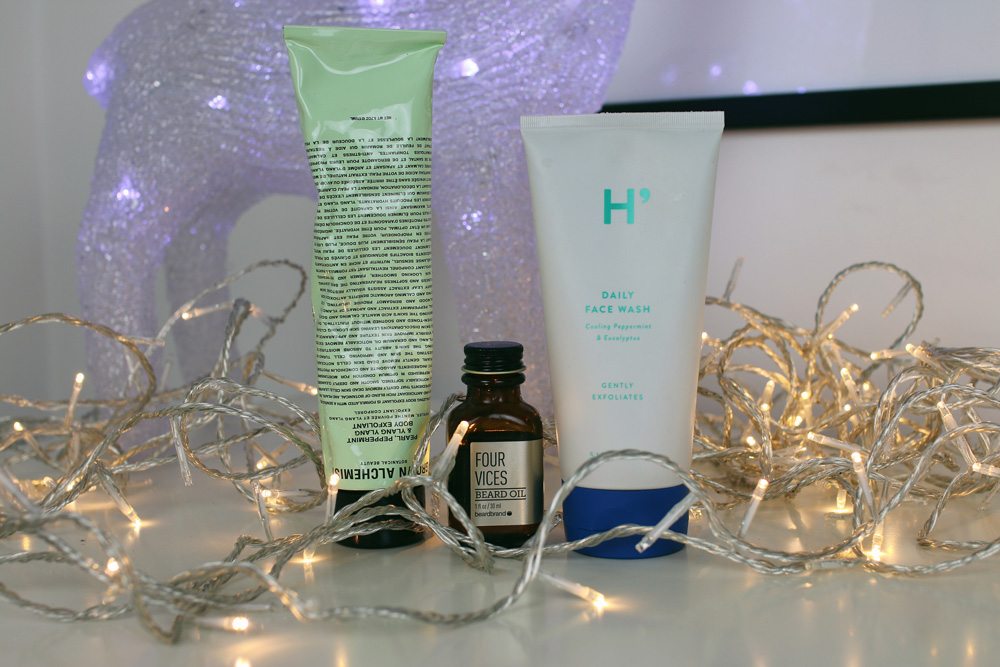 Harry's Daily Face Wash Exfoliator – $7.00
Harry's Face Wash is a great daily exfoliator. Not only does it smell great (it contains eucalyptus and peppermint) but it's also good for the environment. Loads of exfoliators use tiny little plastic beads to exfoliate the skin. Although effective, they end up in waterways and damage the environment. Harry's, however, use natural volcanic rock which easily dissolves in water.
Four Vices Beard Oil – £39.99 30ml
I've been experimenting with facial hair this month and have been going through some pretty uncomfortable growth and irritation on my neck. A couple of drops of Four Vices Beard Oil and my neck has been soothed whilst the growing hair has been conditioned.
Don't be put off by the name. It's not just for guys with massive hipster beards, it's just a really great treatment to keep your skin feeling comfortable and your facial hair looking fresh.
Grown Alchemist Pearl, Peppermint & Ylang Ylang Body Exfoliant – £19 170ml
You're not going to want to share this one! Grown Alchemist's Pearl, Peppermint & Ylan Yland Body Exfoliant smells as good as it sounds. An intense in-shower or bath exfoliator, it's left my skin soft and clean, ready for my favourite moisturiser.
Ted's Miniature Fragrance Gift Set – £22
Fragrances can be a really personal gift. If you're keen to buy one but don't want to commit to a massive bottle, Ted's Miniature Fragrance Gift Set is a fantastic option. Composed of four 9ml Ted Baker signature scents, this is a lovely stocking filler… or Christmas tree decoration. Each box has a tiny little loop, allowing them to be hung from your festive conifer.
Nuit D'Issey Parfum –  75ml £48 / 125ml £69
Ah, Nuit D'Issey Parfum – where do I start? For any of you that follow me on Instagram, you'll know that I've been going big on fragrances this year. Woody, leathery and spicy, this one by Issey Miyake has become an absolute fave of mine and my winter staple.
Dunhill Icon Absolute – 100ml £90
Exclusive to Harrods until February next year, Dunhill Icon Absolute is a pretty serious gift. If you were to pop this one under my tree, I'd be yours forever.
The first Oud signature in the Dunhill world, it includes key notes of black pepper, black rose and Exotic Oud Wood. Just to sneak a quick sniff of this is reason enough to pop into Harrods this Christmas.
Don't get stressed out this Christmas and remember it's the thought that counts… except if it's me. If it's me, I'll have the lot. Thank you and a very merry Christmas.