We are so lucky to be living at a time where we – as men – have so many choices in grooming and skincare. But with choice comes decision making… and that's where the problem lies. Where to start?
I'm really pleased to be able to bring you a simple solution that is perfect for guys that are just starting out in skincare, or for guys that need to reassess what their skin really needs.
I've had a skincare routine for over 15 years, but this – with my knowledge of products and my own needs – has changed over time. I know how intimidating skincare and ingredients can be, so that's what I'm really pleased to be partnering with Geologie. I think they've created a solid solution for guys who want a simple, yet effective solution.
A Personalised Skincare Routine… In 30 Seconds
Using the Geologie skincare diagnostic (which literally takes 30 seconds), Geologie will create a 4 product, complete and personalised skincare solution for you.
There are up to 40 different biochemical profiles which correspond to a personalised regime. These regimes – and their ingredients – help to focus on key skincare concerns or problems in a way that is personalised to your individual needs.
The products are dermatologist designed with active ingredients at the heart – so there's nothing in there that doesn't need to be there!
Your Skincare Products
Geologie will prepare 4 personalised products including:
An 'Everyday Face Wash'
A 'Vital Morning Face Cream'
A 'Repairing Night Cream'
A 'Nourishing Eye Cream'
With your kit, you'll receive a menu that tells you what's in your routine and the ingredients in each product.
I've been given Regimen #05, which is one of their most sensitive skin formulas. The face wash in this formula doesn't include Salicylic Acid and is fragrance-free.
On the other end of the spectrum is their best-selling Oil and Acne control formula, which is a stronger version that is scented with essential oils. This, however, wouldn't be recommended to me, as it would be too harsh on my sensitive skin.
My repairing night cream is also built for sensitive skin, with a minimal 0.05% retinol level, and a higher percentage of Hyaluronic Acid than many of their less sensitive/stronger formulations. Their highest current retinol percentage goes up to 0.2% in their night creams.
My eye cream also contains a small percentage of retinol, but doesn't contain Kojic Acid, as my regimen is not focused on dark undereye circles and bags.
My Skincare Regime #5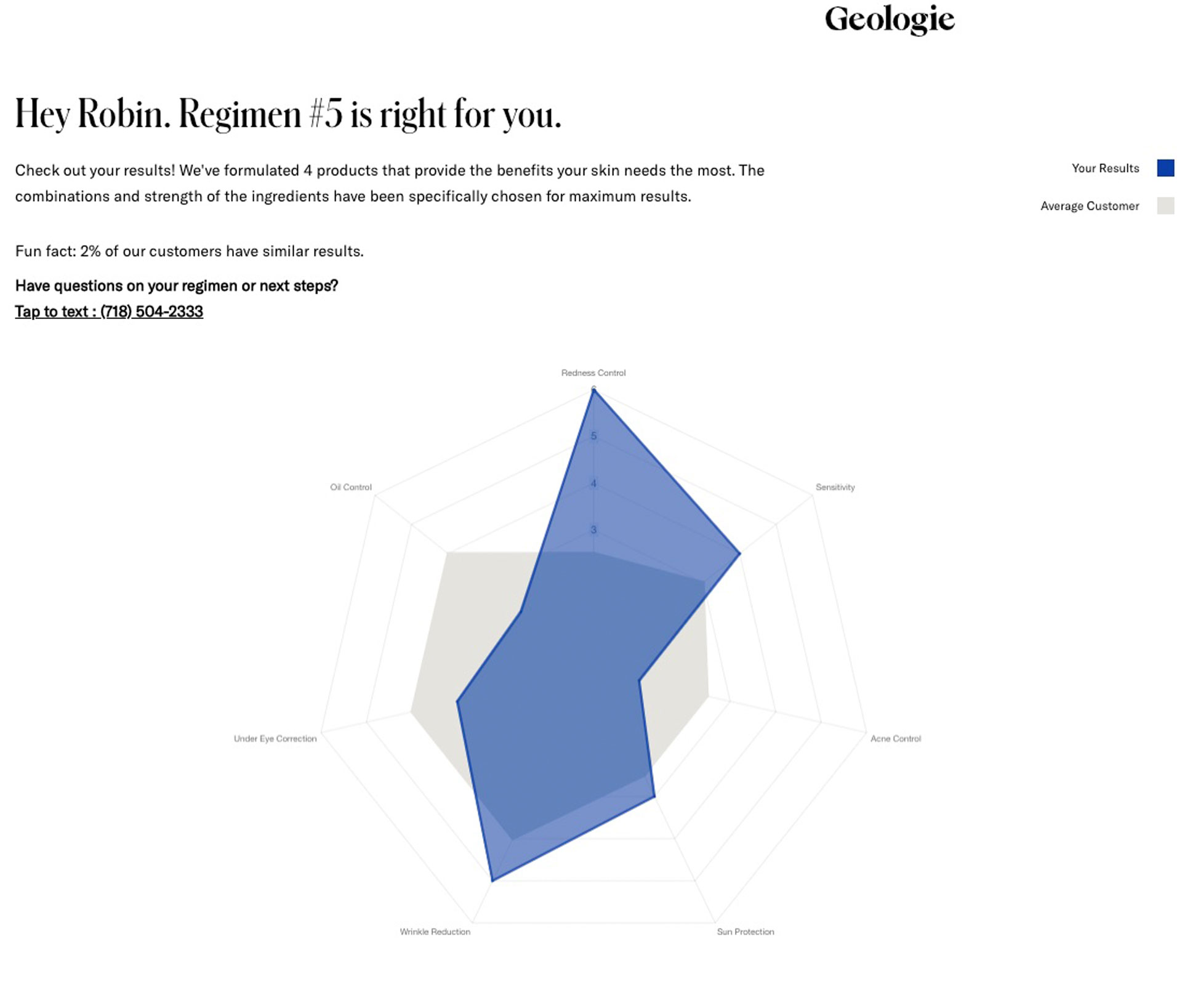 For Oily Skin
If I had very oily skin, the Geologie digital skincare diagnostic could look like this: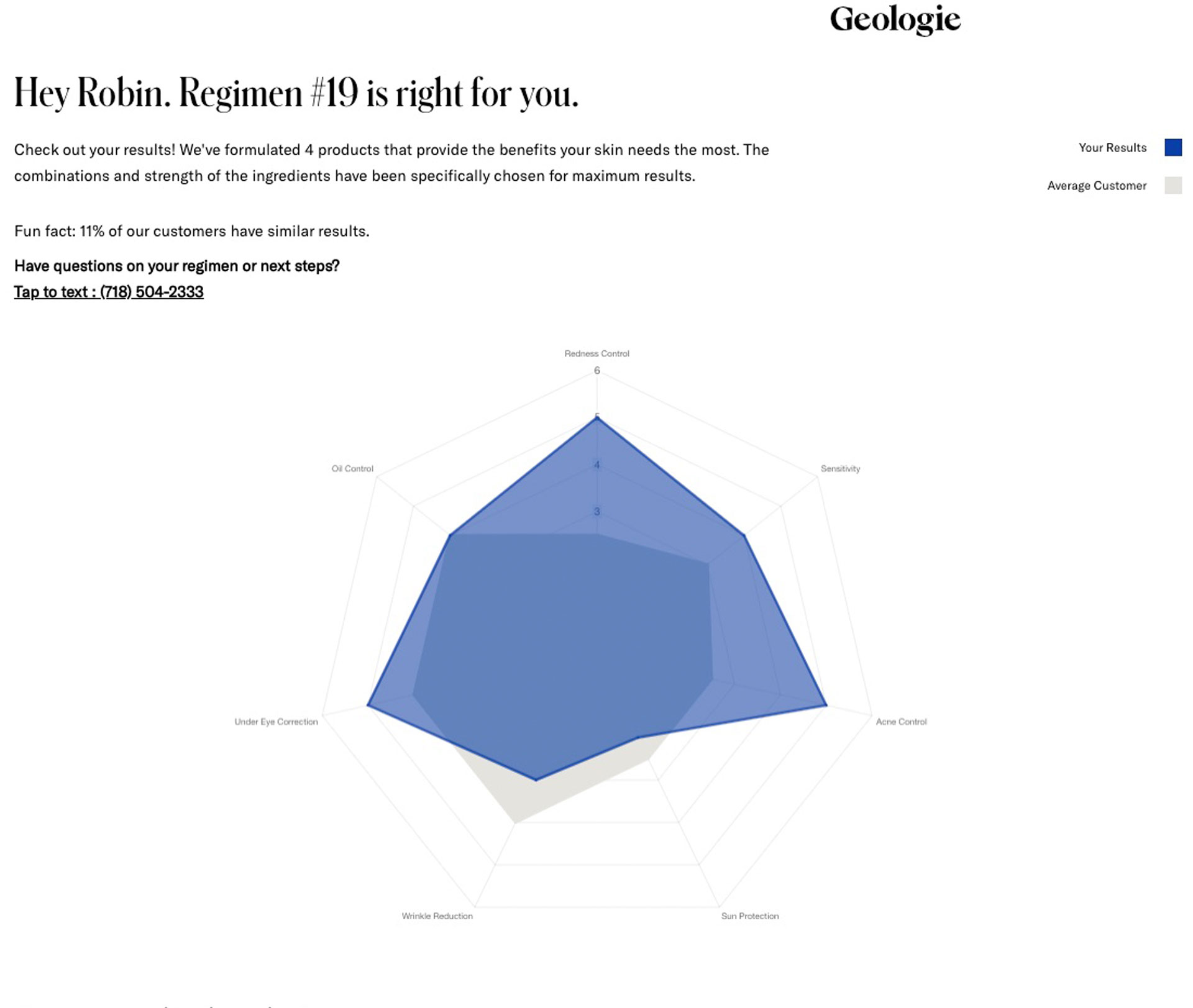 For Redness
If I was prone to red patches on my skin, the Geologie digital skincare diagnostic would look like this: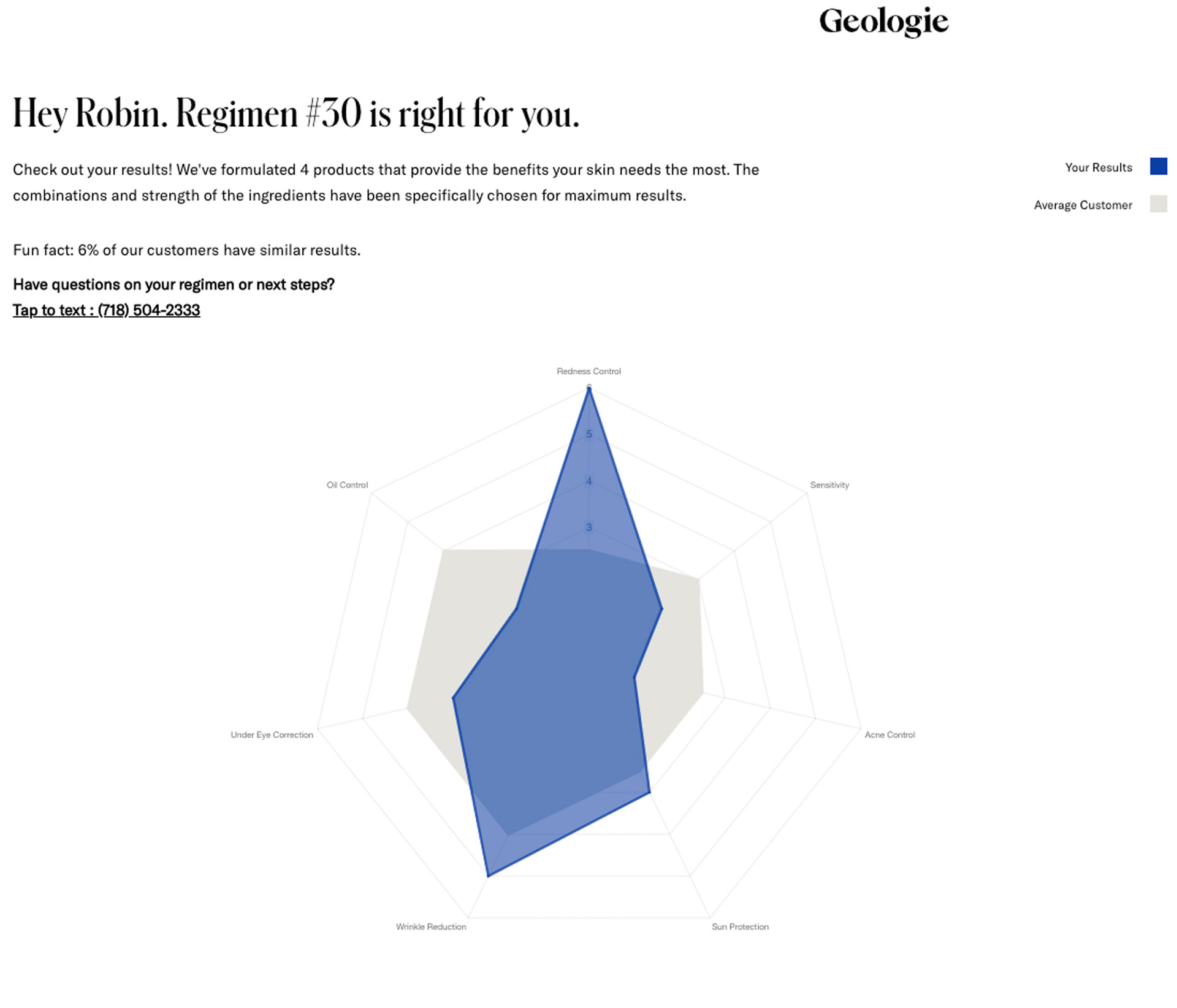 Transparent Skincare
The fact that Geologie share their process and ingredients with us is a new level in skincare transparency; and a real win for the consumer.
These 4 products will create the base of a very effective skincare routine. Even if you just use these 4, you'll be covered. But if you're adding in other skincare products – i.e a physical exfoliant, SPF (their moisturiser is only SPF 10), toner or serum – the foundation will already have been set.
No Risk
Geologie are currently shipping all over the world, but you can check your own country and coverage in their FAQs on the website. You can also get 30% off your complete personalised trial set by using my code ROBIN30 at checkout.
The products work best as a set, so start with a 30-day trial of all 4 products. You can then continue with 90-day supplies of the products you love the most – subscribe and save; or go 'a la carte'. It's totally up to you!
And, if you're not completely happy or have questions about the products, you can directly contact Geologie, who will be able to help you. That's what I call customer service!