Zac Efron's 'boy next door' good looks have drawn global attention from a young age and this attention continues to grow, as well as his popularity in the film industry.
For his next film, he has taken on the challenging role of Ted Bundy in Extremely Wicked, Shockingly Evil, and Vile. The film, which has received a huge amount of intrigue, recently premiered at the Sundance Film Festival – the perfect opportunity for Zac to reveal his new platinum blonde bleached hair. Got to say,  we love it at Man For Himself!
Whilst his hair might be considered a bold and drastic move, his personal style tends to be kept casual and understated.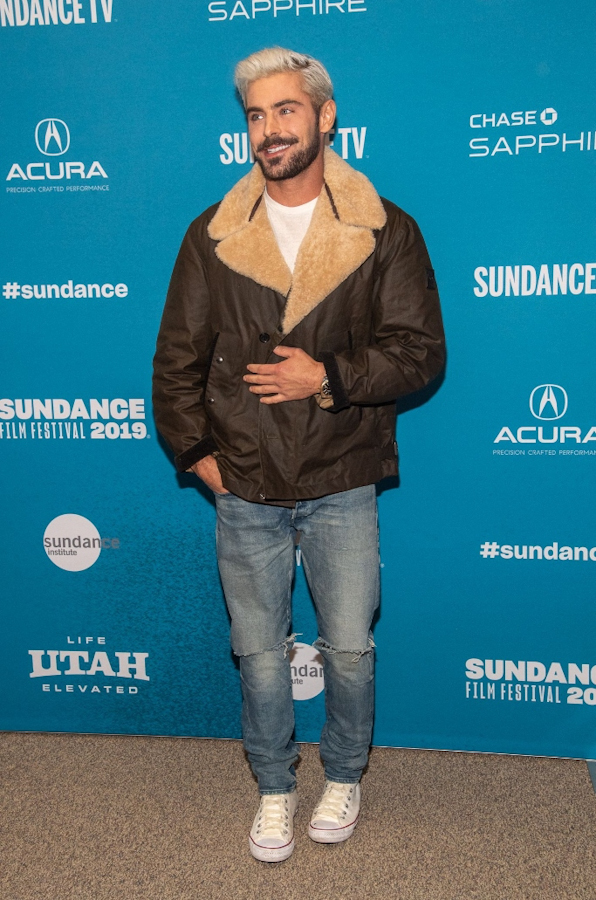 Footwearnews - Shutterstock
CASUAL: SHEARLING JACKET
Looking back at photos over the past 5 years, it is clear to see that Zac Efron's everyday wardrobe has stayed somewhat the same.
He does tend to stick to the same pieces with his casual outfits. And one of his key outer pieces is a shearling jacket. The Trail Jacket from Belstaff, which he is wearing here,  is ideal for this time of year as it will definitely keep you warm, and the water repellent shell will keep you dry in the rain.
A shearling jacket can be extremely functional in a winter wardrobe. They can be worn over denim, like Zac, with either a plain t-shirt or jumper worn underneath.

DISTRESSED DENIM AND FOOTWEAR
Browsing though any photo of Zac out and about on the streets and you are pretty much guaranteed to see him wearing a pair of distressed denim jeans. It's not a look that all men enjoy but it certainly works for Zac's casual, almost 'Californian skateboarder', look.
On his feet, he lives in classic Converse; particularly the Chuck 70 Canvas High-Tops.
We've picked out a few pieces below which we think fits in with Zac's style.

People
CASUAL: DENIM AND HOODIE
For our second look, discussed in the YouTube video, Man For Himself tried on a casual look very similar to what Zac Efron is wearing here. This is a classic look from Zac as he loves to wear a pair of washed denim jeans with a denim jacket and hoodie underneath.
Again, this look might not be everyone, and is probably more appropriate for younger guys, but Luckily for Zac, with his face and athletic physique, he can pretty much wear anything!
If you aren't sure about layering with a hoodie, go for a classic crewneck sweatshirt.

FOOTWEAR
Zac is very casual when it comes to his everyday footwear. Aside from his Converse, he likes to wear a pair of lace-up leather boots. He is wearing a pair of brown ones here which can be a bit tricky with a pair of black jeans. He manages to get away with it as his boots are definitely more 'worn' and the jeans are a washed denim. We have picked out a selection of similar boots below.

Paul Drinkwater
FORMAL
There is no doubt about it, Zac Efron looks great in a suit. The last time we saw Zac suited and booted was in 2018 at the Golden Globes.
Zac sported an all black tuxedo suit from Hugo Boss, in support of the Time's Up movement. He was also wearing a pair of classic formal lace-up Louboutin shoes.
Wearing an all black outfit can sometimes end up being a bit hit & miss but as Zac shows, it can look sophisticated and stylish. The satin lapel on this single-breasted tuxedo adds a touch of texture so the outfit doesn't appear too flat.