 I had such high hopes for this product, but have been left fairly disappointed.
Fudge Fullhed Xpander Jelly was released in October this year, but I've held off reviewing the product until I could give it a proper go.
Products to thicken men's hair have become ubiquitous in the male grooming market; and I've take a particular interest in them – to see which ones really do thicken, strengthen and volumise our hair.
I've always been pretty lucky with my hair: I have loads of it and it generally does what I want it to. That said, it's pretty thin and I do worry about what will happen as I grow older.
For loads of guys, thick and full hair is but a dream. Men's hair brands know this and are increasingly targeting us with new 'wonder' products, promising to give us the hair that we desire.
A revolution in men's grooming, the new Xpander Jelly from Fudge Professional gives thicker, fuller hair in an instant. Targeting sparse, vulnerable and thinning hair, men across the country can now reclaim the feeling of a natural head of hair thanks to this innovative expanding jelly.

– Fudge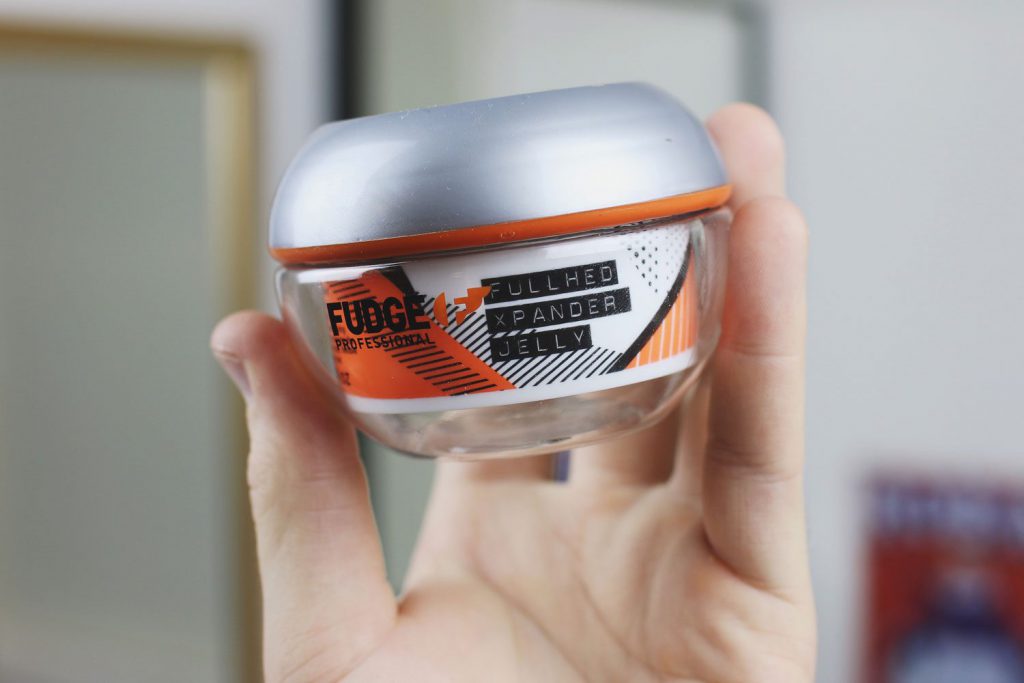 I was excited to give this product a go as I've always loved Fudge products and really do view them as an innovator and pioneer in male grooming. I went along to the launch of the product in September and was wowed by the science behind the product.
Densifying Actives:
Protein & Vitamin Complex:

Hydrolysed Keratin to protect, repair and strengthen the hair
Protects from heat up to 235°
With Pro Vitamin B5

Fast Absorbency:

Specially formulated to maintain hair's natural texture and feel.
Aesthetically, the product is a winner. It's the same great Fudge packaging and has the trademark Fudge scent. It has a fantastic iridescent shine, light to touch and really does feel like jelly.
But who's looking at the packaging when you've got it in your hair?
The product can be applied to towel dried or dry hair – allowing you to style it as you like. Using a hairdryer does, however, activate all that good science stuff and "will maximise the adhesion of Fibre-Dense Technology to the hair structure". Sure.
My hair started off fairly lifeless. After using the product, my hair had a fantastic shine and it did feel bigger; but it felt just as – if not more – fine.
I tried adding my usual styling products to the hair but the Xpander Jelly didn't allow the products to take to the hair. And as I added more product, I noticed fine, dandruff-like flakes coming off in my hands. No, thank you.
Apart from a fantastic shine and a bit of bounce, this made little difference to my hair.
But it's not all doom and gloom… If you're a guy (or girl) with long hair, this could be the one for you. It will give you a natural finish with a great shine. Your hair will, however, be flyaway and have no grip.
My advice… Stick with Label M's Thickening Tonic. They've really nailed it. Or build the volume with a salt spray (go Toni & Guy's Messy Salt Spray) or a volumising powder (Fudge Elevate is great).


---
Fudge Fullhed Xpander Jelly has an RRP of £12.95 / 75g and is available here