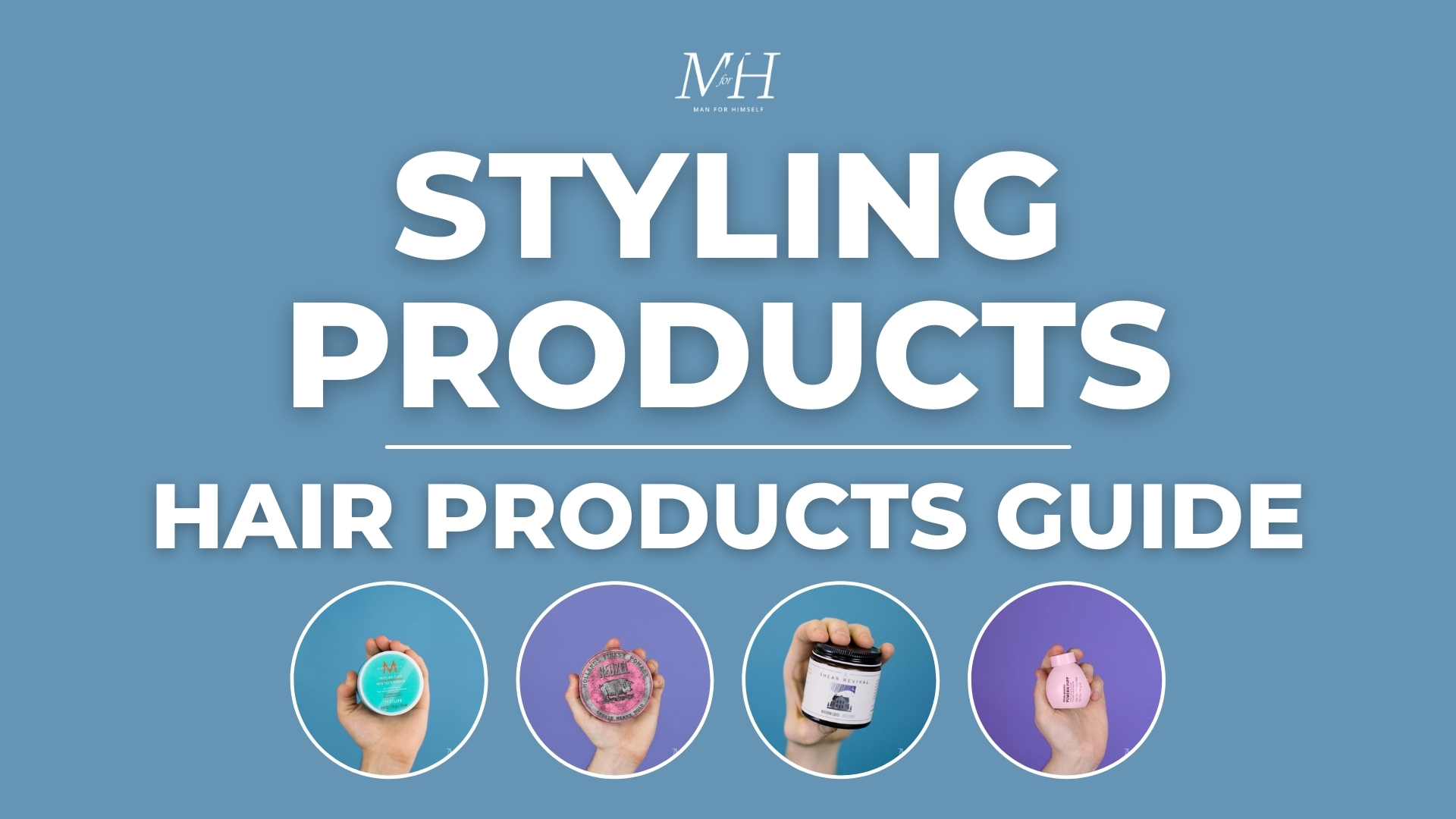 Find The Best Hair Product For You!
This is Part 6 of the Man For Himself Hair Products Guide series, a deep dive into the world of hair products that will give you the results you want without breaking the bank.
We're now in the styling phase, the second major phase of hairstyling. And in this article, we're going to focus on 4 key products: clay, pomade, paste and powder.
Pomade
First on the list is pomade. Pomade is among the oldest types of hair products in existence and is one of the more commonly used items on the list.
Pomade is a thick, oil-based product often used to create classic, traditional styles, with its high shine and a good to strong hold. It's perfect for more ambitious hairstyles: think a huge pompadour, with a ducktail at the back. Pomade can also be used by anyone, it all just depends on what type of style you fancy. People with thick hair will get the most out of this styling item, because it will give you the control you need.
But now with the help of technology, brands have started putting out more water-based pomades. It's the same, old product we love, with the same shine and hold, but it's easier to wash out compared to traditional pomades. No more scrubbing for hours on end, just water and shampoo would do the trick.
Check out this list of pomades available on the MFH product page.
Clay
As opposed to pomades, clays are the newest type of hair product out there. They're also super accessible and they tend to be water-based. Oil-based clays are also available, but they're not as common.
In most clay products, you're going to see kaolin or bentonite in its ingredients. These are naturally occurring components that tend to swell the hair. What they do is they wrap around the hair and scalp and keep the nutrients in. Aside from these ingredients, clays are also mixed with conditioners and hair nourishers, so your hair's well taken care of.
Clay also tends to pull out any impurities and any oils. Having an oily scalp proves to be a challenge at times, especially if you put in huge amounts of product, but this is where a water-based clay would work well for you.
Clays have got some of the highest ratings here on MFH. You can check out the full list on our product page.
Paste
Pastes are thinner than clay but tend to be thicker than other products like hair creams. They are hybrid products, so they're very versatile and malleable and can be used however you please. You can scale up in terms of the hold and shine. It can also vary from natural to low shine, to a more matte look. It has something for everyone. One thing to take note of is that the hold in pastes is looser but using it in tandem with a thickening pre-styler will create styles you've only dreamt of, especially for those with fine hair.
Powders
If you've never heard of hair powder before, it's pretty straightforward: it's a distinct hair styling product that is in the form of a powder. Many hair powders have a base ingredient called silica silylate, which adds more texture to the hair. So you'll be using the product largely for texture and bounce and can give your hair amazing height.
Powders work really well in tandem with other styling products. If you have a favourite clay or paste, you will get texture and movement on top of what those other products can do. Simply dash the powder into the other product, work it in, and then style.
Here's a selection of hair powders available at the MFH products page.
These are just four types of styling products, and as this series continues we'll be talking about a couple more. For the next part, we'll delve deeper into clays and what they can do to your hair.